2 Years After my Microdiscectomy: My Microdiscectomy Recovery Update
The two year anniversary of my microdiscectomy recently passed and I thought I should write an update on the long term effects of a microdiscectomy! I want to write about my lifestyle, pain levels, routine, and how things are generally going two years after my microdiscectomy. I can't believe so much time has passed already! I hope this helps those of you who are curious to know what the L5S1 microdiscectomy recovery is like.
Also, this is a microdiscectomy success story! There's a lot of negativity floating around out there so I wanted to provide my positive experience.
Also, as always, I'm not a doctor certified to give you any sort of health advice, so please consult your doctor for your own situations. I just want to share my microdiscectomy  recovery experience.
If you haven't read them already, be sure to check out my posts about life with sciatica and decision to get my microdiscectomy and the first 12 months after my microdiscectomy!
I now have a post about the third year after my microdiscectomy, too!
So, how is the second year of microdiscectomy recovery different than the first year after my microdiscectomy?
It is very different! I am much more active now! But I also had to digest the fact that I still have some pain and probably will always have to manage some level of pain due to my L5S1 disc herniation. The microdiscectomy results were awesome and I felt  90% better. Getting the L5S1 microdiscectomy completely changed my life. During the recovery I realized that it reduced my pain so much but it did not eliminate my sciatica.
But no doctor ever told me that an L5S1 microdiscectomy would eliminate my pain. Plus, some aches and pains may just be a result of getting older. I'm not an  elastic 6 year old anymore…
But overall, I would describe my post L5S1 microdiscectomy recovery feeling as stiff.
Mentally and emotionally, I'm doing great. So many of my anxieties and problems dissolved once I healed from my microdiscectomy, but of course a lot of them persisted.
I think I have grown to know myself better and understand the complexities of certain things in my life…AKA it was too easy to blame all of my personal problems on sciatica/ my herniated L5S1 disc. Now I can focus on resolving the things that weren't fixed by the surgery!
I am also not so paranoid about re-herniating my disc anymore. During the first year of my microdiscectomy recovery, I was constantly worried that one wrong move would bring me back to where I started. That's really not on my mind now, two years into recovery.
My Microdiscectomy Recovery: How I am Doing Physically Two Years Later
Weird, I know, but I still can't touch my toes. I don't even know if it is a question of flexibility anymore. It really just feels like I am completely incapable of bending over and touching them. I thought this would just during the beginning of my microdiscectomy recovery, but I guess now it is just my new normal.
Other than that, I feel like I am physically capable of doing what any moderately fit person without a history of sciatica can do. Do I do all of these things? Absolutely not! But if my life depended on it I could climb a tree with a backpack on or whatever. I'm just trying to say that I do not have other physical handicaps after my L5S1 microdiscectomy. But being able to do lots of things doesn't mean I can do them without pain. The results of my microdiscectomy were great, but once again I know I'm not going to be 100% pain free anymore.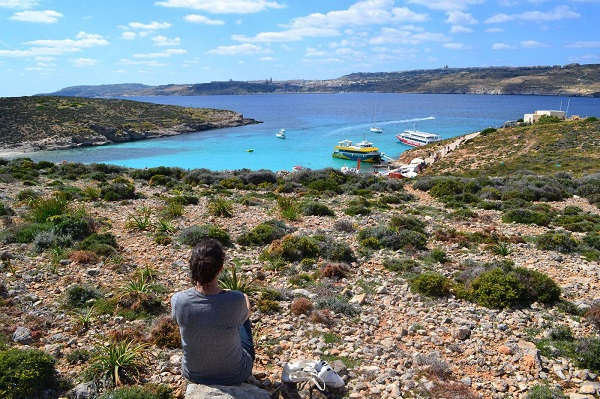 Things I do not do 2 years after my microdiscectomy
I do not lift things over 20 lbs (9 kg).
I do not do things that involve lots of bending (like weeding the garden without kneeling on something). I never try to bend my torso at an angle greater than 90°.
I don't twist in weird ways. If my pencil falls behind my chair I get off my lazy butt and stand up to get it instead of twisting around.
I try not to sit upright in a chair for long periods of time. Or, if I do, I sit on my amazing balance disc that I will love and use forever and ever. I'm seriously obsessed!
Sports during my microdiscectomy recovery?
I think these basic Things I Do Not Do can expand to cover more extreme things that I do not do- like rugby or extreme skiing. I actually do feel like I could participate in a lot of (sometimes extreme) sports two years after my microdiscectomy. I just don't have a lot of opportunities to play organized sports.
In the last year of microdiscectomy recovery, I have played ice hockey and badminton. The hockey was fine, but I was slightly nervous about how hunched over you need to be while playing. I didn't have a problem, but that also may be because I put a lot of time into strengthening my core.
Ironically, one sport that I probably would try and stay away from during myL5S1  microdiscectomy recovery is  golf, which is probably the least intense sport you can play! It's mainly because of the twisting. Apparently Tiger Woods has had recurring problems after his mircodiscectomy. But I'm not a surgeon so I don't want to advertise that you will never play golf again after a microdiscectomy. I honestly have no idea. Plus I wouldn't consider Tiger Woods to be a typical case since his day to day physical demands are much different than those of  a more normal person.
Also, I hate golf!!
I am very happy to say that I  started jogging after the first year anniversary of my microdiscectomy. I am thrilled to be able to run again without microdiscectomy complications!
2 years after my microdiscectomy, the pain is worse when…
I sleep on a mattress that is too soft or doesn't adequately support my back. This usually happens when I sleep on couches too.
I spend a lot of time sitting up straight. For example, when I sit at my desk and write articles on my blog all day, or when I practice my musical instrument with bad posture. ALSO, long car rides, bus rides, or flights are KILLERS. I leave them feeling like I am 90 years old.
MOST IMPORTANTLY my pain is at its worst when I do not maintain my exercise routine. This is so important during your microdiscectomy recovery!
 2 Years After my Microdiscectomy: My Microdiscectomy Recovery exercise routine!
I wanted to give a general overview of my exercise routine 2 years after my L5S1 microdiscectomy. BUT I also want to emphasize that this may not be right for you so consult your own doctors or healthcare professionals before starting new forms of physical activity.
And don't worry I am not going to package this up and sell it on instagram or whatever as some magical cure all to sciatica.
My exercise routine after my microdiscectomy is especially focused on keeping my core strong. If I have no time for anything else, I always try to fit a few core exercises in here and there. With all this focus on core training, you may be thinking, does this girl have awesome, ripped abs? The answer is NO haha.
I can't emphasize enough that staying active and fit is the best way to keep the pain levels down 2 years after my microdiscectomy!
Here are some microdiscectomy recovery exercises I do TWO years out. I would not recommend these right after the surgery.
Running:
I try to run two times a week. I could run more, and I admit I sometimes have to actively fight the temptation to run more. My doctor just recommended that I not overdo it since all the pounding on my joints and fragile spine probably won't be good for me in the long run.
I generally run 5k on my running days. But once again, I didn't run at all during the first year of my microdiscectomy recovery. Be really careful!
Strength Training exercises post microdiscectomy:
I also try to do a strength training session two times a week for around 30 minutes each time. I focus on core training, and it usually isn't so intense.
My mother freaked out when she saw me working out during a visit. She was convinced that I was going to damage my back again. I had to convince her that the workouts were preventing more injuries!!
Two years after my microdiscectomy I was even physically able to do the popular BBG program for a few months without a problem before I fell off the bandwagon and never got around to getting back on. My non-exercising French roommates would smoke their cigarettes and drink their apéro and watch me as I squatted around the garden holding a giant rock since I'm too cheap to buy real exercise equipment.
If you're at a loss for where to begin or what to do, one exercise app I really like is called Sworkit. They have a free version and you can just download it on your phone and have access to lots of core exercises and workouts whenever you want. I like to use that while traveling or just if I want some fresh ideas. Note that there are a few core exercises on it that require you to bend more than 90°, and so I avoid those after my L5S1 microdiscectomy.
Sworkit did not pay me for this plug!! I just like it. I never tried the paid version, though.
Yoga during my microdiscectomy recovery
I do yoga maybe once a week or so. I mainly try to do sequences that are focused on stretching and strengthening the, you guessed it, back and core muscles! I'm happy to be able to add it to my routine two years after my microdiscectomy, but I admit that I am not flexible at all!
I just recommend being careful because some of the more advanced yoga poses may not be possible or smart to do if you have back problems or herniated discs.
If you're at a loss, try searching 'yoga for beginners' on youtube and have fun.
Walking
I love taking long walks and hikes. I usually go for an hour+ long walk on the days of the week when I am not running or doing strength training. It is simple but great exercise for a microdiscectomy recovery, especially if you hike or walk on uneven ground.
Balance Disc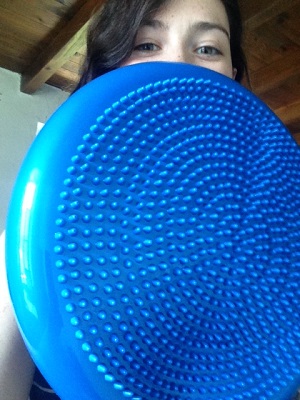 My balance disc
is my new favorite thing. It has other names too, like a wobble cushion, a stability disc, a core balance trainer…they are all the same thing.  I use it when I have to sit in a chair for long periods of time. Working at my desk or sitting through a French dinner party are two examples. It keeps your core muscles engaged and forces you to always slightly change your position.
I guess you could say that it is a thriftier version of a ball chair? You inflate it and sit on it, that's it! Mine actually isn't inflated too much and it still works well. You can also use it in your workouts if you want.
Obviously a balance disc isn't going to eliminate your pain during your microdiscectomy recovery. A family member really recommended it to me and honestly I have noticed a difference in my own pain levels since I started using it this year. It's more of a "take the edge" off sort of improvement, but I'm really happy with it nonetheless.
And yes, full disclosure, that is an affiliate link there. Am I being evil and profiting from your sciatic pain? Nah, if money were my goal this page would be caked with random, dubious product endorsements, or I would have become a chiropractor (OK THAT WAS A JOKE DON'T FREAK OUT). If you buy a balance disc with that link I, at no extra cost to you, *might* receive approximately $0.38 cents. Plus I'm only writing about it because I actually really like it!
ok enough.
Doctors, Chiropractors, Therapists, Painkillers? What to do during my microdiscectomy recovery…
In a perfect world, I would get a massage every week regardless if I had sciatica; a herniated disc, or an L5S1 microdiscectomy or not. Unfortunately that is not possible for neither my routine nor my budget!
I live in the middle of nowhere on a farm and I don't usually have access to a car, and so nowadays I only go to healthcare professionals when I am sick or something isn't quite right. If I stick to my exercise routine and stay active I usually feel A-OK during my microdiscectomy recovery.
I rarely take over the counter painkillers now during my microdiscectomy recovery, and when I do it is never for back pain.
Soooo that's about it! Thanks for reading! I hope my L5S1 microdiscectomy recovery experience may answer some questions you have about microdiscectomies or sciatica. I am so thankful that my microdiscectomy was a success story! Unless I am particularly inspired and want to say something beforehand, I will post another update in a year! I hope things are as good as they were this year!