I had a crazy time camping in Africa.
I was backpacking in Zambia and camping in South Luangwa. A slow, rhythmic rumble woke me up in my tiny tent in the middle of the night…
You know how sometimes, if you wear earplugs, you can hear your heartbeat rather well? Well I thought it was just that. But wait…it's a little too slow. The heartbeat of someone calm and cool, not of someone sleeping next to a river filled with crocodiles.
On the other side of the mesh tent door were two feet. The rhythmic rumble that woke me was the ground shaking ever so slightly from the weight of an elephant lumbering around just inches away.
This wasn't how I had imagined seeing an elephant in the wild for the first time, nor was it how I had imagined spending my 27th birthday; alone in the dark, convulsing with fear and trying not to pee myself. Welcome to camping in Africa!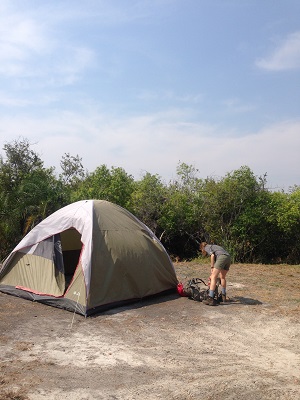 I admit it, I'm kind of a pansy camper.
To me, a tent symbolizes freedom, and although I always travel with a tent, sometimes my romantic notions of freedom and 'roughing it' don't really line up with how I really feel when I am trying to sleep inside my tent.
By the end of my backpacking trip to Southern Africa, I was finally feeling more comfortable and getting enough sleep at night, but my trip definitely didn't start out that way.
It is important to always remember that, a lot of times when I was camping, it was me who was in the animals' territory and not the other way around.
Camping practices that are respectful to the animals and the environment are a must. It's also important to always listen to guides and rangers.
But what should you actually do when you find a family of elephants or a hungry [hungry]  hippo wandering outside of your tent?
I decided to compile a list of helpful tips and anecdotes that I learned along the way. So here are my African camping safety tips, but they pretty much are camping safety tips for anywhere in the world!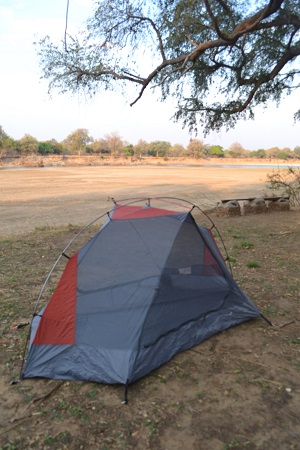 African Camping Safety Tips
1. First thing's first: NO FOOD IN YOUR TENT!
This is the most important African camping safety tip, and also general camping around animals safety tip. When a giant carnivore sees your tent that does not have food in it, he thinks "oh that is a thing" and walks away.
When a giant carnivore sees your tent and smells food in it, he thinks "oh that is a thing that I must open and enter and use my ferocious carnivore powers upon in order to consume what I smell" and poof you're being eaten alive on your holiday.
This also applies to giant herbivores, small annoying animals, heavy animals, freaky monkeys, etc. etc. etc
Also, the owners of the lodge where I was camping for the first time told me that once an elephant entered a woman's tent, rolled her aside with its trunk, and slid her sleeping pad out from underneath her. It then ate the sleeping pad. Turns out it was brand new and smelled really good. Yikes.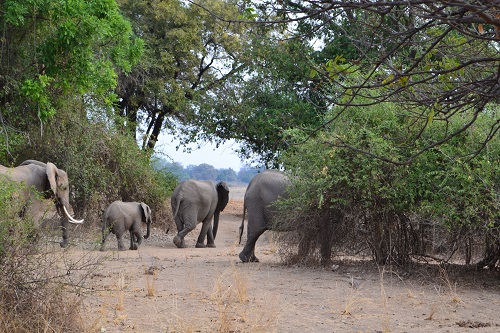 2. If you see or hear animals outside, stay calm, stay in your tent, and try not to move.
Sudden movements could cause the animal to feel threatened, and that's when problems develop. If you judge the condition to be severe enough to have to run away to a safer place e.g. other tents or your own are actually being attacked (highly unlikely), be absolutely sure  that an escape route is available before darting out of your tent.
It's good to learn about what to do if you encounter aggressive animals in the area during your African camping trip. For example, you don't want to try and run away when the best thing you should do in that moment is play dead.
But generally, for your African camping adventure, staying in your tent is usually your safest bet if there's an animal checking you out.
3. Don't sleep with your tent door open/ make sure holes are closed up.
You don't want a hyena to bite your face and I hear that some snakes like to snuggle up against people inside their sleeping bags.
Also, bugs. But at least the spiders won't kill you!
See Also: Overcoming Arachnophobia in Africa
4. Unless any guides/rangers are telling you not to, it's ok to sleep without the rain cover on.
That is, if you can stomach being able to see exactly what is going on around you while camping in Africa! I met one particularly adventurous guy in Botswana who was riding his bike from Kenya to Cape Town and he said that when he had to sleep in the bush, he would close himself in his tent as soon as it got dark and not come out until morning.
The bush really comes alive at night in Botswana! He would put his bike farther away from his tent and use his rain cover to cover it (and the food he had with it). Of all his nights sleeping out the only thing that stood out to him was an interesting looking spider, so you'll most likely be fine too.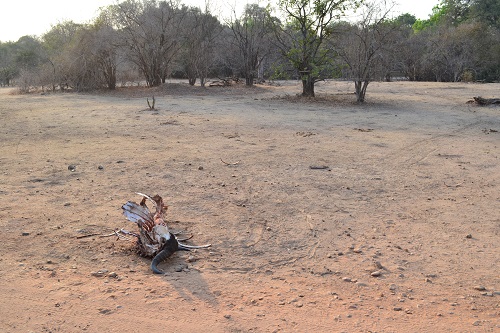 5. I slept better when someone explained to me that the animals do not register /see me or my tent as food.
Do you know why rangers kill animals that have attacked people? It's unfortunate, but it's because that animal could start seeing other people as food sources. Apparently we are pretty tasty since we consume so much salt!
6.  But won't a hippo just bulldoze through my tent regardless if it is hungry or not?
Nope. The guides at the lodge even told me that they have seen hippos tiptoe over tent cables before. You won't be stepped on during your African camping trip!
7. But what if the animal is just the one psychopath who  will destroy me for his or her own sick pleasure?
That one animal is more likely be that one human sleeping in the tent next to yours.
Sure animals probably experience mental disorders like humans, but, for example, think of the message of the movie Blackfish: animals generally become psycho when they are prevented from living in their natural state.
If you put an elephant in a tiny cage and then tried to pitch your tent in it, the likelihood of her messing with you is probably pretty high.
The animals you encounter while camping are living in their natural state. Sure there will always be freak accidents, but a meteor could also hit your tent…
8. But I really have to pee…
I had more than a couple of nights in which I woke up at midnight having to use the bathroom, but my fear prevented me from leaving my tent until sunrise (talk about being miserable, but also remember I am a pansy…).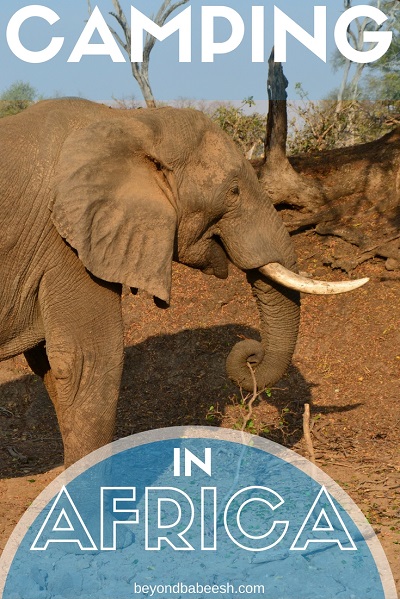 One night of African camping was especially bad for me.
I had been listening to a male lion roaring all night long…coming closer and closer every hour. I had also drunk several beers befogging going to bed and was ready to explode.
I was pretty miserable. In hindsight, I should have peed in a bottle or a bag (which is totally possible for women using this. What a game changer!!).
But of course these things didn't cross my mind before I went to my tent for the night. Don't make my stupid mistake!  I didn't sleep at all and just listened to the lion rumble around the camp.
You usually can leave your tent to go to the bathroom, just don't wander too far, especially if you're in an isolated area.
9. Please wear your glasses and bring a flashlight.
No brainer? Well, on the subject of peeing, when you gotta go you gotta go and sometimes you are in a rush.
See Also: Is it safe to go to Zambia?
Once, after a lodge security guard told me it was safe, I rushed out of my tent to use the bathroom. I didn't have my glasses on because I'm not that blind without them, but then again I almost tripped over a hippo grazing right in front of the bathroom door. That could have been a catastrophe!
I don't care how badly you have to go, don't forget your glasses!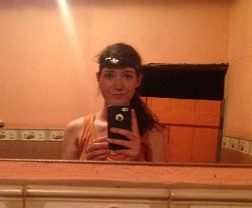 10. Know the guards and check in with them
If you are camping at a safari lodge, know that they most likely will always have a guard on duty 24 hours a day.
If you are wild camping and see people with guns walking around, you probably should stay in your tent…or get outta there fast!
Before wandering off alone in the dark to your tent/hut/room, consider asking the guard to walk with you.
This also works if you want to go to a neighboring lodge to hang out for any reason. In my experience the armed guards were always happy to walk with me to the neighboring lodges. This is, if they were within a reasonable distance.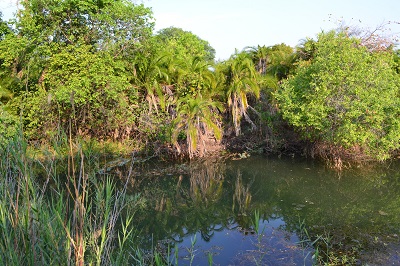 The reality of things
I was sad to read recently about the tourists who were killed by an elephant in Zambia. Accidents can always happen no matter how experienced someone may be.
But I don't think that should scare you from camping in Africa.
In hindsight, that first evening with the elephants was one of the most amazing moments of my African camping trip ( what a birthday present!). Feeling nervous is normal, but I hope that you are able to move beyond the fear. Enjoy the moments you have with these magnificent creatures! Just know that you aren't some sort of special elephant (or any animal) whisperer!
How do you guys get over fear when you are camping?