Goodbye Zimbabwe, Hello Zambia!
The Victoria Falls Bridge is definitely one of the more interesting border crossings in the world. How often do you get to watch people go bungee jumping while you are on your way to fill out visa forms?
If you read my post about how I hated Victoria Falls, you can probably imagine that I was ready to run across that bridge and get out of Victoria Falls as soon as I possibly could.
In this post I will share some details about crossing into Zambia from Zimbabwe over the Victoria Falls Bridge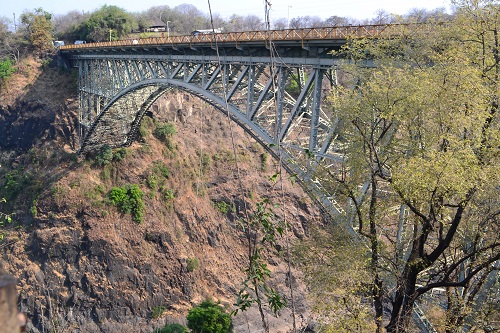 Getting to the Victoria Falls Bridge
To cross into Zambia from Zimbabwe over the Victoria Falls Bridge, you first of all need to find the bridge. It is actually less straightforward than I thought it would be.
You could follow the road that you would take to drive to see the Falls, but also if you are on foot (like I was), you could take the pedestrian path down to the tourist welcome center and just turn right when you get to the road.
See also: My Zimbabwe Travel Tips 
When you are on the road you just keep walking. There's nothing like the sound of the Zambezi River early in the morning!
There is a pedestrian path that crosses the bridge so you don't have to walk in the road.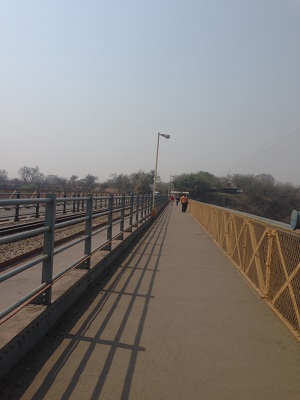 Customs, Visas, Costs
You need to get your exit stamp for Zimbabwe before entering Zambia. BE CAREFUL! Know that if you leave Zimbabwe you cannot re-enter unless you have a multiple entry visa. Or else you will have to buy a whole new visa. The same goes for Zambia,  but Zambia does have a day tripper visa for people who want to just pop over for, well, less than 24 hours. That costs $20.
Otherwise, a single entry visa for Zambia costs $50. I paid in USD and easily got the visa at the border. There was a huge line of trucks waiting to pass through, but there were very few pedestrians.
When you cross into Zambia from Zimbabwe over the Victoria Falls Bridge you do not need any vaccine certifications under normal circumstances.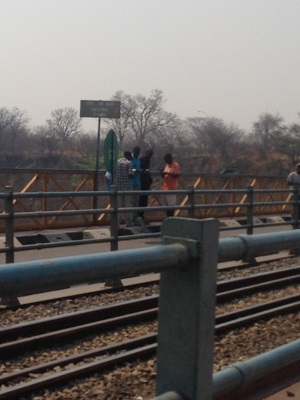 Be careful:
So I learned that there is a pretty nasty family of baboons who prowl the bridge. I was waiting for my ride and decided to stand off by myself when a local man sitting in a group approached me and invited me to sit with them.
"Otherwise the baboons with get you!"
Don't leave your bag unattended if there is food in it!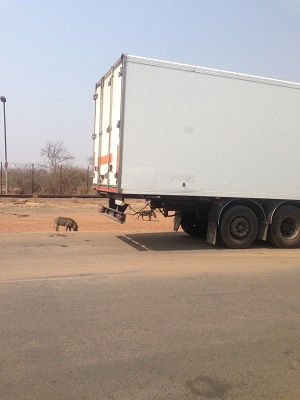 Getting to Livingstone
Nasty baboons aside, although you CAN walk to the Victoria Falls Bridge from Victoria Falls, Zimbabwe, you CANNOT walk to Livingstone, Zambia from the bridge.
This is partially because the distance is pretty long (over 10 kilometers), and also because there apparently have been some muggings along the road. I never had any safety issues during my trip in Zambia, but of course it is good to listen to warnings like that.
There are plenty of taxis that will be more than happy to scam you. There isn't really much you can do about it. Taxi rates to Livingstone from the bridge were around $10 when I was there.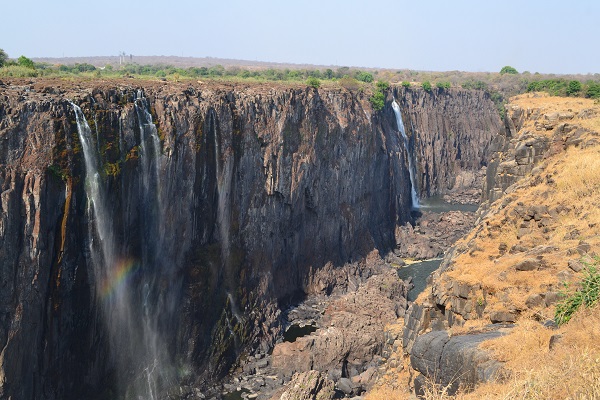 Going to Lusaka
When I crossed into  Zambia from Zimbabwe over the Victoria Falls Bridge, I actually wanted to just head to Lusaka, the capital city of Zambia. I was planning on spending time in Livingstone on my way to Botswana later in the month, and so I didn't really see much of a point to paying $10 for a taxi to go into town.
Be sure to check out my Zambia page to see all my posts about Zambia!
Plus, if you have followed this blog at all you may know by now that I am totally crazy and enjoy hitchhiking from time to time. I decided to hitchhike to Lusaka because, well, finding a ride at a border crossing is like shooting fish in a barrel.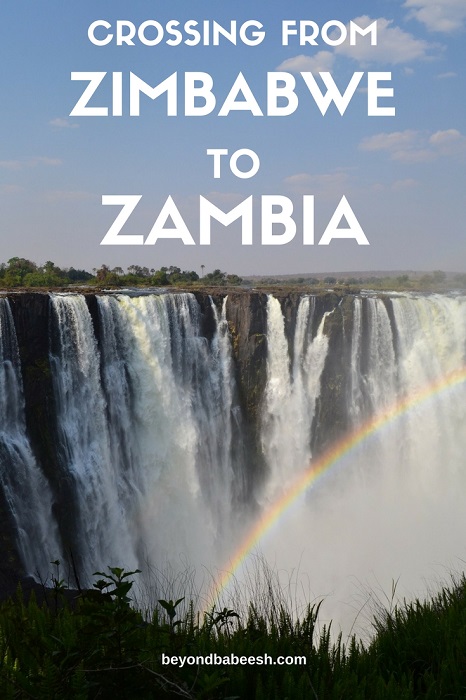 I had fun talking to the truck drivers waiting in line and in the end I found a nice guy who wasn't creepy who took me most of the way to Lusaka. That was a whole adventure in itself!
Obviously hitchhiking isn't for everyone, and so if you prefer to take a bus you can take a taxi into Livingstone and get a bus to Lusaka from there. There are several that leave throughout the day.
Zambia is amazing and so I hope you enjoy your time there.
P.S. if you are looking for a place to stay, in Livingstone I stayed at Fawlty Towers and loved it. Shoestrings Backpackers is the place to be in Victoria Falls. And finally, in Lusaka I stayed at Lusaka Backpackers and had a great time- they have the fastest internet connection around!