Did you know that Ethiopian airlines will give you a free hotel stay in Addis Ababa?
There are some rules, but if you meet these conditions you qualify for a free layover in Addis Ababa thanks to Ethiopian Airlines! Woo!
The rules are:
You must be transiting between two separate, international flights run by Ethiopian Airlines.
The time in between your flights must be over 8 hours but under 24 hours.
There can't be an earlier flight available. You can't just opt to take a later flight just to have a free day in the city.
You must have a passport that qualifies for a visa on arrival. See if you qualify here.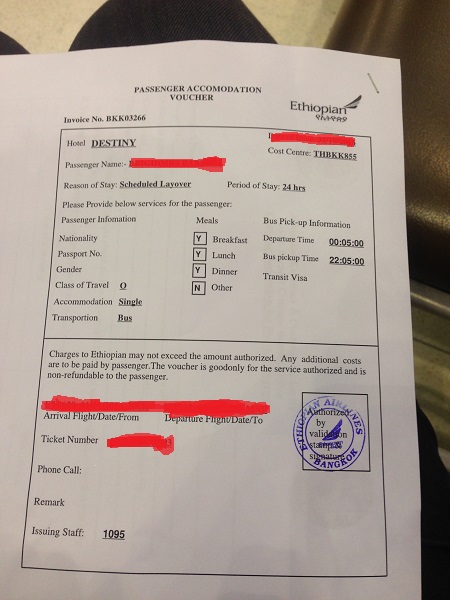 I was nervous for Ethiopian Airlines' free stopover…
It was mainly because there isn't so much information on their website about this! I didn't know if I had to arrange a transit visa in advance or if I had to register somewhere.
I had about a 20 hour layover while  traveling from Bangkok to Milan. It would have been a bummer to have to spend that in the Addis Ababa airport!
No offense to Ethiopian Airlines, but the Addis Ababa airport isn't the most comfortable airport in the world. So YES PLEASE to the Ethiopian Airlines free hotel!
Does Ethiopian Airlines really give you a free transit visa at the Addis Ababa airport?
Yes! If your passport qualifies, you do not need to do anything.
You do not need to fill out any applications or make special arrangements. Just show up to the airport!
During my layover in Addis Ababa, one family was unaware of Ethiopian Airlines' free stopover. They had paid hundreds of dollars and gotten transit visa for themselves and several children! They even paid for their own hotel and driver. I felt so bad for them!
Will they stamp your passport during Ethiopian Airlines' free stopover?
Maybe?
My passport was not stamped when I left the airport, but it was stamped when I entered the airport to catch my flight back to Europe.
Though some people I met during the free layover did not get stamps in their passport.
So I think it all depends…
If you feel strongly about not having an Ethiopian stamp in your passport maybe you can speak to the folks at immigration.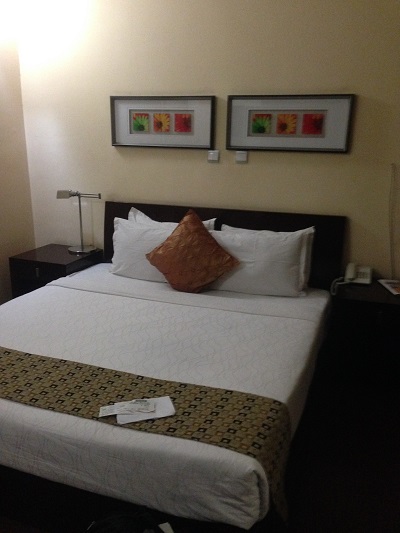 What else is included in Ethiopian Airlines' free stopover?
So in addition to a free transit visa to Ethiopia for the duration of your layover, you will get a free hotel room, free transportation to and from your hotel, and free meals for the duration of your layover.
If your stopover is less than 8 hours, you can still pay around $70 and get the package. You can arrange that in the Addis Ababa airport.
About your free hotel:
Ethiopian Airlines' provides first class passengers with first class hotel stays. I am definitely not a first class passenger so I got shipped off to Hotel Destiny with a handful of other people.
But note that the hotel assignments are pretty random. There were lots of people from my flight receiving Ethiopian Airlines' free stopover and it seemed like we were split up among ten hotels.
Hotel Destiny was sort of randomly located. The rooms were quite nice, especially since I had been a dirty backpacker all around Southern Africa for several months beforehand.
Even though the inside of the rooms was actually quite nice, know that these hotels are pretty bare bones. It's still a pretty great deal since it's a free layover!
See Also: My Adventures in Addis Ababa
I bet Ethiopian Airlines' free stopover keeps a lot of these hotels in business!
The meals were simple but tasty. It was pretty neutral hotel food, so I set out to stuff my face with as much Ethiopian food as I could possibly find.
I got breakfast, lunch, and dinner during my free layover. I skipped lunch to go eat raw hunks of meat elsewhere.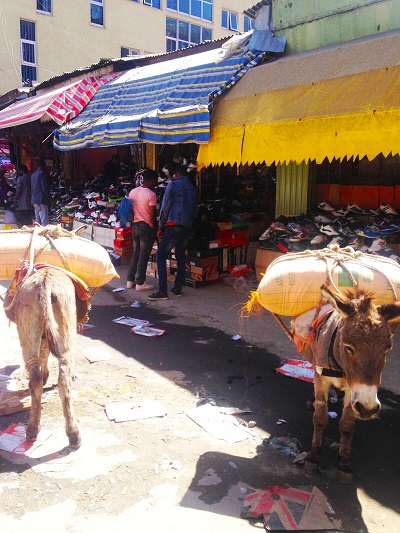 Some final free hotel things…
They also had a simple spa/ sauna in the hotel. I asked about it and it magically cost $50 dollars to turn on. Addis Ababa was going through a water crisis when I was there so I opted out of using a steam room…
Lastly, I am going to write a post about what I actually did in Addis Ababa, but  hotel was very adamant that I hire the hotel driver to see the city. They made it seem like horrible things would instantly happen to me once I left the hotel.
I did not hire the driver and took public transportation all over and lots of wonderful things happened.
Getting your Ethiopian Airlines' free stopover voucher
So I received my free layover voucher when I checked in for my Ethiopian Airlines flight in Bangkok. They just gave it to me with my ticket.
I hear that whether or not you receive this voucher while checking in depends on which airport you are at.
Be sure to ask to try and get it!
If you do not receive the free hotel voucher, then you will have to get it when you arrive in the Addis Ababa airport.
You will get this at the transit desk on the arrivals mezzanine. Sometimes it is absolute chaos there and sometimes it is calm. Regardless, it takes a little time to arrange the free layover.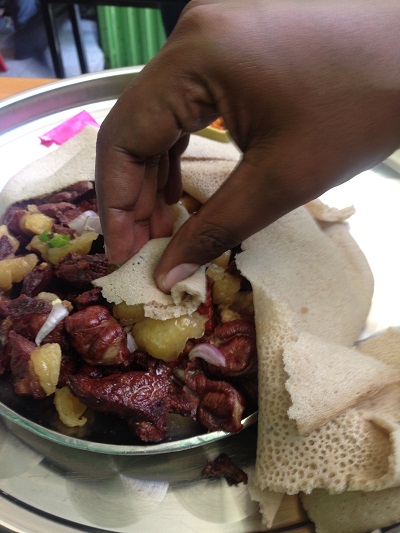 Some final tips for your Ethiopian Airlines' free stopover!
If you are using cash, don't forget to change your money before leaving the airport! In fact, I think the place to change it was near where you collect your bags.
You do not need to collect your bags, but I decided to take mine anyway so I could take a shower and change my clothes.
After immigration, go to the parking lot and find other people who are going to the same hotel as you. The hotels have their own shuttles that pick you up.
When you arrive at the hotel, confirm when the shuttle will return to the airport for your flight.
When I went back to the airport, the bureau de change after security ONLY had Swedish Kroner…the one in the baggage area apparently had some Euros or USD. If you have a hunk of Ethiopian Birr maybe try and change it before you go through security.
Then go and enjoy Addis Ababa!