Is it safe to go to Transnistria?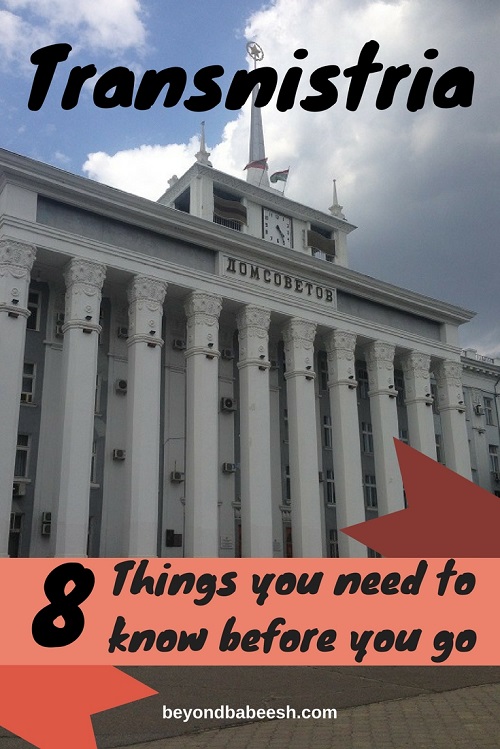 I can see my mother and everyone like her wagging their fingers at me right now. "You are an idiot for traveling to a de facto state! Do you want to give me a heart attack?" But then again a lot of people don't even know what Transnistria is so you can easily slip through the cracks without much external criticism. But is it safe to go to Transnistria?
I went to Transnistria alone using public transportation. I, if you haven't noticed yet, am also a girl. So I also will use part of this post to address solo female travel in Transnistria.
If you want to know about curious things to see and do while you travel to Transnistria, be sure to check out my extensive awesome guide to visiting Transnistria here!
Is it violent in Transnistria?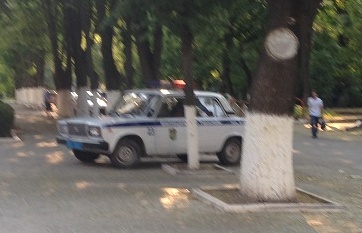 There has not been violent conflict in the region for years, but with any country that isn't really recognized it is probably best check the news before you go.
The Moldovans who took me around Chisinau all assured me that I would surely die if I traveled to Transnistria. But then they proceeded to drunkenly go there to sing karaoke in the middle of the night. I probably wasn't going to listen to them anyway since a lot of them also insisted that I, as a woman, was not physically able to eat a hunk of beef without a man cutting it into tiny pieces for me.
So, I went, and I had NO PROBLEM AT ALL. It is safe to go to Transnistria, but there are some things that every traveler should be know before going.
Some precautions you should take:
1. Be careful where you point your camera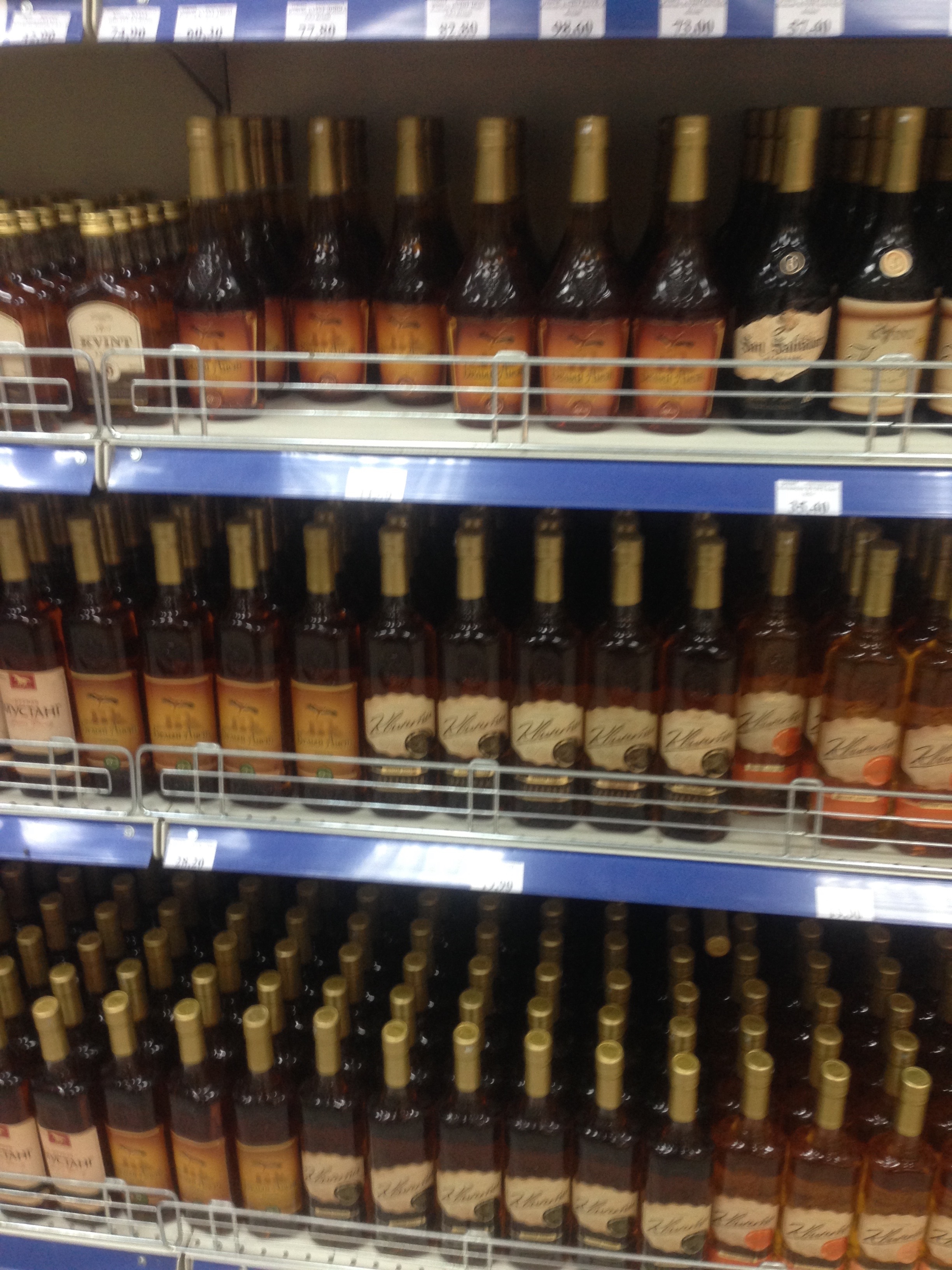 This holds true in a lot of Eastern European or former communist countries. Although it is safe to go to Transnistria, you will attract a lot of unwanted attention if you wave your camera around. It's not the place to snap your instagram-ready selfies with all the Lenin statues in front of the government buildings. Of course you can take photos, but be discreet, especially with government buildings.
They also don't really like if you photograph things in supermarkets in this part of the world so be aware of that.
2. Don't Get Hurt
Unless something really weird happens, there isn't a risk of violent crime in Transnistria. I think that the streets of Tiraspol are probably safer than any city in the United States. Obviously you don't want to get hurt anywhere, but you should be especially careful in Transnistria. This is because your health insurance will most likely not cover you if you are injured and seek treatment there.
3. Your phone won't work
When I traveled to Transnistria, even Moldovan SIM cards did not work there. If you need to make a call, you can go to the community center/ call center in the intersection of Marx and Lenin streets. It was straightforward, and for those who don't speak Moldovan/Romanian/Russian, when I was there the lady working could speak a little English.
4. Don't take huge amounts of currency outside of Transnistria
You aren't supposed to leave the de facto autonomous country state with their Rubles. I couldn't resist bringing a tiny souvenir, but if they catch you with tons of money trying to leave you could get into some trouble.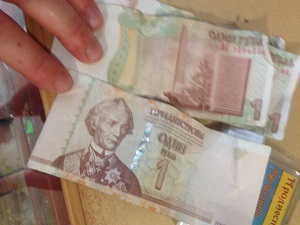 5. Gangsters and Scams…
Although there isn't really much violent crime in Transnistria, it does have a reputation for having sort of a shady underworld of gangs and scams. There are plenty of warnings about scams online, but I never was scammed in any way while I traveled there. With regards to the mafia gangster stuff, the main thing is to be well aware of a bar's clientele if you go out at night. You may not want to attract a lot of attention if you find yourself at the local gangster hangout.
6. People entering Transnistria from Ukraine may have an issue if they want to exit through Moldovan border afterwards
When you enter Transnistria from Ukraine, you technically do not get a Moldova entry stamp. This can cause some trouble because some Moldovan border guards will claim that you entered Moldova illegally. Check out the wikitravel page about travel to Transnistria for more information if you find yourself in this situation. Also, as of 2017, there is a dispute between Ukraine and Transnistria about their border since Ukraine recognizes Transnistria to be part of Moldova. As of now this only affects the transport of commercial goods and not pedestrians. I would double check though before trying to cross.
7. There are apparently some off-the-grid places in Transnistria that you aren't supposed to visit as a tourist
Chances are that you will not go to them, but before you just go wandering without a map I would double check to make sure you can visit these areas. If you are just going to Bender or Tiraspol you will have no problem.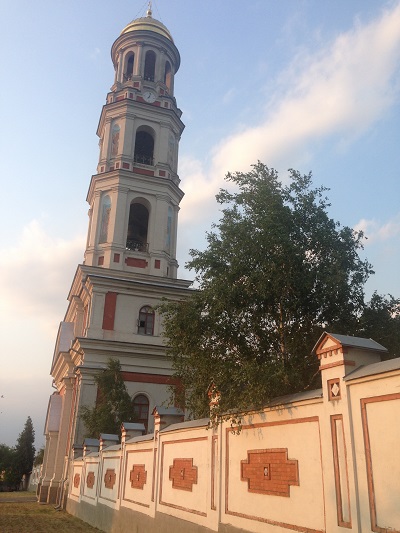 8.  Most importantly: do not overstay your visa!
Do you want to be imprisoned in a country that technically does not exist that has a history of police corruption? I don't. Your travel to Transnistria can be extended at certain hotels or government offices. Check the wikitravel page for info on that too! Generally, most passports are granted a 24 hour visa at the border, and it is safe to go to Transnistria and wander all around Tiraspol in those 24 hours!
Solo Female Travel in Transnistria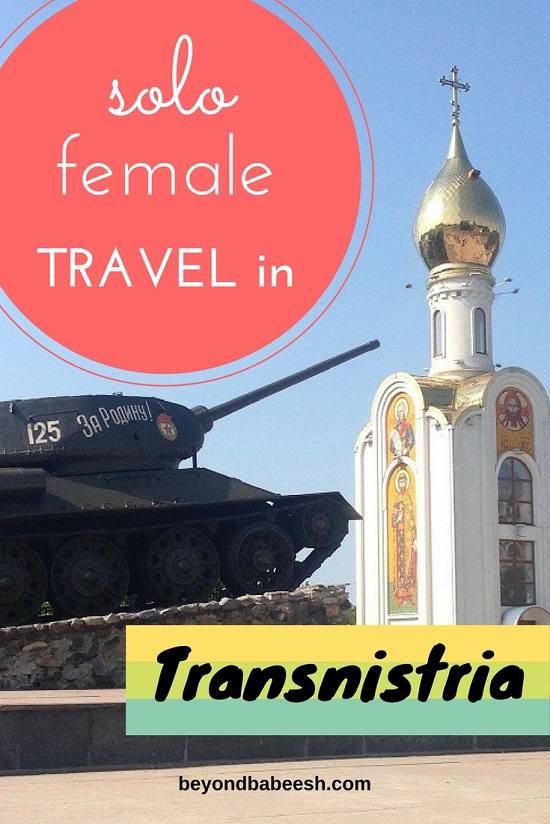 I think the above safety tips apply to everyone, and I did not experience anything out of the ordinary as a woman traveling alone. Although it is safe to go to Transnistria, there seems to be a macho man sort of culture over there. That comes with sometimes over the top chivalry towards women. In my case, other than that meat cutting episode that happened earlier, I was mostly ignored. I prefer that! This is mainly because women in this region seem to put an enormous amount of effort into their appearance. I'm talking formal dresses, high heels, and fashion purses…all just to go to the supermarket! I was a ragged traveler so it seemed like a lot of men went out of their way to avoid me!
I did not experience the bar culture there, but I think it is a given that women should be extra vigilant when going to bars at night in unfamiliar places.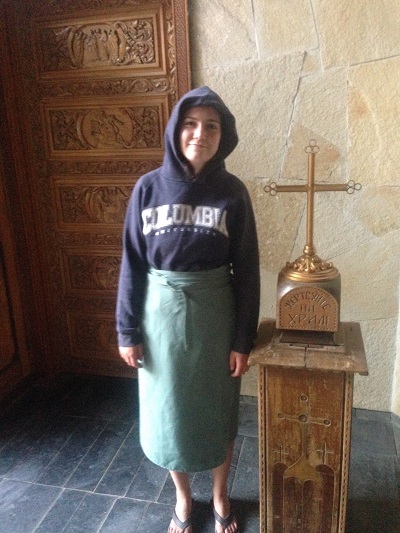 At an Eastern Orthodox monastery in the countryside, I had to make sure my hair and shoulders were covered. I also had to wear a long sheet they gave me over my pants. The nun laughed as she dressed me up like that. So I took a picture of her.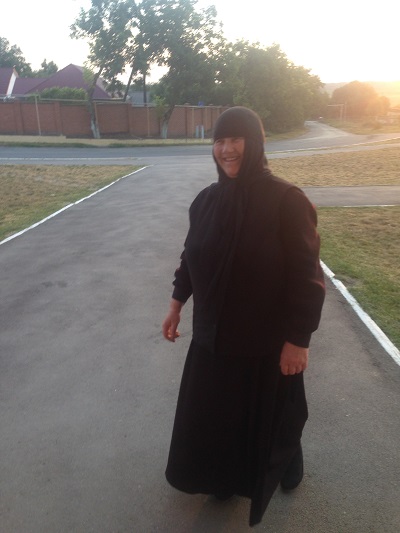 Lastly, my couchsurfing host (a man) told me that his house was a mess because "there were no women around to clean it." I wasn't sure if he was trying to insinuate that I clean his house…I didn't.
So, all in all, I think it is safe to go to Transnistria. You just have to be sure you are aware of current events and the precautions listed above.