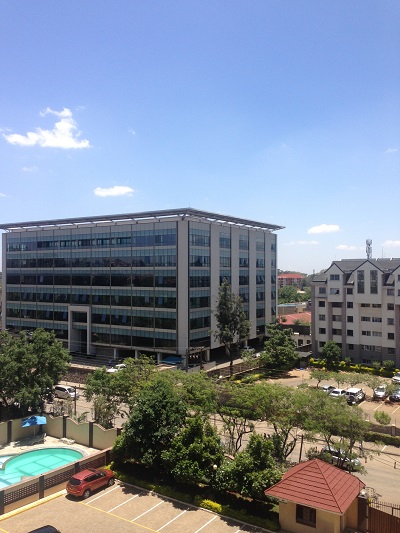 Are you interested in traveling between Kenya and Uganda by
bus?
As soon as I saw the cost of a flight between Uganda and Kenya I said NO WAY and opted to take the bus between Nairobi and Kampala.
It was my first time traveling in East Africa and I had so many questions!
Is it safe to take the bus between Kenya and Uganda? Is it safe for a young woman to travel between Kampala and Nairobi alone on a bus? Should I take the bus during the day or at night?
Before I answer these questions, let me tell you about my worst experience on the bus from Kenya to Uganda!
My friend dropped me off at the Nairobi bus station. I had tried doing research online but in the end I wanted to get a good look at my choice of bus from Kenya to Uganda.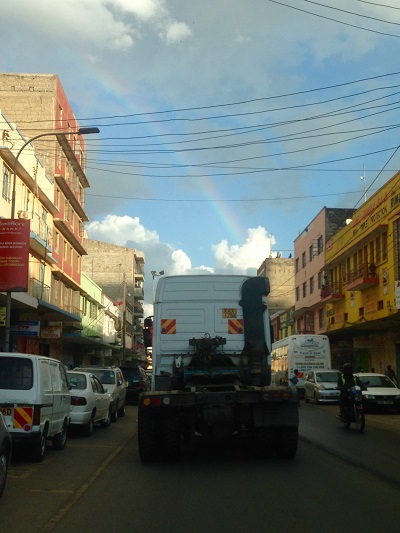 So most bus stations in this part of the world will have plenty of fixers wandering around looking for stupid tourist like myself to 'help'.
This one guy insisted on helping me. Now, after traveling extensively on the continent, I should have said "no thank you!" and done the work myself.
He told me that there were absolutely no seats left on the nice looking buses from Nairobi to Kampala. I was silly enough to believe him!
Suddenly I was on a bus from Kenya to Uganda called Crown. My first seat wouldn't even stay up…it was fully reclined! Eventually the driver took pity on me and put me in the front seat.
I'm sure he got a cut of what I paid for the ticket.
The bus between Nairobi and Kampala was in horrible condition, and the driver was blasting music all night. The music was great but it wasn't so good for sleeping!
I also accidentally told a young Somali boy that all muzungus (white people) are left handed. I then proceeded to freak him out when I took out my contacts.
Thankfully I took an awesome bus from Kampala to Nairobi! More on that bus below.
Should you take a daytime or nighttime bus between Kenya and Uganda?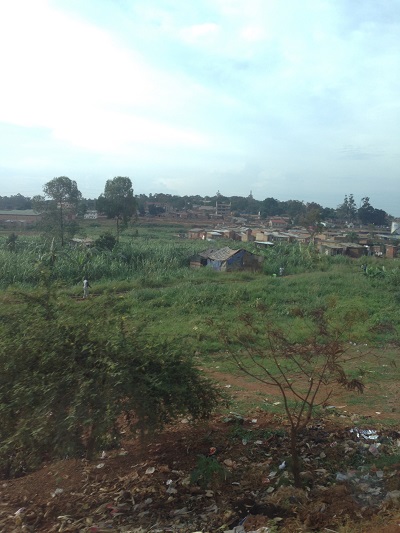 Some buses between Kampala and Nairobi give you the option to travel all day long or travel all night long.
Due to my scheduling I had to take the night buses between Kenya and Uganda. This was a bummer, though, because I wanted to look out the window and see the countryside!
After talking with my friends about safety, both night and day buses between Nairobi and Kampala are usually fine.
If you take a bus during the day, be sure not to sit on the side where the sun will shine on you all day! That's the problem, the daytime buses can get really hot.
The nighttime bus from Kenya to Uganda is less hot, but you probably won't sleep too well. Plus then you have to get up in the middle of the night and stand in line at the border!
This is a busy route. You don't need to be worried about being completely isolated somewhere in the middle of the night.
The best bus from Kenya to Uganda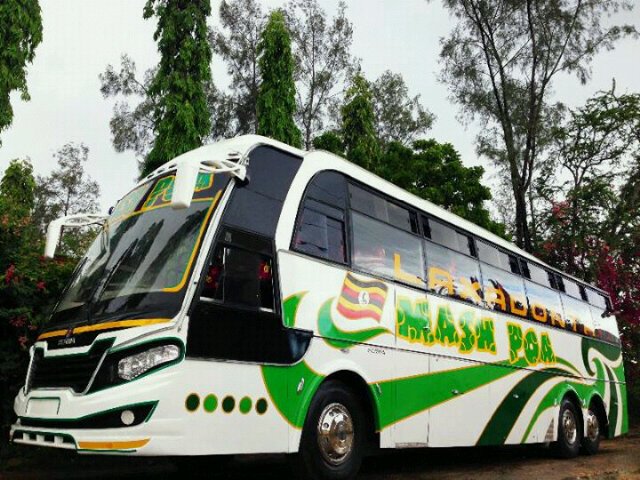 So when I took the bus from Kampala to Nairobi, I took MASH and it was fantastic.
The buses have "Mash Poa" on them and they are comfortable and clean.
I ended up being a fancy gal and got a 'Business seat' on the bus. This was probably the best decision I have ever made! The seat was enormous and comfortable.
There are also VIP seats that are basically huge leather recliners at the front of the bus. These would have been cool, but it seemed like that front area turned into a big party between the staff and some people hanging out up there.
So if you want to get some sleep, the VIP section may be a little noisy.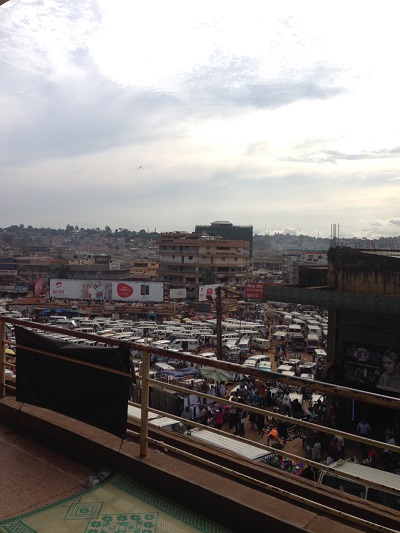 Things to know about the bus between Nairobi and Kampala :
You can find the bus stop locations and book your ticket for the MASH bus between Kenya and Uganda here!
It is a good idea to book the bus in advance.
But if you book online, you have to either show up and pay in person or pay with M-Pesa.
If you are unfamiliar with M-Pesa, you probably will become very familiar with it if you spend enough time in the region!
You can't pay online, unless you make an M-Pesa account online.
The price for a normal seat is 2,000 Kenyan Shillings (around 20 USD), it is 2400 for a business seat, and 2600 for a VIP seat.
I really recommend spending that few extra dollars for a business seat!
What about my bag on the bus?
They asked me to put my bag under the bus, and that was ok. Obviously keep an eye on it if you make a stop and people are collecting their bags.
The bus has a conductor, and ours even had a security guy. They made sure nobody came onto the bus who didn't have a ticket.
Buses leave on time so be there early! If you are far from the bus stops, remember how bad the traffic can get in Kampala and Nairobi!
I was stuck in traffic and had to jump on a motorbike…he zoomed to the bus as it was leaving and cut it off so they would stop and let me on…oops here's the dumb Muzungu who couldn't make it to the bus on time!
Some other tips for the bus between Kenya and Uganda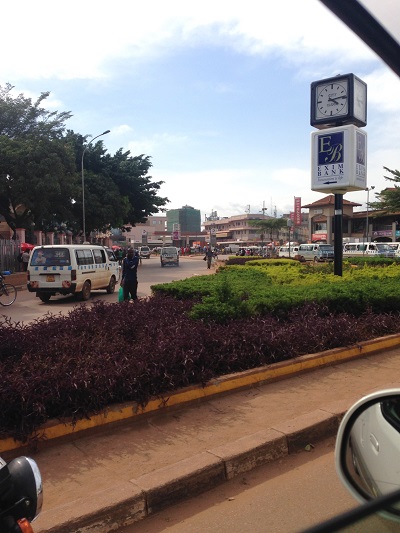 If you want to try and sleep, bring earplugs and some sort of pillow.
This isn't a silent bus…people are having fun and chatting. People are watching the same music video over and over on their phone with the volume on full blast.
The fact that Kenya's cellular data network is absolutely amazing makes it so everyone can watch movies on their phone!
By the way, I had just a Safaricom SIM card for my phone and it worked well and was cheap. I was chatting with my mom on Whatsapp for have the trip, even when we were seemingly in the middle of nowhere!
The pillow is because the road is bumpy and I slammed my head into the window more than once.
Bring snacks! The only stop our bus made was at the border and there wasn't too much time there to find something to eat, especially in the middle of the night.
Don't drink all your water right away, either, or else you will have to use the bathroom right away! The bathroom worked on Mash Poa but that isn't always guaranteed.
Lastly, at night the bus got really hot. It seems like Ugandans and Kenyans are used to sleeping in warmer temperatures. I'm not! The man in the seat next to me really didn't want the window open.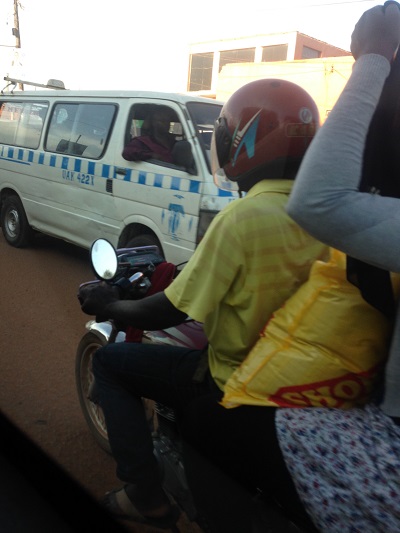 Crossing the Kenya- Uganda Border
Don't lose your bus! You can take a quick bathroom break but stay with your group. Maybe rush to the front and go to the bathroom so you won't be at the end of the line.
I was traveling with the East Africa tourist visa so I didn't need to worry about buying a visa at the border.
A man in a lab coat picked out all the obvious tourists inthe Kenya border line and started demanding our yellow fever vaccination certificates.
I didn't have one…
The Ugandan man with me, who had just told me about how he was sterilized so his wife wouldn't have to use birth control (lol bus conversations), firmly told the man wearing the lab coat that I didn't need one while taking the bus between Nairobia and Kampala.
That's the thing…the guy wasn't a border agent. They had a little room where they were giving vaccinations and I think he just wanted some business.
The border agent did not check for a vaccination sheet.
If you are just staying around Kampala and Nairobi, you will not need a yellow fever vaccination if you take the bus from Nairobi to Kampala.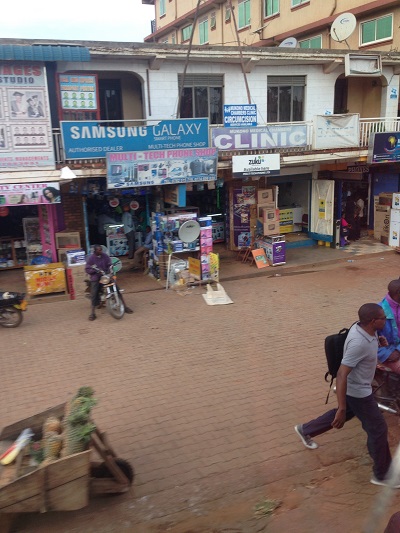 Arrival plans when you take the bus between Kenya to Uganda.
If you take the earlier bus, you will arrive in Kampala or Nairobi when it is still dark out. There will be taxis around so just know where you need to go.
If you are staying in a hotel or hostel, usually they will have advice or a preferred taxi driver they can send to get you.
Also try to get currency from both countries. You don't want to be stranded at 4:30 or 5 in the morning with no taxi fare.
If you're an obvious tourist, waking up and suddenly being thrown into the sea of taxi drivers vying for your attention is pretty surreal.
It's all part of the experience of taking the bus from Kenya to Uganda!
Safe travels!
If you liked this post, consider pinning it!