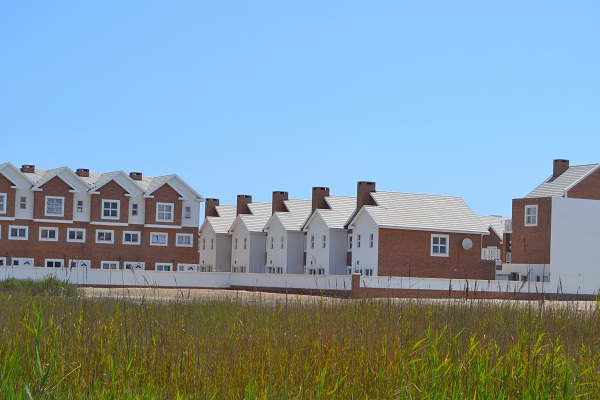 Parts of Namibia are really weird
Ok I don't want to offend any Namibians reading this blog, but I need to admit that I had way more "WTF?" moments in Namibia than in any other countries in the region.
But send a Namibian to my hometown and I'm sure they would find plenty to criticize as well.
I think it is due to the desert landscape. That always makes me think of Salvador Dali and therefore everything becomes weird.
This all started just minutes from the border with Botswana, deep in the Kalahari desert…
Check out my other posts about Namibia here!
Some Germans agreed to give me a ride from Maun, Botswana all the way to Windhoek. I was broke and without a debit card and so I jumped at the opportunity. We ended up spending two full days together and one night of camping.
So we cross the border into Namibia and find a place to camp for the night
Remember, Namibia is one of the least densely populated countries in the world. Dare I say it was once Germany's (and to some extent, Great Britain's) Wild Wild West [Africa]?
If all the German tourists in Namibia are like the ones who gave me a ride then it seems like Namibia still serves as some sort of Westworld (minus all the pillaging and murder) for Germans.
Granted, pillage and murder on a massive scale still resonate in Namibia's recent history. The first genocide of the 20th century took place there under the German Empire.
But I could easily babble about colonialism, which is a very important topic, but I will spare you for now!
What I want to talk about is our campsite, but first…
Camp Nowhere and Colonial Ghosts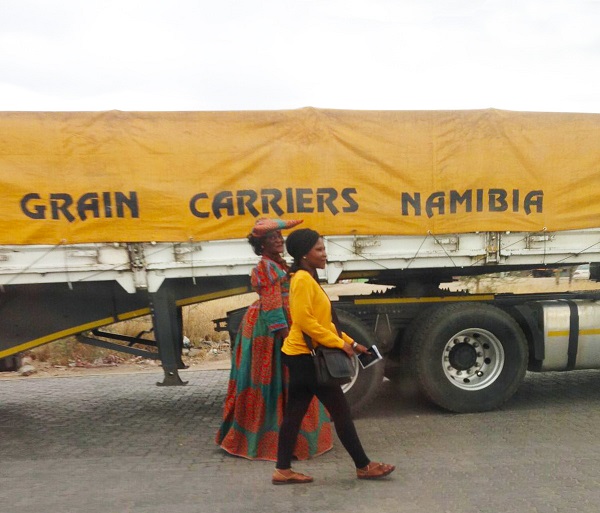 You are in the vast desert. Once in a while you will pass by a Herero woman wearing the absolutely magnificent traditional dress and cow horn head cover all brightly colored against the dead background.
Actually, even though Namibia contains some of the most magnificent natural scenery I have seen, these traditional Herero customs were by far the most haunting and fascinating part of my time there. They wear the dresses to continue to protest against what the Germans did to their tribe and culture in the 19th century. Read more about that here because it is really moving.
But you are in a far corner of the world, in a vast and empty landscape and men and women are walking around dressed in traditional clothes from the 19th century. This is all to remember the horrible things done to their people in recent history. Where in the world am I??
Disneyland
So as I was pondering Herero traditions we pulled up to our campsite for the night.
Namibia is super empty, but unlike places like Zambia or Botswana, you will notice fences everywhere.
A lot of the country consists of private ranches. This vast empty place is very much claimed. The ranches are for cattle, but there are also lots of big game ranches and it's not rare to drive by herds of kudu or springbok.
This also means you can't just wild camp. You're not on safari when driving the highways of Namibia.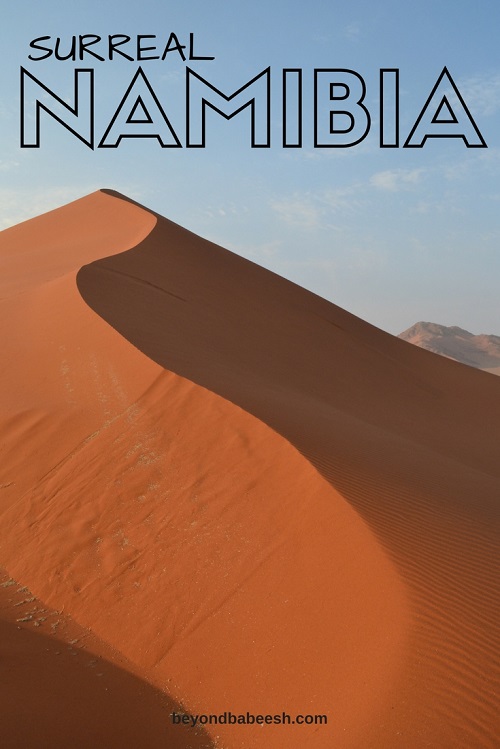 And the campsite we stopped at was hilariously weird. It was a family-owned ranch just filled to the brim with gnome statues, tacky fountains, bizarre murals, and a whole zoo of random animals. Many of the animals were not indigenous to the region.
Country music was blasting, and every time  I thanked the woman at the front desk she would basically shout "it's a PLEASURE" at me with her thick Africaans accent.
They served us kudu roast and springbok meatballs. The camp, in its tackiness, was pretty luxurious compared to the other camps I had visited over the weeks.
So I took one sip of tap water and then spent the whole next day barfing up kudu roast in my Couchsurfing host's bathroom in Windhoek!
I had to hold it in during the ride to Windhoek with the Germans. They mentioned that I was "less entertaining" on that day which was sort of a strange thing to say but whatever.
Windhoek
Windhoek is just as bizarre. Parts of it look like you are in Beverly Hills, CA. There are a lot of very architecturally tasteful buildings, but then you go to the center and the colonial church sits under the shadow of the looming, North Korean built Independence Museum.
But then again, why not? I mean, North Korea the the epitome of a country that continually says F YOU to the big superpowers of the world. And a lot of these superpowers represent colonialism, be it historical, economic,  cultural or all of them. So maybe it is fitting that they built the independence museum.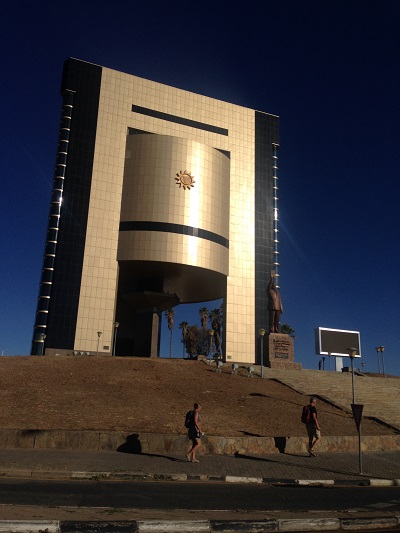 But by all means I am NOT saying I am a big fan of North Korea! I guess I was just seeing Windhoek through my American lens…
Also go take a look at the State House if you haven't had your fill of North Korean architecture…
And as with other neighboring countries, just a short drive from the rather chic and clean center of Windhoek you pass through a quasi tent city of impoverished people. I took a car back from Swakopmund and the driver was from there and had to drop something off, revealing a side of Windhoek tourists rarely see.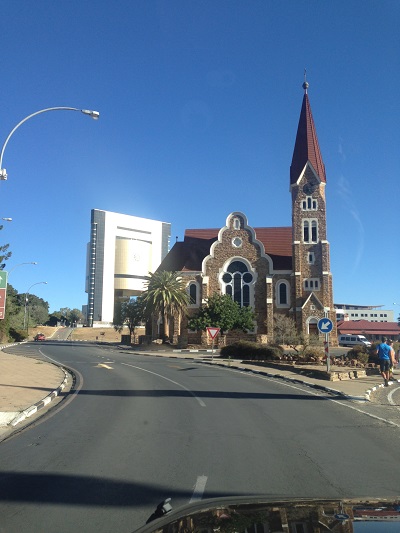 Swakopmund is the strangest name ever
Sure you can throw back that Michigan, my home state, is weird and I completely agree. But then you arrive to this colorful outpost near the unforgiving Atlantic Ocean and the place is just as bizarre as the name!
It was strange to compare the tropical beach paradise coast of Mozambique to the Atlantic coast in Namibia. Sure, people go to Swakopmund for a beach holiday but that seems to be a little like going to San Francisco for a beach holiday.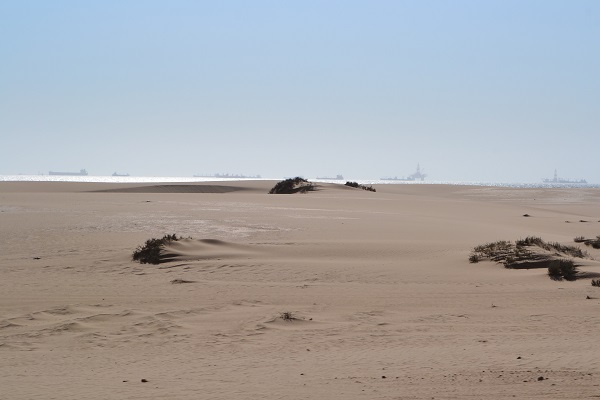 But you drive across the desert and suddenly there are oddly colored buildings and pristine streets. You travel a bit out of town and you go from rolling sand dunes to a lunar landscape in the Dorob National Park, where the  Welwitschia mirabilis plants survive off moisture in the air and take 100 years just to germinate.
Some of these unassuming, leafy plants are up to 2000 years old. Namibia became a country in 1990. Heh.
Then you look up and a flock of pink flamingos flies by.
You are in a Mad Max movie when you go to Sossusvlei
Sossusvlei is pretty much the most photographed place in Namibia. I feel like every computer, ever has a Sossusvlei photo as a preset desktop photo.
Entering  Sossusvlei is pretty much the same as entering the gates of hell. It's hot hot hot, there's red sand everywhere, and if you wander too far you could get attacked by an ostrich.
But for me the strange part is that you have to drive on gravel roads for hours and hours to get there, but as soon as you arrive to the park gates there's a perfect, paved road, but then it abruptly ends kilometers before you arrive to the most popular area. Just sort of an Alice in Wonderland kind of road coming from nowhere and leading to nowhere.
So there you go
Roads to nowhere in the red desert, people speaking German walking among people speaking Nama, one of the local languages that uses over 20 different clicks. A hunk of the country is called the "Skeleton Coast" and is full of bleached whale bones and decaying shipwrecks.
Dead, sandy desert all over. Lunar landscapes with ancient plants. Ultra modern, minimalist architecture. Colonial wild wild west feeling architecture next to North Korean communist spaceships. Or even ghost towns with forgotten buildings full of sand (Kolmanskop).
Namibia's tourism board should market Namibian vacations to be like "immersing yourself in a Salvador Dali painting".