My Problems Changing Money in Africa
or
I am the Kwacha Queen: How the Okavango Delta became the Okavang-NO Delta
"I couldn't fit inside the tree! " -Biggie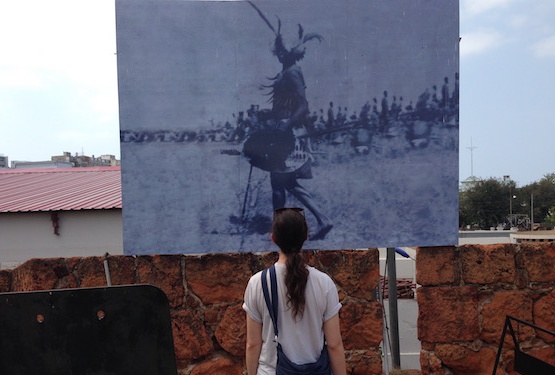 This story is about the nightmare that is changing money in Africa. You have been warned…
When I arrived in Botswana, I was more distracted by the giraffes and elephants outside the window than the fact that I hadn't changed all of my Zambian Kwacha into Botswanan Pula.
No big deal, right? I'm going to a major tourist center and Zambia is Botswana's neighbor—they share a border crossing!
The the bureaus de change in Livingstone were all closed, and up until this point of my trip I had gotten good rates at the other borders.
Nope. Don't expect a good rate at all the borders…
That was not the case at the Botswana-Zambia border. The rate was terrible, and since I was living off of a big hunk of cash due to losing my debit card (and having no other backup cards except my shiny piece of useless AMEX plastic) I couldn't risk losing a ton of cash to an unfair transaction.
Before I babble on and on in this post: CHANGE ALL OF YOUR MONEY IN LIVINGSTONE WHEN YOU CAN. Yes, I am yelling at you. Or you can just have a debit card, unlike me.
In fact, you will perpetually have problems changing money in Africa if you don't change money before crossing the border into another country. Obviously USD, Euros, Rand, and GBP will be widely accepted, but smaller national currencies will often be refused even in neighboring countries.
Meeting Biggie and arriving in Maun
During the wild ride on the bus to Maun, a man started laughing at me when he saw me awkwardly hanging out the window trying to get a clear picture of one of the local, magnificent Baobab trees.
If you haven't seen one in the wild before, they are really impressive sights. I always saw them from trucks or trains or cars, and so I never had a good opportunity to do them justice in a photo. That time wasn't an exception
His name was Biggie, a Zambian who worked in the lumber business who was on his way to Maun to do some consulting for luxury safari lodges.
Biggie was just that- big. He also had a glass eye that always looked in one direction. He started talking about how near Livingstone there's a giant Baobab tree that people can somehow go into, but he was so big that he got stuck in the entrance.
The bus was loud and we were passing through a park that was just filled with animals, so I tried to politely respond to him while looking beyond him to see any animals.
But Biggie was persistent, and he was a hilarious guy. He decided he would help me spot animals, which also included shouting "ANIMAL!" every time he saw a cow or goat as well as a joke.
He also had a son who was studying in the USA. We laughed a lot and when we arrived in Maun, he and his friends dropped me off at Old Bridge Backpackers, where I would be camping (well, I camped across the river at their other camping location).
He wrote his phone number down on a sheet of paper and told me to call him if I had any problems and then we said goodbye.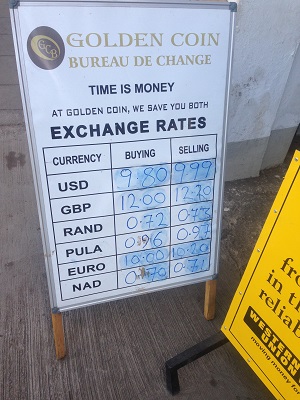 Problems Changing Money in Africa: Botswana Edition
The piece of paper just had BIGGIE and a number on it. I stuffed it into my pocket and forgot about it.
I went to pay for my few nights of camping and the girl working laughed at me when I asked if I could pay the next morning after changing my money.
"Good luck with that…" she said as she shook her head.
She was right.
The next day, I went to every single bureau de change and bank in Maun. All the banks list Zambian Kwacha in their exchange rates, but absolutely nobody will change it.
The bureaus de change only would take Rand, Euros, and USD. My wads of Kwacha had turned into worthless Monopoly Money…I was screwed! My problems changing money in Africa had begun.
I went back to my campsite and asked the women in the office if I could use their number and charge my electronics. At every request, they said it would cost me, but then they realized what was going on and just would say "Oh, it's free". That was really nice of them.
Thankfully also the internet worked really well there because I was practically the only person using the spillover campsite for Old Bridge Backpackers, and so I could make some calls regarding my Western Union wire transfer and do some of those chores related to problems changing money in Africa.
I am the Kwacha Queen
But what was I going to do? I was the Kwacha Queen and I already owed people money in Botswana. I couldn't just pack up and run away, and plus I imagined that nobody would change my Kwacha in Namibia—my next stop—either.
Since I only brought one pair of jeans with me on my trip, Biggie's phone number was still in my pocket. Biggie the ZAMBIAN! The Zambian who worked in luxury lumber sales…he seemed to be pretty well off.
I begged the girls in the camping office to let me use their phone and they were really nice and obliged. I dialed his number.
"Hello?"
"Hi…is this Biggie? This is the American girl you met yesterday."
"OH HEYYYYY! How are you?"
"I actually have a bit of a problem….you see I have a lot of Kwacha and no Pula."
"I see…"
"If are able to change my Kwacha for Pula, you will save me! I will give you a great exchange rate- the you will walk away with the equivalent of $20 if you help me out!"
"Oh yes! Meet me at the Pick N Pay parking lot at 16h."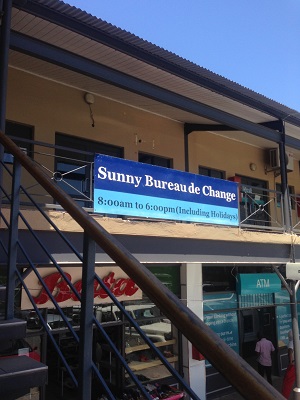 Feeling like a drug dealer…
So yes. It wasn't over yet. I going to show up in a parking lot with a wad of cash to meet a guy with a glass eye named Biggie who I met on a bus who was going to give me a wad of cash. No! Not sketchy at all! A perfectly normal thing to do. I felt like a drug dealer.
I took the public transport to the grocery store and lo and behold Biggie was there waiting for me. Phew!
He have me a firm handshake, looked around with his good eye to make sure nobody was watching, and gave me a monstrous wad of Pula. He counted my Kwacha, gave me pat on the back and told me to be careful carrying that much cash around on me.
It was probably around $200 in cash, but it was the only cash I had to last me until I arrived in Windhoek so I felt really nervous carrying it around. I thanked him over and over. We parted ways and that was that.
The things I learned from my problems changing money in Africa:
Never assume you will be able to exchange a type of currency in another country, even if those countries share a border!
Don't throw away phone numbers people give you. In some countries I visited I felt like I got 5 phone numbers a day. You never know when you will need someone's help
Although you should be safe and wary of strangers, never underestimate how amazing people can be.
I was happy to give Biggie a big cut of my cash to pay for the exchange rate and his time because he really helped me out. He even helped me get situated the night before at my hostel. Sure I need to keep my distance with unknown men while traveling alone, but damn, Biggie, you saved me!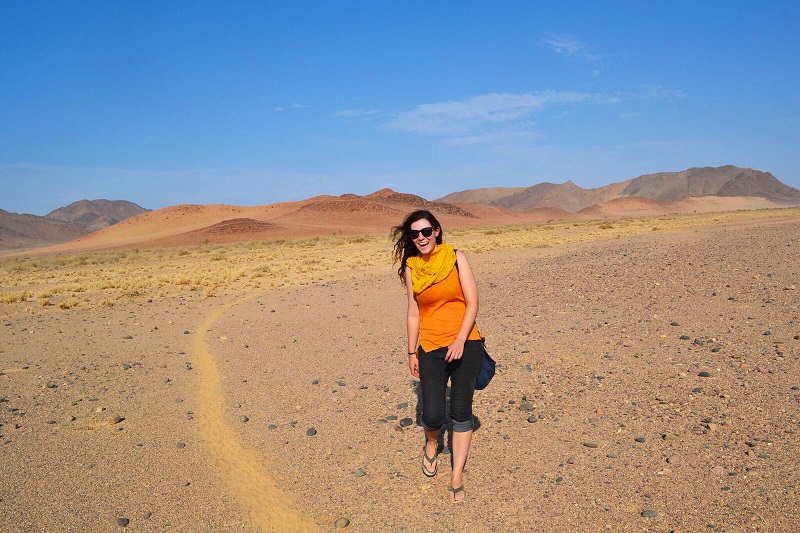 Money changing problems in Namibia
That whole ordeal left me feeling exhausted, and although I could have spent a couple more days in Maun and explored the Okavango Delta, my dwindling cash put me on edge and I was anxious to get to Namibia where I would be able to get my Western Union wire.
I also met some awesome Germans at my camp who had a luxury safari truck who offered to drive me all the way to Windhoek for free. So, unfortunately, the Okavango Delta became the Okavang-NO Delta.
The amount of wildlife I saw on my way to Maun was very satisfying, and I made a promise to myself as I was sitting in my tent that night that I would revisit Botswana one day in the future when I will have more money to spare and more time to be able to do this natural wonder of the world justice.
Until next time, Botswana!
Second time's a charm…
And yes, to spare you another babbling post about money changing problems in Africa, the SAME predicament happened to me again in Namibia. You think that since Namibia and Botswana are neighbors it would be relatively easy to change Pula into Namibian Dollars in Windhoek, but it isn't.
If you are coming from Maun, change all of your Pula at Ghanzi. There's a bureau de change at the shopping complex there. Nobody was changing money at the border.
I ended up getting lucky at a bank in Windhoek. Some big client had just ordered a large amount of Pula and they had none and so they took mine off my hands. They told me that this isn't common!
Lastly, don't always trust TripaAdvisor with these things. I wrote a post asking about changing money and some country specialist from Costa Rica gave me the most idiotic "go to the local bank" response even after admitting having never been to the African continent.
Whoops I guess I had to fume some anger, but you can avoid these problems by keeping your debit card safe!
Good luck!