I was sick and practically penniless when I arrived in Namibia.
But I was just so happy to be there! Sure I didn't have a debit card and had a wad of cash that was useless there, but I had made it! Namibia had been on the top of my bucket list for the longest time. Just crossing the border gave me an adrenaline rush.
I was technically traveling alone in Namibia. But any solo traveler will agree that you are never really alone during the journey.
See Also: My Southern Africa Trip Overview
But since I know there are some ladies out there who may be curious about solo female travel in Namibia, I decided to write a little post about my own experience going to Namibia alone.
Solo Female Travel in Namibia was different than in neighboring countries
As a tourist in Namibia, you will either be in the middle of a desert or in their modest, relatively manicured cities. The country is so sparsely populated that being stranded in the desert may prove to be the most dangerous thing about the country!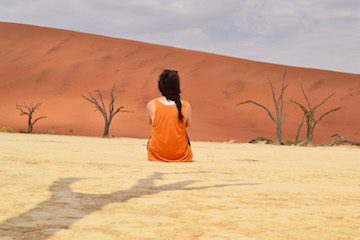 But still, the general rules of solo female travel in the region apply to solo female travel in Namibia:
Avoid any displays of wealth. As a tourist, you will already be seen as a wealthy person, even if it may not be true in your home country. Swinging your expensive camera around on the streets of Windhoek isn't a great idea.
Also, I am not going to tell you how to dress, but I always was sure to be covered. It was just easier to avoid extra attention that way.
Avoid walking around alone at night. This is my number one rule for solo female travel on the African continent. There were plenty of groups of young men looking for trouble in the outskirts of Windhoek at night. You would probably be fine in Swakopmund, but be cautious unless you know exactly what you're doing.
Keep your valuables safe, especially on public transport. To save me from always worrying, I always kept mine in this bag.
If you are renting a car, know that you drive on the left side of the road in Namibia. It is like England. I rented a car and it was terrifying! This is especially since the majority of them are manual transmission and I am a stereotypical American and hate driving a stick!
Windhoek is a little spread out so make sure you prepare how to get home before you set out. This is especially because there isn't a lot of set public transit in Windhoek or in the country as a whole.
People may think you are soliciting sex if you go to a bar alone, though this doesn't really apply to safari lodges and campsites.
Solo female travel in Namibia: outside of the cities
Most people go to Namibia to see the amazing nature the country has to offer. Dressing modestly and hiding your camera don't apply when you are in the desert. Though you may still want to cover up in the desert just because the sun is so strong! Sunscreen didn't work for my pasty white self.
Check out my other Namibia posts here!
Drink plenty of water, and this will have to be bottled water once you are out of town. The only time I got sick during my big Southern Africa trip was after I drank tap water at a luxurious campsite in Namibia. My fault, I know, but I didn't stock up beforehand.  They only sold tiny, expensive bottles of water there!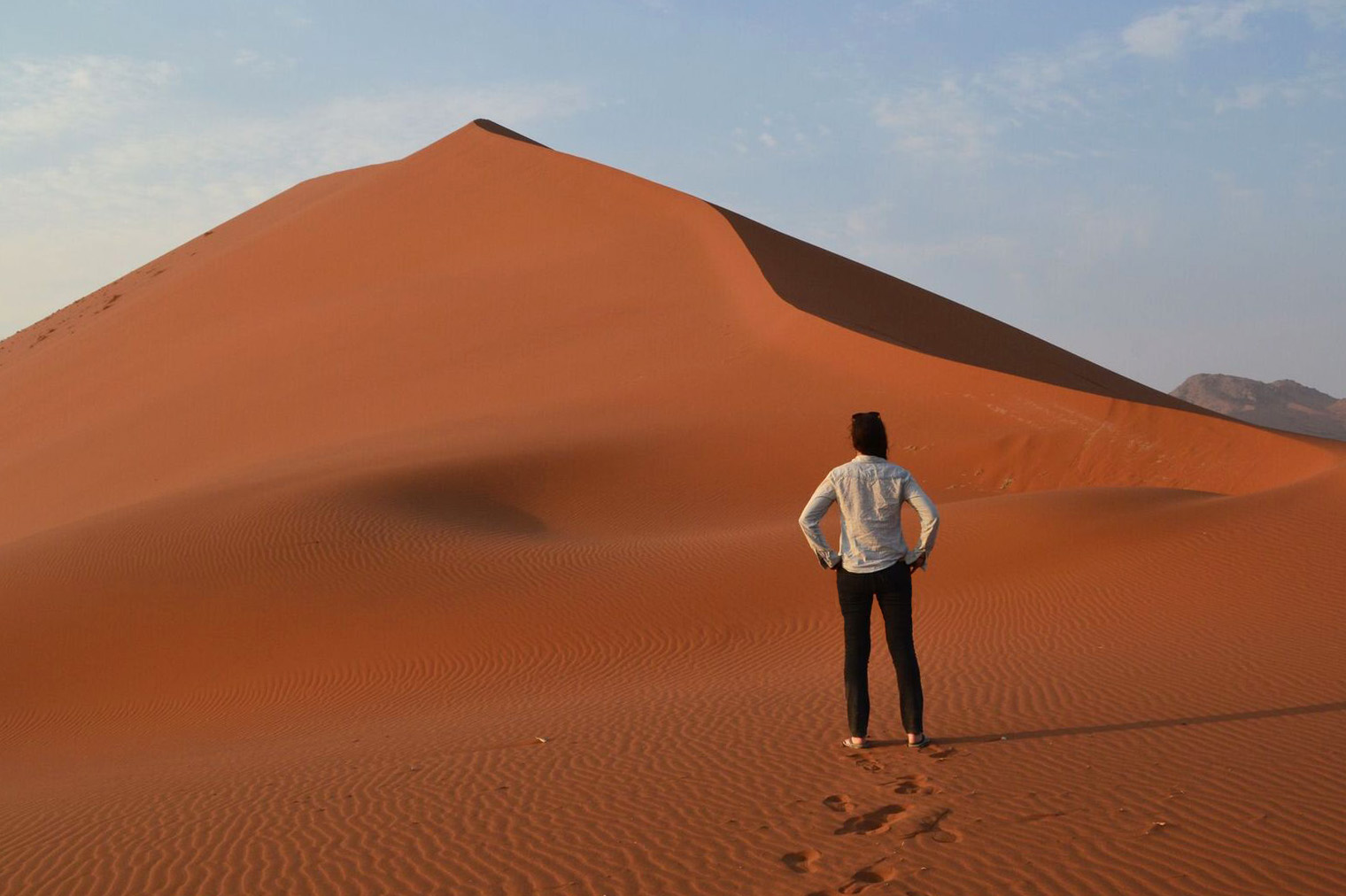 Watch out for wildlife.
I turned a corner in Sossusvlei and nearly ran into an ostrich. My couchsurfing host casually mentioned he saw a black mamba (a deadly snake for those of you who don't know) in his garden…if you are on safari always listen to your guides and just stay vigilant!
See also: My tips for not getting eaten alive when camping in Africa
On public transportation-
This was the same in Swaziland and South Africa as well as in Namibia, but the minibuses that go in between cities usually stick all the larger bags into a sort of wagon/trailer behind the bus. I never saw anyone tampering with the bags, and I never had a problem putting my own bag with the rest.
I would just be careful to make sure you don't have any valuables in your bag. It is not because they may be stolen, it is because the wagon may hit a bump and your bag will definitely get shaken up.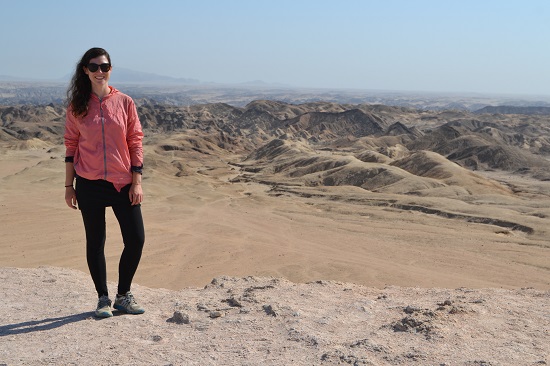 Solo female travel in Namibia and money
So Namibia is known to have a lackluster public transportation system. The fact that it is one of the least densely populated countries on earth probably is the reason for that!
I just wanted to mention that solo travel in general in Namibia can become a little pricey if you want to leave the big cities.
It is possible to go on some nice, affordable desert expeditions from Swakopmund, but if you want to visit Sossusvlei or Etosha you will either need to rent a car or pay for a pricey tour.
Staying in a hostel may be the easiest way to find like minded tourists who may want to split a car rental. Or check ahead of time on couchsurfing! I got lucky and met another traveler who split a car with me to visit Sossusvlei.
There is plenty of public transportation between Windhoek and Swakopmund, in case you were wondering.
So there you go-
Solo female travel in Namibia really didn't feel like anything special. In fact, I felt really relaxed and comfortable in and outside the major cities.
People seemed more reserved there than in Zimbabwe or Zambia. I was never stopped on the street or hassled in any way. This held true in the big cities, little country towns, and even in the tent city on the edge of Windhoek. No problems.
I hesitated even writing a post about solo female travel in Namibia because it didn't stick out as a place that seemed particularly difficult for women to visit alone. But since there isn't a whole ton of information about Namibia floating around out there I figured I would just throw in my experience. Have a wonderful trip!