In Tofo I got slapped in the face by a jellyfish.
It wasn't one of those freaky, instant death ones. It was more like a lone spaghetti noodle floating through outer space. But that doesn't mean it didn't sting like hell.
Needless to say, I'm honestly not a huge water activities person, and it's not because of this rogue noodle. I basically can't give any scuba obsessed people any nuanced advice about this place. It seems like a huge chunk of people who end up in Tofo are there for scuba.
BUT! If you are thinking "Why in the world did you go to a beach if you hate water activities?"…Well,  the reason why I didn't like my time in Tofo wasn't actually related to the water or aggressive jellyfish. I will address that at the end of this post, but first, here are some places to stay and things to do in Tofo, Mozambique!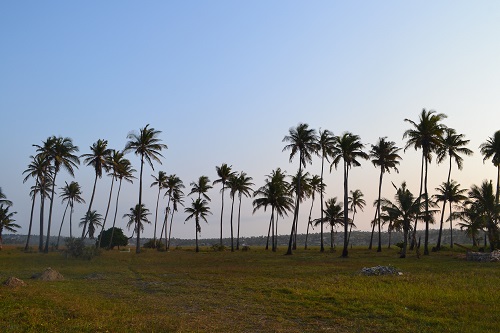 Choose your ambiance…
Tofo was pretty much empty when I arrived. That's just the way I like it. If you go during South African school holidays apparently it's a crazy party the whole time. So plan according to your tastes.
Be sure to check out my other tips and posts about Mozambique here!
It was beautiful and rustic. Laying on the empty beach and losing track of time was just what I wanted after the crazy journey to arrive in Tofo. You can often see whales in the distance when you are just standing on the beach.  Ah, so nice. So I guess being lazy on the beach and absorbing the beauty is at the top of the list of things to do in Tofo.
Where I stayed at Tofo Beach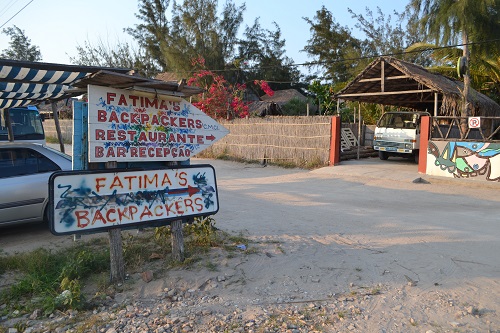 I stayed at Fatima's Nest and it was pretty nice and very easy to get to. I treated myself to a few nights in a little cabana which was wonderful. The solitude felt great because I was feeling a little worn down from too much social time (funny how that happens when you travel alone!). I even had an entire electric plug to myself to charge my things! I stayed in the dorm on the last night and couldn't find a plug anywhere. The dorm folks were stuck sitting in the restaurant to be able to charge their things.
Even when it's a low time you're bound to meet other travelers there, which was fun for me because up to that point in my trip I hadn't met any other backpackers/travelers. You get an interesting, diverse crowd over there.
Clarifying the negatives about Fatima's Nest…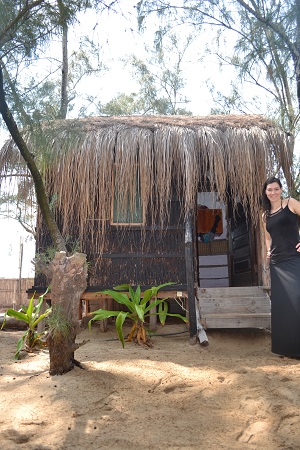 Fatima's seems to get a lot of mixed reviews both on the travel circuit and on the internet. I noticed that a lot of people would complain about being overcharged. Apparently you will be charged more if you don't leave your room or bunk by 10 am, which is fair enough and to be expected, but also there wasn't a lot of information posted stating that so I can understand the confusion or frustration.
People also were talking about how one certain worker would charge them more arbitrarily, presumably to pocket some change. This didn't happen to me at all, but I always was sure to pay the manager (he's usually hanging out behind the bar) and hold on to my receipt.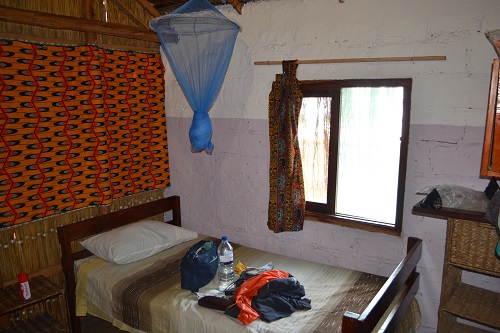 It was definitely no luxury resort but I assume people who want that would book elsewhere. The main accommodation area seemed secure enough but the camping area seemed to be a little exposed and I wouldn't have felt comfortable leaving my tent there. Camper vans and trucks that can be locked would be fine, though. There were no lockers for campers to store their things.
Regardless, I had fun here. It was clean and the people were nice.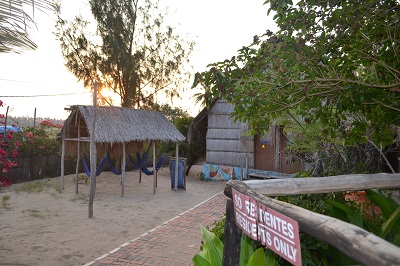 The top things to do in Tofo if you're not being a lazy beach bum
Ah so you are sick of hearing about hotels? Let's get on with this things to do in Tofo business…
So, as I stated earlier, I'm not a big water activities person. I do like snorkeling, though. I'd say 70% of all sentences containing "Tofo Beach" also contain the words "whale sharks" in them, so of course I ended up on one of those water safari trips where you sit on the boat ready to dive into the water and snorkel at the sight of anything cool, such as a…wait for it…whale shark. That's as adventurous as I get in the marine world.  This is also the top of the list of things to do in Tofo.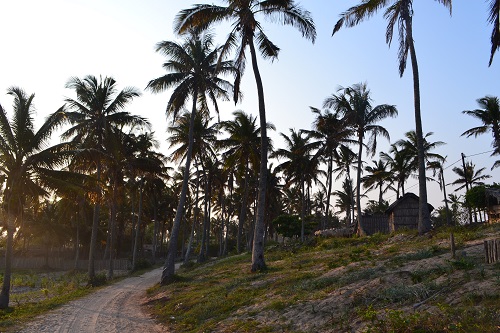 I went with Peri Peri Divers and was very pleased with how attentive all the people working there were before, during, and after the trip. Also their equipment was in great condition. The last time I had been snorkeling was in Egypt and the equipment was terrible. And I didn't realize that until I was in Tofo with their nice stuff.
All of the trips with all of the operators take place on big, inflated raft boat things. They bounce up and down and after about 20 minutes I was basically falling out of the boat due to seasickness. The diving place offers Dramamine, but even small doses of Dramamine make me, well, hallucinate. Not helpful.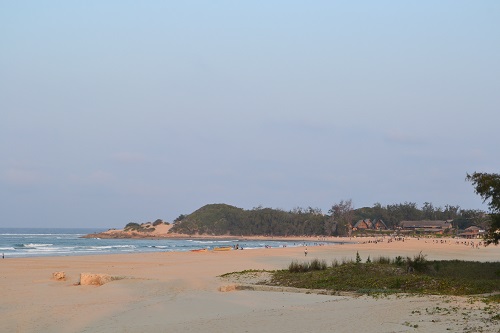 We saw a few dolphins during that trip, but that was it. No worries. It's a rough business when you are dependent on animals showing up to say hello. They were super nice and told me I could have a spot on the trip the next day for free, which I did.
The Second Attempt…
We didn't see much of anything the next day, either. They said I could go the next day as well, but I decided to cut it. My stomach couldn't handle it, and there are other things to do in Tofo. I appreciated that  it sort of turned into an open invitation until we stumbled upon something. At the end of the second trip they let us snorkel around a bit but the waves were big and the visibility wasn't so great and that's when I got bitchslapped by a jellyfish.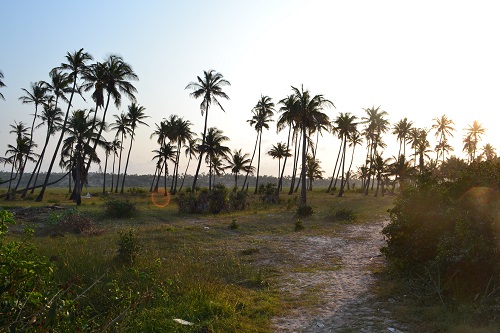 The only thing I was wondering about is that at before leaving everyone there was like "OH MY GOD IT IS SO AMAZING OUT THERE WE SAW EVERYTHING EVER" and when we didn't see anything they were like "Oh, that's extremely strange, we saw SO MUCH yesterday/ this morning/ the last time." That got me excited but on the next day they said the same thing about the day in which we saw nothing. Maybe it was just a fluke and I got on the unlucky boat. Who knows.
I won't shit on the diving place though, since I also just went twice I didn't do any real scuba courses. Who knows it also could have been the time of the year and the weather. They can't control what you see and they were all helpful and kind.
Stuffing your face should be on your list of things to do in Tofo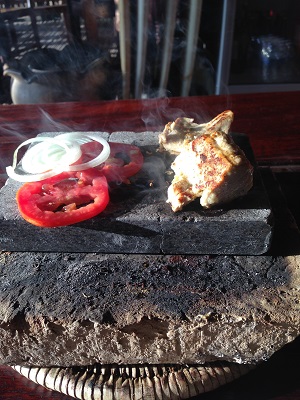 For food, there's plenty of restaurants around that have tasty stuff for good prices. I like Branko's because you can get a hot stone and grill your own chunks of tuna on it. That also means you don't have to wait so long for the kitchen to prepare your food…Mozambique's restaurants have a nasty reputation for taking forever. But hey you're relaxing in paradise, right?
I tried another local restaurant with a group of four other people I met at Fatima's and they managed to forget our orders, which was hilarious because we were the only people in the restaurant for most of the time. But, Branko's super tasty and definitely a luxury for me since the same thing in France would probably cost ten times as much.
Lastly, there's a guy wandering around the beach selling peri peri cashews that are delicious. After haggling, I got a bag for 100 Meticales. I dare you to try and do better.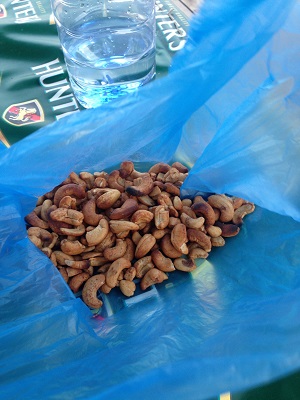 Shopping in the market and buying stupid touristy stuff
I can't believe I am listing this among things to do in Tofo, but it is for a good reason!
I usually travel extremely light and don't have room in my bag for souvenirs, but I do have a soft spot for magnets and postcards. During my long trip throughout several countries in Southern Africa I barely bought anything. This was because, outside of South Africa and maybe Victoria Falls, most of these places don't really have much of a booming tourism industry that would merit shirts and magnets.
There is a bit of that in Tofo, and in most places of the world a Mozambique tshirt would be pretty unique!
Moving away from things to do in Tofo, here's my beef with the place…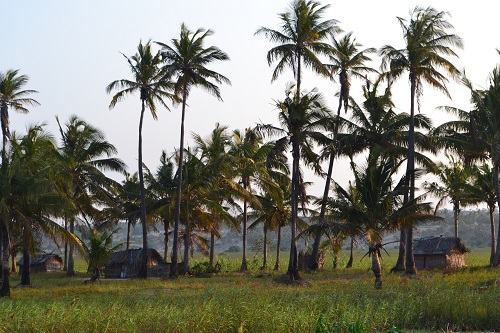 I need to start with this:
Perhaps because it was a slow time and there weren't many tourists around, but the vendors trying to sell things at Tofo Beach were quite aggressive and admirably persistent. I would sit on the balcony overlooking the ocean and see the cat-and-mouse game— the tourists were often quite literally running away from the vendors (who would also be running in hot pursuit as well).
But even on the balcony at Fatima's the same few boys would be there calling out to me. Then they would follow me on my walks on the beach. Then they would appear on the street where I was walking. At one point they followed me to a restaurant and sat just outside, staring at me and waiting for me to finish my meal, only greet me as soon as I left and follow me home. The older ones loved hitting on me.
This became more than a little overwhelming for me and all the tourists I met  at a certain point.
But I guess I felt more overwhelmed with myself than with them.
The reality of being a tourist
It's because these higher volume tourist areas suddenly we tourists become US and our local hosts become THEM and then sometimes THEY can be frustrating and do things that WE don't like. The distance grows since it's easier to become closer to people who share your own culture (in whatever way you define it).
It's a comfort to spend time with familiar people, and yet the definition of what makes someone "familiar" seems to be so fluid— from this person also grew up in Michigan, to these people are from a place in either North or South America,  to these people who consume media similar to the media I consume, or even to this person who just happens to have an iPhone.
This happens everywhere, though. From Paris to Tokyo. Places that people like to visit often come with consumer based tourist local relationships. And I don't want to condemn that! Everyone travels for different reasons and unless someone is doing something outright violent or illegal who am I to judge? And the locals of course have every right to do what they want to do.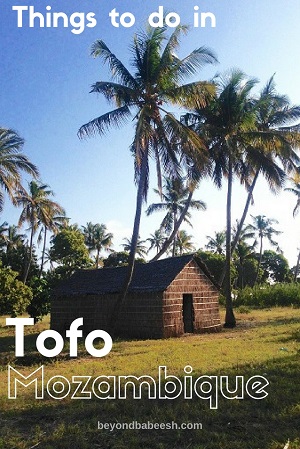 The limits of stepping out of my comfort zone
Sure if we always throw ourselves 100% into challenging our comfort zones with the unfamiliar we may not be able to maintain our energy and efforts and put our best foot forward day after day. Everyone needs a break from everything at some point- and sometimes a nice break comes in the form of spending time with people from your culture, however you may define it. It doesn't need to be a beachfront vacation.
In my case, I stumbled upon both. I don't regret it but at the same time I'm thankful that it wasn't the only kind of experience I had during this long trip.
Though I can't say I learned so much specifically about Mozambique while I was at Tofo Beach, I did enjoy the waves and sunshine and stories of the other travelers. Plus other travelers always have good book recommendations.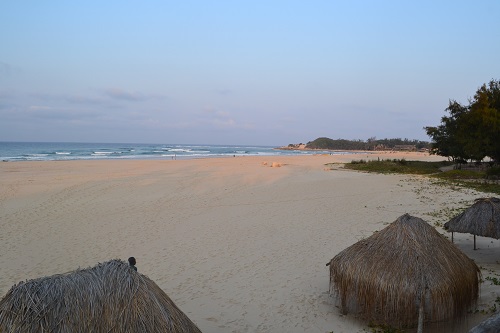 To me, when I go to a country and all the people I actually meet who are FROM that country are just serving me beers, it get's old pretty fast the the whole adventure can start to feel pretty empty.
Sorry also to rain on the Tofo Praise Parade that seems to float around online. You could say this about anywhere. Sometimes I really need to shut off as well and recharge. I indeed did recharge and dove back into things (and out of my comfort zone) when I went to catch the train from Maputo to Zimbabwe.
I knew that Tofo would bring these sort of vibes before I even went there anyway. So I will stop complaining now…It's still worlds away from the sort of tourist culture you would find in, for example, Cancun. I also had a wonderful time in other parts of Mozambique!
Sorry to end this OMGGGG SOOO FUNNN things to do in Tofo post on a bit of a pessimistic note!