The Ghost Train to the End of the Earth
or
Taking the train from Mozambique to Zimbabwe
Part 1: Maputo to Chicualacuala
[Check out Part 2 here!]
"That hut is traditionally for the village's witch doctor," said my seatmate on the train from Mozambique to Zimbabwe.
"Do you go to the witch doctor?" I asked.
[gazing out the window for a moment]
"I don't do those kinds of things anymore…"
Everyone thought I was an idiot for wanting to take the train from Mozambique to Zimbabwe.
I need to emphasize that 1. I am an idiot and 2. For me, the train ride is more important than the destination.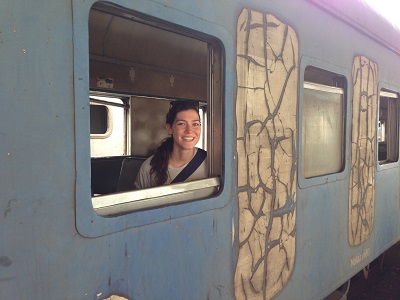 In my mind, I decided to call the train from Maputo to Bulawayo (via Chicualacuala) the Ghost Train. Sure it's officially the Limpopo line, with passenger trains running once a week to the very, very quiet border town of Chicualacuala where, God-willing, a train from Zimbabwe will take passengers the rest of the way to Bulawayo…
But aside from that information and a few general departure times, I had no idea what would await me in Chicualacuala. Even more, I had no idea what would await me inside the train. There was virtually no information available…thus the "Ghost Train."
On feeling scared…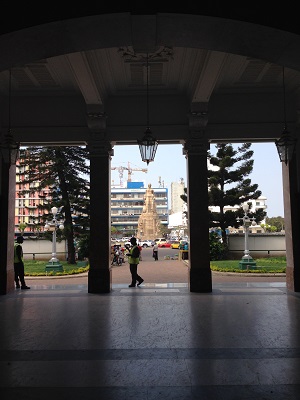 I imagined thick palm forests in absolute darkness and then a hazy, unforgiving sunrise over a lunar landscape as we arrived in Chicualacuala: The End of the Earth.
I was worried that once the sun set it would be pitch black inside the train and I would be alone in a worn out seat with a dead flashlight and a bunch of piss drunk men making fun of me. The horrific bus ride from Maputo to Tofo was still fresh in my mind…
Check out my other posts about Mozambique here!
In Maputo, the train horns that echoed through the streets all night long cut through my dreams or even woke me up. The prospect of going in a train to a very sparsely populated part of a country so far away from everything familiar was terrifying.
But let's be real it sounded like a total hoot and I sure as hell wasn't going to go back to Joburg just so I could piece my way to Zimbabwe from there.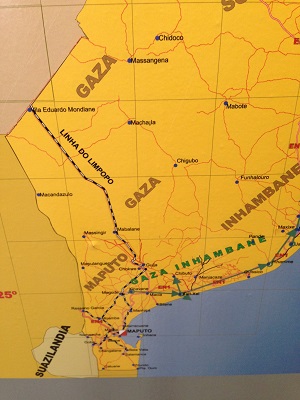 Spoiler Alert
So as I write this I imagine my parents reading it and freaking out and deciding to never trust me ever again/ worrying themselves to death every time I step out of the house.
So I will tell you now that everything was GREAT and, in hindsight, I had NOTHING to worry about. In fact the crazy journey was so much fun.
Before hopping on the train I was also sure to have a Mozambican friend talk to a railroad employee with me to confirm all the details and safety information.
See also: Safety tips for Trains in Africa
Other Trains from Mozambique to Zimbabwe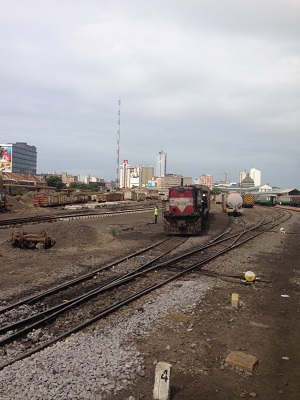 The train to Bulawayo from Maputo isn't the only train from Mozambique to Zimbabwe. In fact, the other trains (e.g. the train going to Harare from Beira) were much better documented online. Why didn't I take one of those? Well, when I was there the trains were either not running or they required you to pass through a region of Mozambique undergoing some violent unrest at the time.
See also: My Mozambique Travel Page
Sure, you could get a military escort to pass through there but I'm cheap and also I didn't feel so interested in using their military resources to protect my sorry tourist ass.
The times, cost, and other details: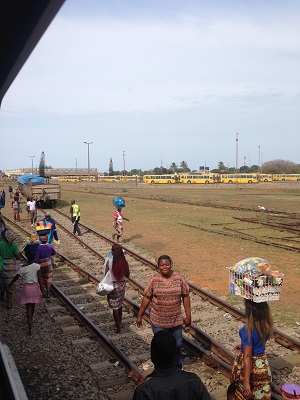 The train from Maputo to Bulawayo via Chicualacuala leaves once a week on Wednesdays from the beautiful Maputo station. I arrived at 12:15 for the 13:00 train. I bought a ticket at the ticket office right there and it cost me 182 Meticales (just around $2.50 at the time). Our train left right at 13:03. Not bad!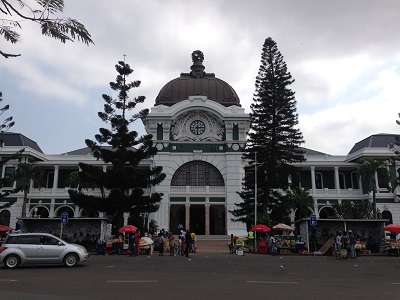 How long can you stand an uncomfortable, crowded seating arrangement? Well, I hope you can at least deal with it for 18 hours…We arrived in Chicualacuala at around 7:00 the next morning.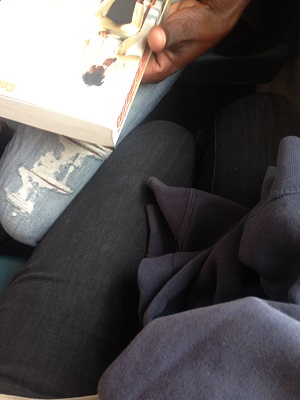 Safety
So remember that idea of a creepy empty train shrouded in darkness? Hah. No.
The passenger cars were relatively new, Chinese-built, and filled to the brim with people. Families, groups of nuns, men, women, grandmas, children…everyone. I had one of those DUH moments: of course Mozambicans and Zimbabweans needed to get around just like everyone else.
It was nice to have all the Zimbabweans around too since they speak great English and my Portuguese, well, stinks.
And yes, the lights on the train worked all night long. The conductors also kept an eye on things.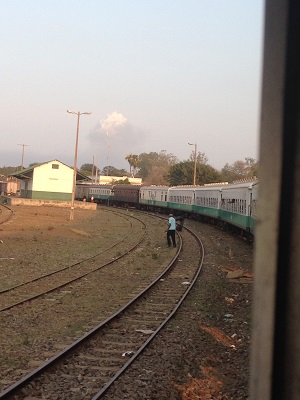 The Drunks…
I had some nice seat partners, but I decided to move when groups of drunk adolescent boys started wandering through the cars in the middle of the night and decided to "impress" me by being drunk in my face. I wasn't the only girl traveling alone on the train, but I was the only white person on the train and that was enough to get their attention since I, well, stood out.
Sadly, groups of drunk adolescent boys being annoying was starting to become a recurring theme during my trip, but thankfully it was all pretty much harmless behavior. Nothing ever escalated or got violent, but it was certainly annoying. The boys managed to harass everyone in the car, even a poor grandma. Nobody ever said anything, though. Seems like in the region people prefer to ignore drunks rather than pick a fight.
I eventually found another seat with a nice, older woman and managed to get a few hours of sleep.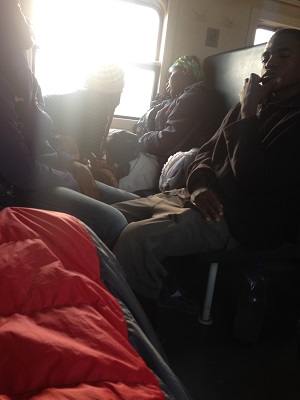 When you should arrive and finding a seat
So arriving 45 minutes early for the train from Mozambique to Zimbabwe allowed me to barely find a seat. I recommend getting there much earlier so you can be more "comfortable" if that is even possible.
Don't expect to find a sleeper car. It was all 3rd class and the seats were SO uncomfortable. Think plastic, American diner booths but pushed so close together that you have to crisscross your knees with your seat partners in order to have enough space for your legs. Everybody was doing that so don't think your seatmates are trying to be creepy. Having a random person's knee shoved in between your legs seems to be more common here than in other places. Just don't wear a skirt…
The seats were at least moderately cushioned, though, if I must be optimistic.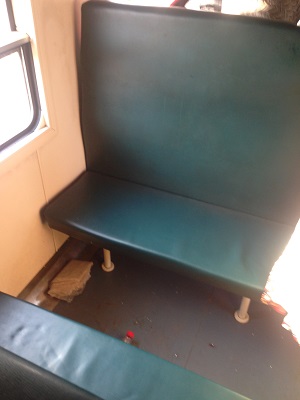 Train or Bus?
Regardless if the seats were uncomfortable, I would take this train over any bus in Mozambique, hands down. It was 100 times better than the local buses, and plus there were bathrooms on the train and they were clean!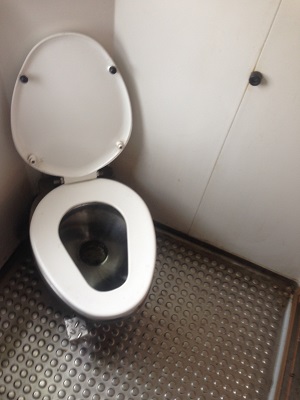 Food and what to bring
Don't worry about bringing snacks on this train from Mozambique to Zimbabwe. At every stop there was practically a bazaar of people selling snacks at every hour of the day or night. Women will balance baskets of corn on their heads for you to pick from while you are in your seat. For other stops, the train waited long enough for people to get off the train and buy things from vendors on the ground.
You practically get a culinary tour of the region. I certainly did, since I loaded up on snacks at every stop.
BUT, know that after the first ten hours or so, the drink vendors in the train often run out of water and only have sugary juices and sodas. You may want to bring a huge bottle of your own water or stock up in the beginning, or else you will be stuck drinking sugary sodas for the rest of the ride.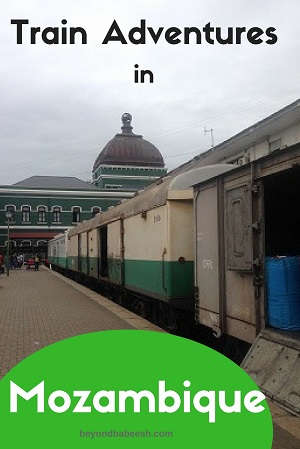 Will I see a ton of elephants?
The sun set early during my trip so for most of the time it was pitch black outside of the windows. For those who may be new to traveling in the region, your chances of seeing exotic animals outside the train windows are relatively low/not likely at all.
Don't waste your time glued to your window looking for a rogue elephant. There are other trains for that. This is not one of them. Sure, you pass next to the Limpopo National Park, but it will most likely be during the nighttime. Also if you check out those Tripadvisor reviews it seems like you will see more cows than elephants…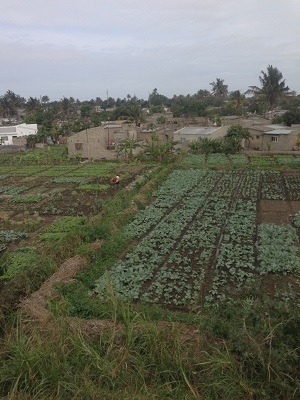 Arriving in Chicualacuala
We finally made it! I was about to finish the first half of the crazy train from Mozambique to Zimbabwe!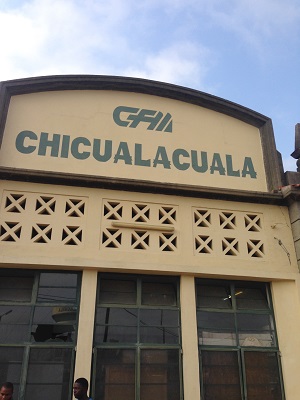 Chicualacuala was pretty eerie and empty. It wasn't a lunar landscape like I had imagined, but it definitely had a wild wild west feel to it. Apparently there was a large Portuguese military presence here back in the day to protect the border. You can see the remains of their fancy old houses contrasting with the actual poverty in the area. Some houses even creepy, rotting swimming pools…yet you are in the middle of the desert!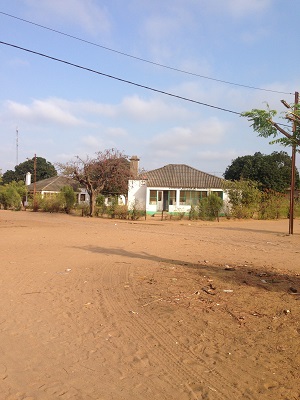 I wandered to the church and poked around the train station. There was a restaurant there but it didn't look like they had anything other than a few warm beers in the fridge. There were no hot meals or even packaged food, but it still was quite early in the morning.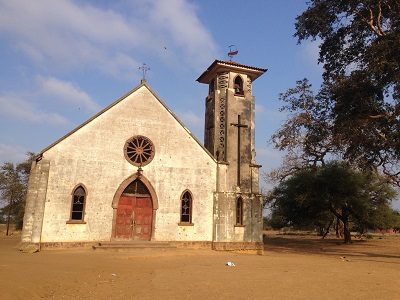 Be sure to change your money before wandering outside the train station area because there won't be anything on the Zimbabwean side. They gave me a fair rate.
The Zimbabwe Border and Visa Stuff
Time to change trains! The second train from Mozambique to Zimbabwe leaves from an empty field near the border post and arrives in Bulawayo, the old transportation hub of Zimbabwe. There's no fancy train station on this side.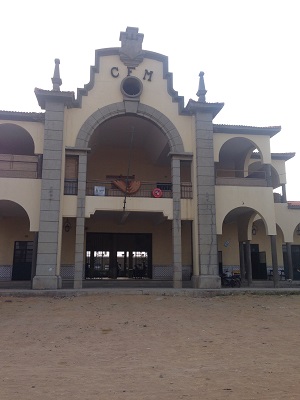 It's a bit of a walk to Zimbabwe, but if you follow the crowd you won't have a problem. It was also a total zoo at the immigration center since most of the people taking the train were vendors who had to complete customs forms for their goods they were bringing to Zimbabwe from Mozambique.
I was able to buy my visa on arrival no problem. Once you pass through you need to keep walking until you are back near the tracks. There are some toilets by the little guard booth if you need to use them. A drunk grandpa kindly asked me if I would give him a blowjob in one of the toilets. (Really?) I declined. Sorry for the graphic detail, but I won't sugarcoat the realities of being a woman traveling alone!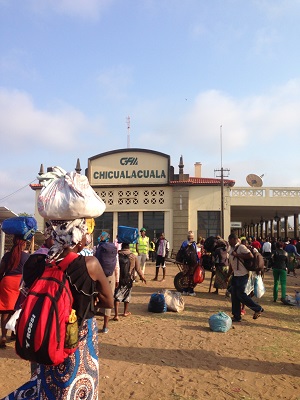 But I don't only want to write about the boorish men I encountered. So many Zimbabwean women struck up conversations and goofed off with me while we waited in line for the visas. I can't say enough wonderful things about these people! Zimbabweans are total gems. Stay tuned for more of that in my second post about the train from Mozambique to Zimbabwe.
Will I get stranded in Chicualacuala if the second train doesn't come?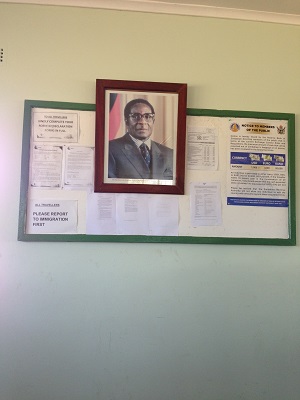 So the misinformation begins once you finish crossing the Zimbabwe border. You will see a field with empty tracks.  You will also see a gravel road with several, old school buses parked next to the tracks. These buses go to Bulawayo and Harare.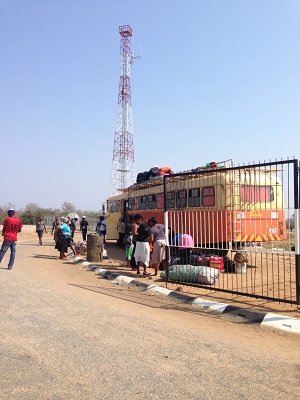 There is also a small police camp and then a totally rockin' cookout/makeshift restaurant near the tracks. Other than that there is absolutely nothing at all.
The bus drivers want you to take their buses, and so they will tell you very confidently that the train to Bulawayo is not coming.
Sometimes this IS true, and the train to Bulawayo is not running. To be absolutely sure you need to check with an immigration official. Don't trust the bus drivers.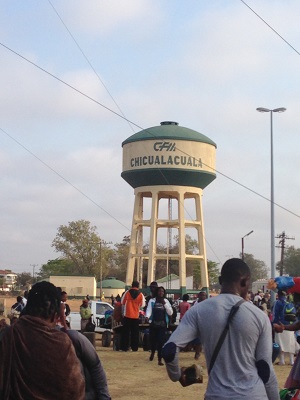 Plus, I would rather wait a whole week in lonely Chicualacuala for another train than take one of those horrid buses for another 10+ hours. When I asked one lady how long the bus would take she laughed and said "oh I don't know, maybe 10 hours, maybe 20 hours!" Nope.
Be sure to check out my fabulous Zimbabwe travel page!
You are also technically in the Limpopo National Park and as I emerged from the train there was a brand new SUV filled with wealthy Germans just parked there. Sort of surreal. If you find yourself in a pickle maybe you could track down the rare safari group for a ride, but apparently this border sees maybe one or two cars a day so good luck…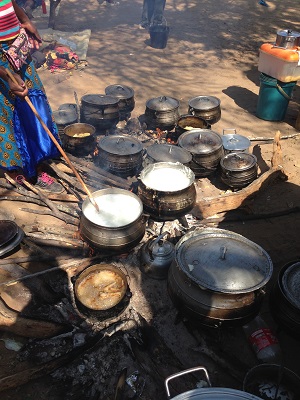 But know that if you cross over to Zimbabwe you can't go back to Chicualacuala unless you have a multiple entry visa for both Mozambique and Zimbabwe!
So yes, you may get stranded…But that's all part of the adventure, right?
This concludes the first half of the my adventure on the train from Mozambique to Zimbabwe. Be sure to read about the final leg of the trip here!