Are you planning to travel to Harare, Zimbabwe?
I thoroughly enjoyed my own travel to Harare, and so I figured I would make a little guide or post or whatever about things to do in Harare. By the time I traveled to Harare, I had already visited several major cities throughout the African continent. Compared to places like Nairobi or Kampala, I found Harare to be a very pleasant, relatively quiet capital city. The streets were clean and it was safe to walk around the city center alone during the daytime.
Traveling to Harare:
Before I start babbling about things to do in Harare, I guess I need to address how to travel to Harare.
I personally traveled to Harare on an Intercape Bus from Bulawayo, Zimbabwe's second largest city. The bus leaves twice daily (9 am and one in the early afternoon) and is reliable and safe. It cost around $20 takes around 6 or 7 hours to travel to Harare due to stops and rest breaks. It was much more comfortable than the buses I took around Mozambique!
There is also a train to Harare from Bulawayo and vice versa. That line doesn't run every day, though. You can piece your way to Victoria Falls by train if you travel through Bulawayo. I actually took trains all over the country and you can read all about that and how to do it yourself on my trains page!
And, of course, you can also travel to Harare by airplane. The best way to get into the center from the airport is by taxi.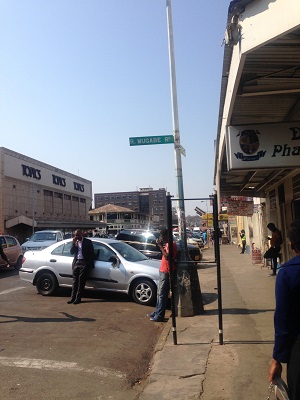 Traveling around to do things in Harare
Shared taxis (minibuses) in Zimbabwe are called kombis and there are several kombi stands located around Harare. I'm not gonna lie, though, if you have a long list of things to do in Harare and you don't have so much time, then the kombis will be inefficient.
See also: My All About Zimbabwe Travel Page
It's not the kombis themselves that are inefficient. In fact, it is actually finding the kombi stand you need that is inefficient. Some kombis that travel to places north of Harare, for example, may depart from another part of town than kombis to other suburbs.
I mean, I don't mind exploring a city by jumping into lots of random busses, but of course you also don't want to get stuck.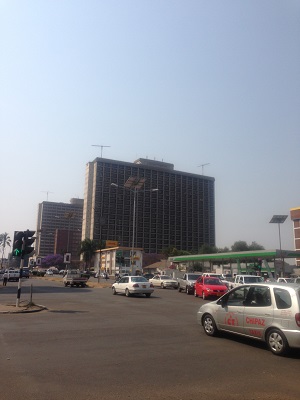 Finding the right kombi
I had terrible luck asking people on the street for specific kombis. If you eventually find the kombi you need mark down where it departs from! I went on way too many wild goose chases while finding things to do in Harare.
In fact, if you have the budget just taking taxis around when you travel to Harare will maximize your time. They aren't very expensive, but they just weren't possible in my shoestring budget!
Exploring Harare
Anyone who is going to travel to Harare should at lease spend a few hours exploring the actual urban part of town. There are plenty of pleasant, nature-oriented things to do in Harare, but I'm assuming that lots of tourists to Zimbabwe already will have some sort of safari planned.
Lots of people will tell you there is nothing to do in major cities in a lot of countries in the region, but I like to make an effort to visit them if I am nearby. It's partially because it helps me connect with people in different situations after the trip. For example, if I meet a Zimbabwean in the United States, chances are that he or she comes from Harare and suddenly we have lots to talk about!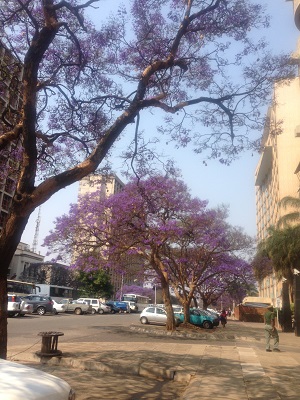 Harare in the springtime
If you travel to Harare in late September or October, you are in for a real treat. The center of Harare is full of Jacaranda trees that will be in full, spectacular bloom. Whenever I think of Harare now I think of those gorgeous, electric violet colors!
The springtime also brings really pleasant weather in Harare so you can enjoy time walking around without too much heat.
One way to enjoy the Jacaranda trees as well as other tree lined roads is to take a quick kombi up to the Mount Pleasant suburb of the city. I enjoyed just walking around the neighborhoods and seeing the giant houses' immaculate gardens. Mount Pleasant is located to the north of Harare near the University.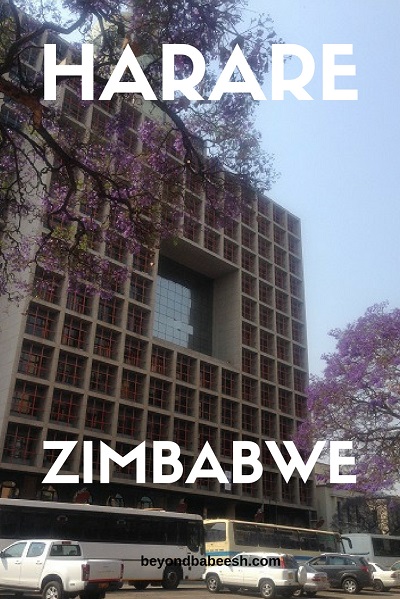 For those who like art…
The Shona people make up the majority of Harare's population. I had such a blast learning about their culture and language when I traveled around the country. Zimbabweans in general are ultra friendly and warm, and so I found it relatively easy to strike up conversations with people and develop friendships. My most memorable adventures in Zimbabwe (and even a little in Zambia) often involved Shona people so I have a total sweet spot for them!
You can check out the Shona Sculpture Gallery if you want an interesting introduction to contemporary works of art made by local Shona artists.
You can also check out the National Art Gallery if you're keen on seeing more traditional pieces of art in addition to works by contemporary artists. But note that both galleries are quite small so I wouldn't plan a whole day around it.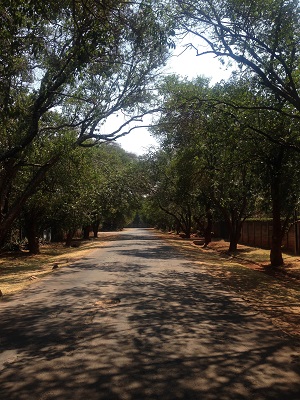 Nature oriented things to do in Harare
I still stand by my observation that if you're traveling a long way to visit Harare you will probably also have some more elaborate safari plans, but if you are just on a business trip or have to stay in Harare don't worry! You can still see a giraffe and it won't feel like you are in a zoo!
You could visit the National Botanical Gardens, but let's be real you probably had enough garden time at the museums. Also, there are a few game reserves/ parks with animals within city limits that in my opinion are better options.
The Mukuvisi Woodlands are popular with tourists and locals alike and you can see giraffes and a variety of birds among other animals.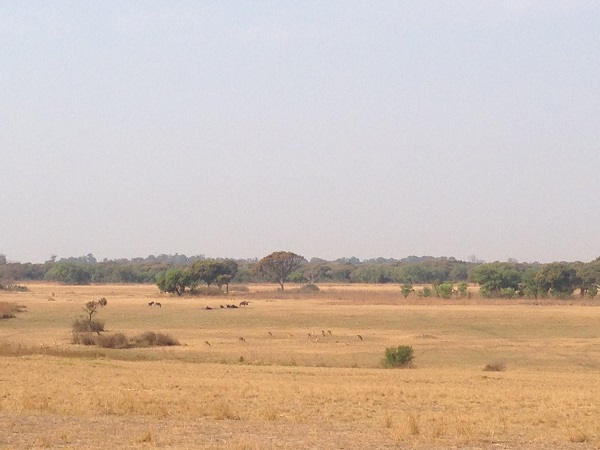 But I preferred the lesser-known Haka Game Park. It is off of Mutare road near the Cleveland dam (which is just a little farther out but in the same direction as the Mukuvisi Woodlands). If you are taking a kombi just ask for one that goes towards the Cleveland Dam. The road to the park entrance is about a ten minute walk from the main road.
This was my favorite thing to do in Harare. There are much fewer people and after a short walk you find yourself in a huge, open field filled with all sorts of animals. There's also a lake and some people were fishing when I was there. I didn't ask if they caught anything.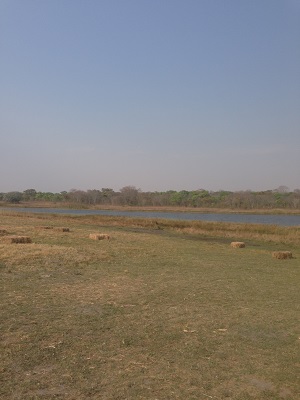 My Restaurant Recommendation
Ok you are going to roll your eyes, but my favorite restaurant in Harare was an Ethiopian restaurant called Queen Makeda. It is near the golf club. While exploring Zimbabwe by train and subsequently staying in peoples' homes, and evening ending up in a safari camp full of Zimbabweans in Zambia…well, I ended up eating quite a lot of Sadza and greens. Don't get me wrong, I'm a total fan of Zimbabwean food…but after weeks of Sadza the injera at the Ethiopian restaurant was soooo gooood!
Thanks for reading! I hope this gives you some ideas for things to do when you travel to Harare!
Also, I couchsurfed while I was in Harare, which you should totally try to do, but you can also check out local hotels and hostels here!