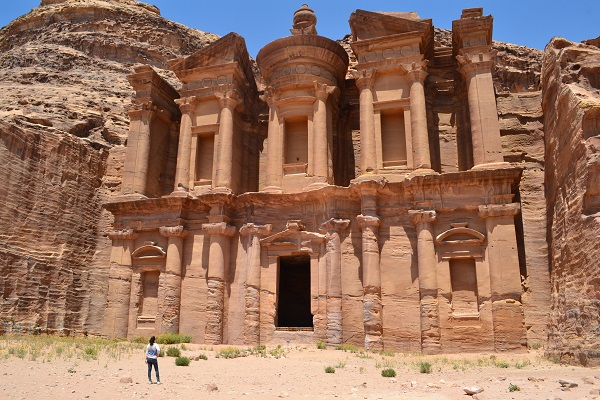 It's Easy to Travel to Petra Independently
I decided to make a guide on how to travel to Petra independently so that you don't need to feel obliged to take an overpriced tour.  My travel buddy and I did it on our own and had a great time even on a small budget. Here's how we did it and how you can travel to Petra independently yourself.
Firstly, you will need to get to Wadi Musa, which is the town right next to Petra.
Petra=abandoned, ancient city
Wadi Musa= modern, tourist city. Your hotel will be here.
For those of you in Amman or Aqaba (possibly Eilat, if you're ambitious) who only have one day to spend in Petra:
Whew you will be exhausted! But it is possible to travel to Petra independently in one day.
From Amman you have to take the JETT Bus that leaves daily at 6:30 in the morning from the JETT office near Abdali station in Amman and arrives  right next door to the park entrance. It costs 10 Dinars each way. The bus goes back to Amman at 5:00 in the evening.
From Aqaba there is also a JETT bus that leaves at 8:30 and departs at 4:00 every day.
If you are coming from Eilat then you will end up having to take taxis to the bus, or you can just take a taxi the entire way. I will address that below. I am not addressing visa formalities for different borders and getting into Jordan in this guide, but the border near Eilat opens at 6:30 am which gives you time to get to the bus. You can get that info here.
You can book only the Amman to Petra trip online via JETT, but you still have to call within 24 hours to confirm your booking.
P.S. "JETT" means Jordan Express Tourist Transportation.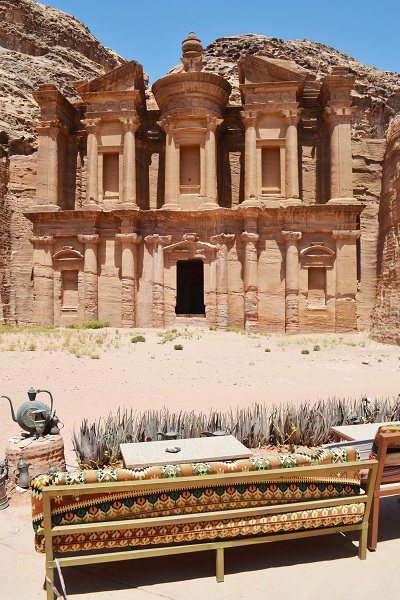 Is traveling to Petra independently for one day worth it?
Yes, definitely! You will be exhausted but you will still see a lot. You just really need to budget your time. If I were in your position I would, upon entry, go immediately to the Monastery. It is is at the far end of the park. It will take over an hour to arrive at the staircase from the park entrance. You just follow the tourist path until you get to the little lunch areas and toilets. Just beyond them is the staircase to the monastery.
Haul your ass up that staircase and see that monastery first because it is amazing. Then, you can take your time on the way back to the park entrance and explore the other amazing parts of the park for the rest of the day. I ran into a few day tourists who had to miss the monastery because they spent too much time at the beginning in less interesting places.
Oh yeah, on your way to the monastery be sure to get a picture of the Treasury in full sunlight. It is in the sun in the morning but the shade hits in the afternoon.
Cheaper public transportation to Petra for those who aren't in a rush: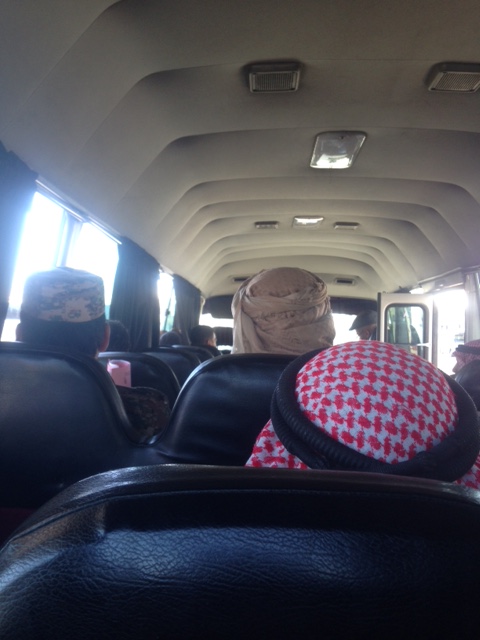 If you want to travel to Petra independently from Amman and have more time or a tinier budget, then I suggest you take the public minibus to Wadi Musa. This is what we did! It costs 5 Dinars and leaves several times a day when full.
The last bus of the day usually leaves between 3:30 and 4:30 pm. Ours left just a little before 4:00.  Plenty of people were waiting so ours left minutes after it arrived. It's worth mentioning that there was a lot of pushing and shoving to get into the bus. You need to be assertive or else you may be sitting on the ground or spending another night in Amman!
Also, it seemed like the people in the bus thought that the wind from the open windows (it's not air conditioned) was bothering my friend and I and so they proceeded to close the windows. Nice of them to consider our comfort, but know if you're on the bus and you are suffocating because a window is closed, it may be closed because YOU are sitting there. We asked the locals sitting near us to open the window and they seemed relieved! Also the ride is really boring unfortunately. It stops once for a bathroom/ snack break.
Where to find the bus
It leaves from the Wihdat bus station, which is also known as the South Station. This station is pretty far from the tourist center of Amman. A taxi to there from the tourist center of Amman should take between 30 and 45 minutes and cost 2 or 3 Dinars. Taxis in Amman are metered and much cheaper than taxis in Petra!
I think this bus is a good option for people who want to travel to Petra independently who do not want to take the 6:30 am JETT bus. My friend and I wanted to arrive in Petra later and enjoy an evening in the Bedouin camp, and so this was a good option for us. The last minibus of the day arrived in Wadi Musa right before sunset, which we enjoyed from the Bedouin camp.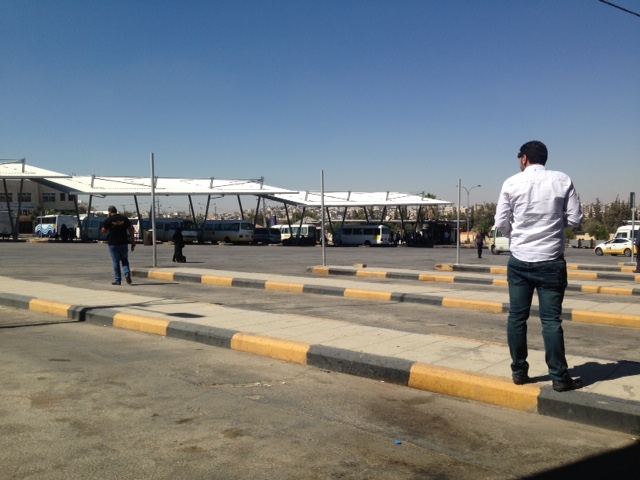 Be careful on Fridays and the taxi from Petra to Aqaba
Know that on Fridays the minibuses may not be running or will be unreliable. I asked around town never found a clear answer to whether or not the minibuses started running early Friday morning. My friend and I were in a hurry and so we ended up having to take a taxi from Wadi Musa right to Aqaba. Well, we took it right to the border with Israel to save the price of another taxi from the center of Aqaba to the border.
The taxi from Wadi Musa to Aqaba should cost between 35 and 45 Dinars, depending on how well you can negotiate. It takes around 2 hours and you pass by Wadi Rum so it is pretty scenic!
Taxis in Petra
The minibus station in Wadi Musa (the town at Petra) is a little ways away from the front gate to the Park. You may need to take a taxi upon arrival.
Wadi Musa isn't very pedestrian-friendly. I was surprised to see how spread out the hotels were. You need a taxi to reach most of the hotels from the Park gate. Taxis are way more expensive in Wadi Musa than in Amman. Know that if you are staying in a hotel farther from the gate to save a few Dinars, you will have to probably pay those Dinars to take taxis back and forth. If you are spending two days in the park then you will have to pay for even more taxis. Ten minute taxi rides suddenly cost 5 to 8 Dinars, after haggling!
You will need to take a taxi if you are staying in a Bedouin camp. There's no way around it. I really recommend staying at a Bedouin camp if you are going to travel to Petra independently! Most of the camps will have their own transportation options.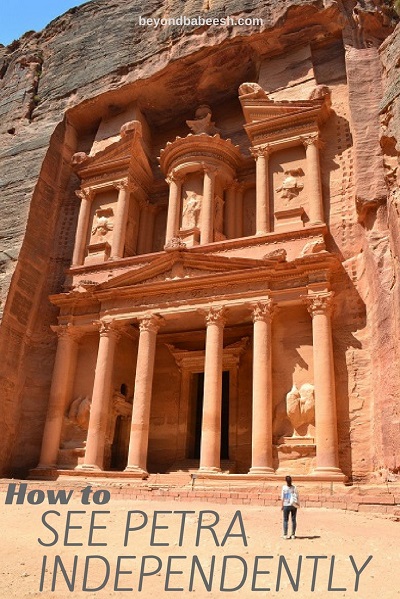 How many days should you spend in Petra?
Two days in the park didn't seem so worth it for a budget traveler. Sure there's so much to see but I felt really happy with what I saw in one day and had no desire to return for a second day. It was so hot and so exhausting that I would rather just go swimming in a pool.
Lots of locals will tell you over and over that one day simply isn't enough to see Petra. They're right, since it would take a lifetime to see everything, but also a lot of them want you to buy things and so it's in their best interest to make you feel like you will miss out on a lot by not staying a few extra days.
To be honest one day was more than enough for me. You couldn't pay me to go back in there for a second day…one day was so exhausting! I guess if you simply did less on the first day then you would have more energy for the second day.
Tickets
My ticket was included in my Jordan Pass, but you can easily buy tickets at the Park Entrance. The Jordan Pass was pretty much created for people who want to travel to Petra independently. If you're not spending the night in Jordan, then the ticket will cost 90 Dinars. If you are spending the night in Jordan then it will cost between 50 and 60 Dinars depending on how many days you are spending there.
There's also the cheaper Petra by Night that happens on Monday, Wednesday, and Thursday starting at 8:30 pm and costs 18 Dinars. I did not do it since I was a little "Petra-ed out" at the end of the day, but it seems really cool. You are limited to seeing the Treasury, but it certainly would be a memorable experience.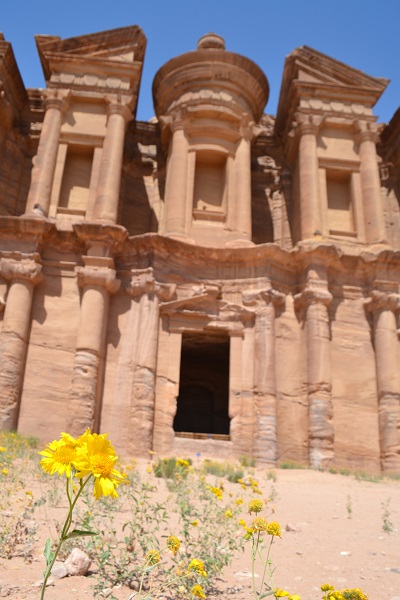 Do I need a guide? Will I see enough? Will I get lost if I travel to Petra Independently?
You don't need to hire a guide. The park is pretty straightforward when it comes to seeing all the important stuff, which is great if you want to travel to Petra independently. There are maps posted around with all the trails. I recommend just taking a picture of one at the beginning before you start your day. The main route is very clearly marked. Petra was pretty much empty when we visited yet we still never got lost.
There are panels all around the major sites that explain the history in Arabic and in English. They explain tons of the history and information (aka you don't need a tour guide).
The Bedouins in the park are friendly and will direct you towards any specific hiking trails. They will probably offer you a donkey ride in the process.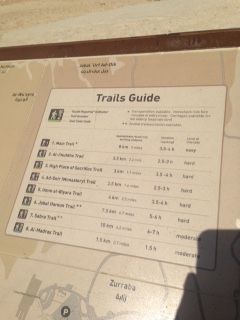 Safety and Scams when you travel to Petra Independently
I'm not gonna lie, I was nervous about going to travel to Petra independently. I think I read too many horror stories online before arriving and I freaked myself out. I also had a really weird experience a year earlier at the Pyramids in Egypt and so I was just wary in general of these big tourist sites in the general region.
Thankfully it turns out that I had nothing to worry about. The vendors in the park were friendly and, though persistent, they were polite if you said no. There are signs at the entrance of the park that caution visitors against buying things from children in the park since it encourages them to miss school. The signs also give tourists information on how to report a security or animal abuse issue.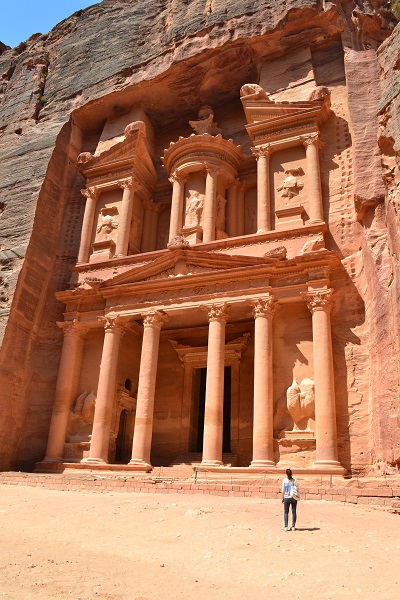 But most of the interactions were friendly and positive. The Bedouins in the park lead very interesting lives and have lots of stories to tell. It seemed like a lot of them just enjoyed hanging out and chatting.
More Safety and Scams to know
Your ticket apparently includes a ride on a horse from the Park entrance to the beginning of the canyon, but that does not include the tip. I didn't want to risk it since I was on a tight budget.
Apparently there is sex trafficking and illegal prostitution in Wadi Musa. I didn't see anything myself, but just be aware that the town has its darker side. I personally never once felt unsafe while walking around in town or in the Park.
The Bedouins who ran the camp where we stayed told us not to trust anyone in the park. Agree on prices beforehand. Be wary if someone who lives in the park invites you to dinner or to stay in the park after it closes. It may be an enjoyable evening, but when it is time to leave it might be pitch black and you may be trapped in the park. And exiting may come at a price.
The Infamous Staircase to the Monastery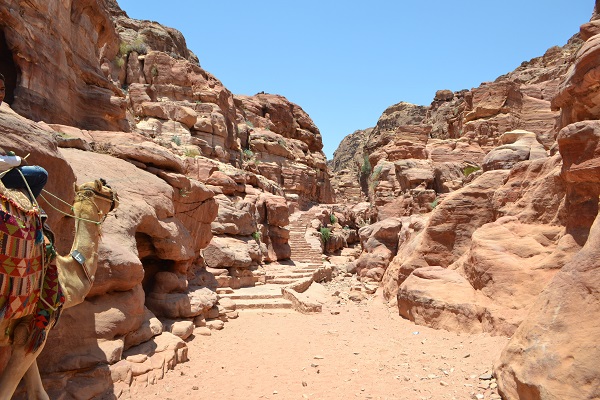 Fun fact: people really want you to take a donkey ride up the stairs to the monastery and as you go deeper in the park the number of stairs magically grows…700…800…900…1000…1100 steps! They actually weren't that bad. It's not a straight run and there are places to rest. Also the donkeys just barrel through people…at one point a donkey almost shoved a woman off a cliff! It's embarrassing if you are riding a donkey and the animal is just pushing people over.
But a donkey ride is without a doubt the fastest way to get to the top if you're in a rush. I'm sure the handler would appreciate the business too!
What to pack for you time in Petra
Sunscreen! This kind is my favorite because it doesn't sweat off. The only downside is that it feels like you're putting chapstick on your face, but seriously it never fails me!
They were selling sunscreen in the tourist shops for really inflated prices (like 20 dinars for a travel size bottle), so it is best to get it before arriving.
Some sort of hat or shawl to protect your neck. Otherwise you will be burnt to a crisp. There are large stretches of the park that aren't in the shade and the people in tank tops were suffering by the end of the day.
Lots and lots of water. You can buy it in the park, but you can get a better deal if you buy it before entering the park.I bought one supersized bottle and it lasted me the day.
Snacks if you don't want to pay the tourist prices in the park. There are plenty of cafes inside though so you don't need to worry about being stranded with nothing to eat. Some hotels will over to pack you a lunch even if you are going to travel to Petra independently.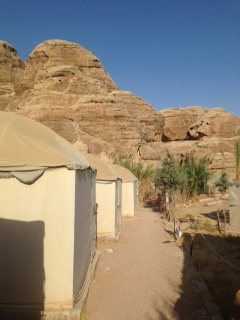 Where to stay when you travel to Petra independently
So the big question is hotel or Bedouin camp? Why not both?
We decided to spend the first night at a Bedouin Camp near Little Petra. My travel partner surprised me with a stay in a proper hotel that proper adults use (not smelly backpackers like myself) for the second night and boy was it just the best!
The Bedouin Camp is a really cool experience. We went to Seven Wonders and had a blast. The place was filled with independent travelers, couples, and families. Everybody seemed to be having a great time. It's a great place to meet new people and smoke a sheesha by the campfire regardless you're part of a tour or going to travel independently.
It feels more like "glamping", and you sleep in very warm beds in private tents, though don't expect a five star hotel.  The landscape is magnificent and they have a very cool light installation in the rock formations around the camp.
The shared bathrooms were modern and clean. Depending on the time of year you go they may only have hot water at certain times of the day. They turn off the camp power at around 11pm, and there isn't alcohol so the place is social but not a crazy party scene.
They have wifi and places to charge devices. Our tent had a plug also. Be sure to charge your things before they shut off the power! The wifi wasn't very reliable so don't schedule a skype interview or whatever for when you are there.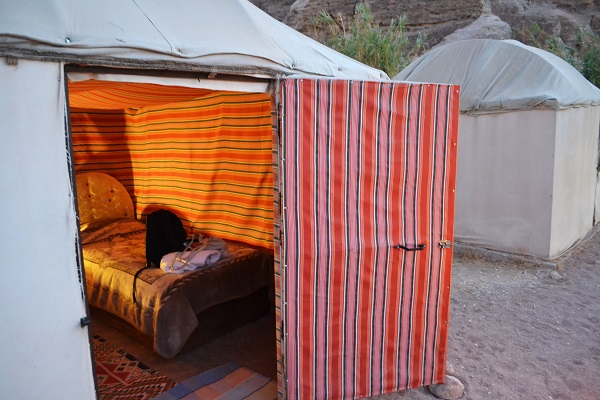 This is actually the place where a lot of tours from Jerusalem stay! You can just book it independently and pay a fraction of the price. It was actually one of the cheapest options for the Petra area.
For 10 extra Dinars a person we had a buffet-style meal. The food was delicious and filling and there were a lot of options. I stuffed my face.
The place is run by a local Bedouin family and they are very social and open to sharing their experiences and cultural customs.
The Negatives:
The negatives: you're sort of a captive audience. They are obviously running a business and they want to sell you special tours. We were asked over and over if we wanted them to show us where the best places to go are on the map, and that would turn into a "oh you don't have enough time to see that but with our special guide…" sort of stuff.
It may not be the best place to hang out during the day. Your tent gets super hot once the sun comes up so you can't really hang out in it. Other than climbing on some cool rocks and exploring the surroundings (which is cool), there isn't so much to do, though you can go see Little Petra nearby.
They have a special taxi rate to the park gate (5 Dinars for the car regardless of how many people are in it) which is a good deal. They really could take you in whenever you needed to go. We needed to drop our bags off at our hotel (the Mariott) for the next night. In the evening that cost 10 Dinars but magically the price was raised to 15 in the morning. When I brought that up he changed back to the earlier price.
But those were little details. Staying at the camp was a really special experience. If it's fully booked, this camp is right next door and shares the gorgeous surroundings!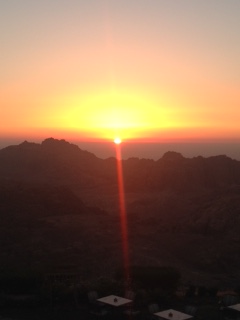 The Marriott– a perfect post Petra hotel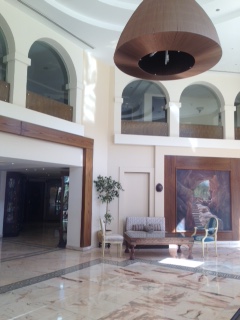 Staying at the Marriott was a treat! We got a great deal, and for a budget backpacker like myself it felt like the ultimate luxury.
It is on  the mountain, and so the views from anywhere in the hotel are amazing. I saw hands down the most beautiful sunset of my life there (and this is after months of wonderful sun-downers in southern and eastern Africa!), and SWIMMING IN THAT POOL AFTER A DUSTY DAY AT PETRA WAS PURE ECSTASY. Sorry if it's poor taste to write in all caps, but I am still obsessed with that pool.
Also there's a hammam where you can sweat if you didn't sweat enough during the day in Petra.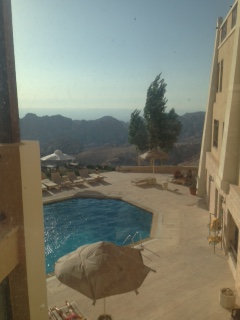 The beds were so cozy, and I hate to admit that I enjoyed my pizza after three weeks of hummus and falafel every day (I think I will regret actually posting that sentence). Right now, as I sit at home and eat pizza, I am really missing that hummus and falafel!
The negatives were that breakfast wasn't included (probably our fault for how week booked it), the guys at the front desk weren't very helpful (refer to Friday morning public transportation confusion), and it was far away from the park gate. The taxi cost around 7 Dinar and we couldn't haggle it down.
Also, we did take a taxi to the hotel in the morning in order to drop off our bags before going to see Petra. That may be too complicated for some travelers and I totally get it- you want to go see the ruins and not take taxis around town! They let us keep our bags there before our rooms were ready.
Also, it is sort of a cookie cutter Mariott. I am glad we had the Bedouin camp experience in addition to this experience.
I hope this helps you travel to Petra independently! Enjoy your trip!