Semonkong is a must see for anybody who wants to travel to Lesotho
I traveled to Semonkong for a few days when I was backpacking in Lesotho. It was really easy to see Semonkong independently and on a budget.
I decided to write up my experience and how to travel to Semonkong independently for anybody who is interested in visiting this gorgeous corner of the world.
You really won't regret going here. It is perfect for a long weekend or as a starting point for more exploration in the Kingdom in the Sky.
So here's how to visit Semonkong independently: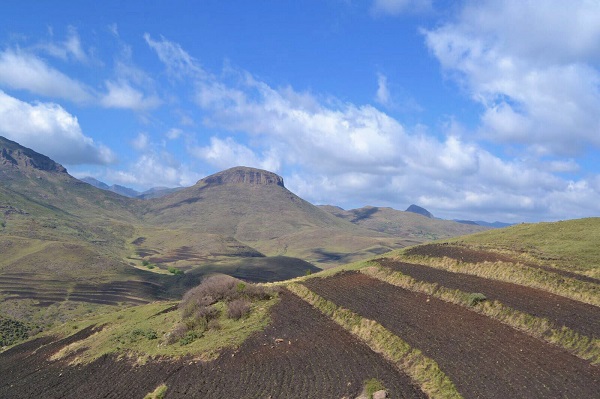 About my budget trip to Semonkong
I went alone and was on a tight budget, but  I still had a wonderful time and didn't feel limited.
I spent 4 nights in Semonkong, cooked my own food, and enjoyed long walks and hikes. It was a great place to unwind since it was one of my last stops in my Southern Africa trip.
Plus, it was so GREEN!
I traveled to see Semonkong independently on public transportation from Maseru.
See Also: How to get to Maseru (Lesotho) from South Africa on Public Transport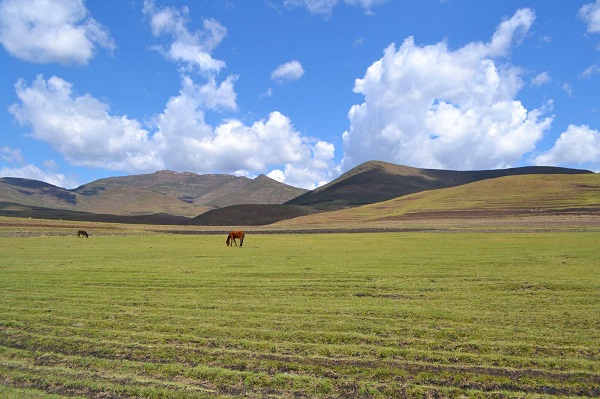 How to get to Semonkong independently from Maseru on public transportation
There are apparently two large buses going to Semonkong each day from Maseru's bus station, but I took a shared taxi.
Like always, shared taxis leave when full. Sometimes you leave immediately and sometimes you need to wait a really long time!
You will have to ask a local for the location of the shared taxi. It is not the central bus station. I took a taxi there from the border and it cost 6.5 Rand.
The taxi ride led me through the part of the big market that sold traditional medicines and my stomach turned as I saw tables lined with dried monkey hands and body parts and wings of animals hanging all around.
Then we passed a huge skillet full of sizzling intestines, I rushed to close my window as the smoke from it rushed towards the car. Ewww.
The cost of the bus to Semonkong
I ate ice pops in the back of the minibus with all the locals in their big wool blankets as we waited for the to depart. The bus cost 75 Rand/Loti and took a couple of hours (3 to 4). But it was bearable and the scenery was beautiful!
We only had to wait around two hours for it to fill which was ok by my standards (not like in Mozambique).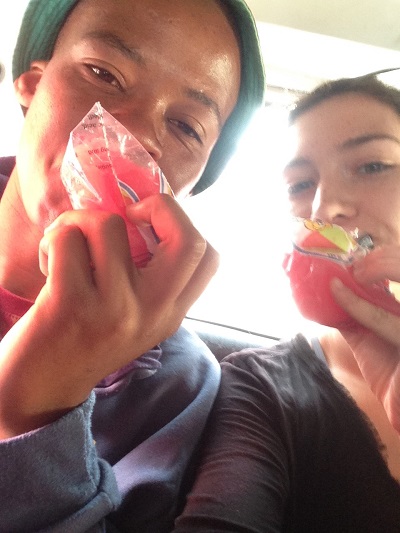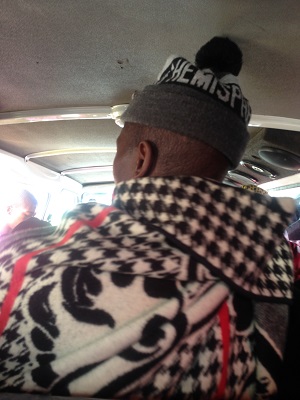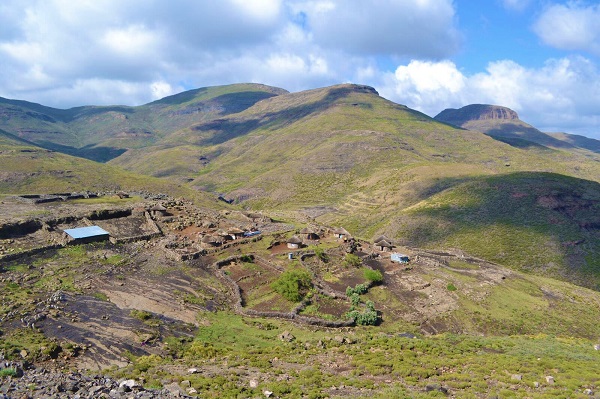 My favorite part of taking the bus to Semonkong
The music!
One thing I really wanted to see while in Lesotho was some of the local music- Sesotho or Famo music.
The great part of taking public transport is that they often play local music, and we listened to some awesome stuff for the entire ride to Semonkong.
In fact, the driver started playing non Sesotho music and the whole minibus got mad at him until he changed it. Someone on the bus later told me it was because they knew I was a tourist and they wanted me to experience their local music. How cool!
So that's one bonus that you get when you travel to Semonkong independently!
Be sure to check out the market!
Also, while you are waiting for the bust to depart, I recommend browsing the market. There were some awesome shops stocked with t-shirts and sweatshirts designed by local artists.
It wasn't the typical generic imported stuff you see everywhere. I paid 200 Rand/Loti for an awesome sweatshirt.
It may have been a little steep, but that was the best I could do after haggling. Plus I was happy to support their little shop!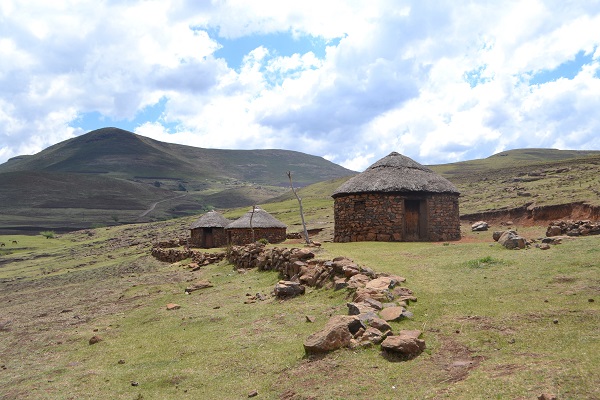 Semonkong Lodge
I really enjoyed staying at Semonkong Lodge. It felt so rustic and was in a gorgeous location.
The great thing about the lodge is that they have options for all sorts of travelers.
If you travel to Semonkong independently and on a budget, you can camp in your own tent or stay in their dormitory.
I was tired of my tent so I got a cozy bed in the dorm. It was a large, round hut with a fireplace inside. It was so lovely!
They also have more luxurious options if you aren't on a strict budget.
There's an ok restaurant and bar and it's generally a lovely place.
They also offer a fully equipped kitchen for independent travelers to Semonkong.
You can read more about activities or make a booking on their website.
Lastly, if you're a last minute budget traveler like me, know that there are other lodging options in Semonkong in case Semonkong Lodge is fully booked!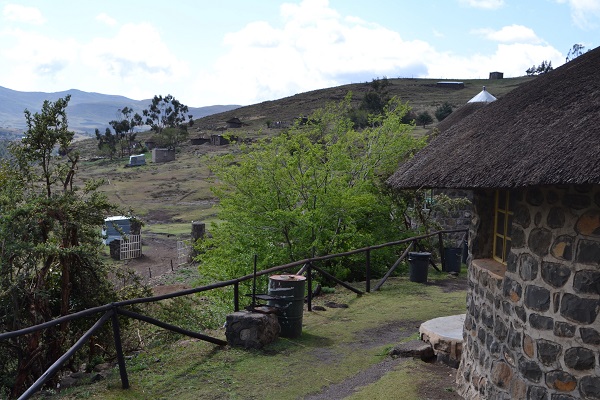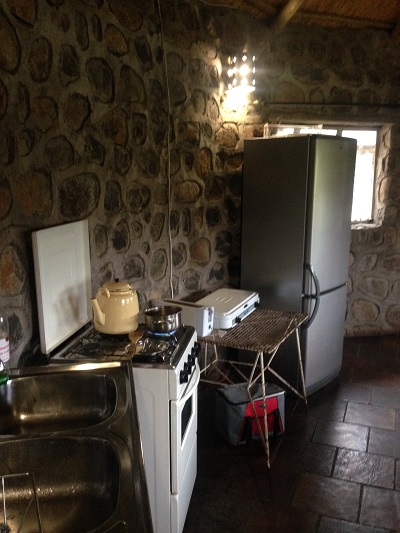 What it's like in Semonkong
Semonkong is very compact. It is easy to walk around the place. There's a small supermarket and other food stands available.
There are some bars in town that are worth a visit. If you're a girl traveling alone it probably wouldn't be the best experience for you, but I found some other people and we went together.
Check out my Lesotho page for more travel tips!
The lodge also offers a "donkey pub crawl" where you get wasted in the afternoon and lumber from bar to bar in town on a donkey.
I pestered the bartender at the lodge and he admitted it was indeed a great way for the locals to make fun of all the tourists. I wasn't so excited about public drunkenness at 3pm but apparently the people who went had fun.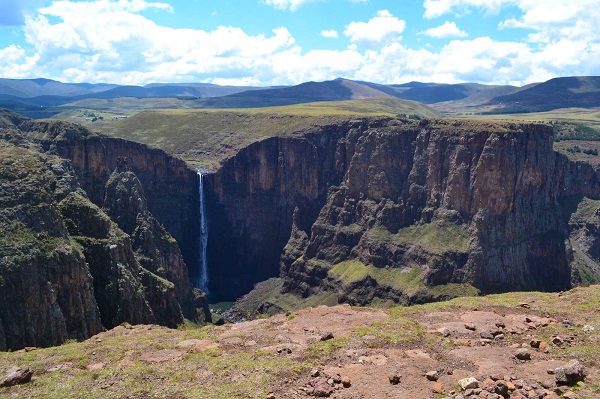 Semonkong Independently: Visiting Maletsunyane Falls
So THE thing to do in Semonkong is see the incredible Maletsunyane Falls.
I got extremely lucky and the rain stopped for the morning and I got to enjoy a sunny walk and view. Unfortunately, the falls are usually in the shadows so don't sit there and wait for the clouds to move to take your photo.
The lodge has a bunch of locals who are happy to guide you to the falls for a small fee. I was really tight for money (thanks to losing my debit card), and honestly I really wasn't in the mood to be social.
The trail from the lodge to the falls is basically a straight line so I decided to do it on my own. In hindsight I probably should have gone with a local due to an incident on the way…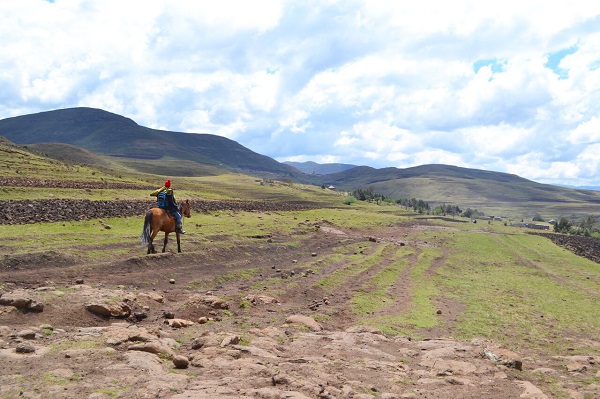 The worst part of when I went Semonkong independently- the way to Maletsunyane Falls
There is a small village in the valley near the falls and as I started descending into the valley a gang of very small children (like 5 and 6 year olds) all started running towards me. As they got closer I realized they were all running with large sticks and some even had extremely large knives with them.
So, what do I do in this situation? They surrounded me and started shouting "sweets! candy" ahhh I get it.
But I didn't have any candy. I didn't have much of anything with me.
In the distance I could see some older tourists already in the village. They were handing candy out to all the children around them and then literally lifting the children up and setting them down in the perfect pose for their picture.
I bet to myself that those children were going to attack me with sticks and knives also by the time I arrived there.
The children got mad when I said no and started slamming their knives against rocks.
Then they wanted to hold my hand and walk with me.
So all was well in the end, but it was pretty freaky for a moment.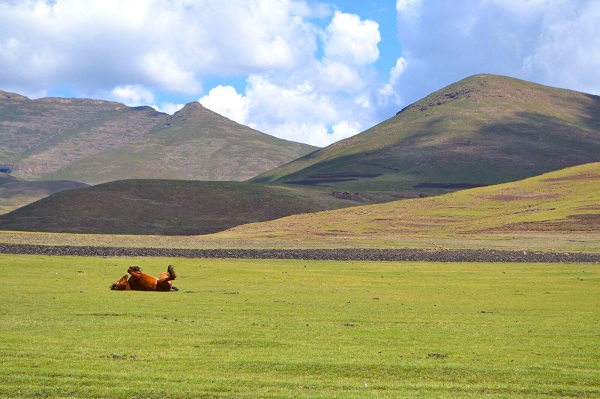 Taking candy from strangers
Semonkong Lodge has signs politely asking guests not to give things to the children. Especially candy, since most of these children probably won't go to a dentist any time soon.
This post about seeing Semonkong independently could easily devolve into a total rant about giving candy to children, but I will control myself.
But my question is, if you were traveling in Europe or North America, would you approach unknown children and hand out candy to them and then arrange them for a photo? I hope not.
So, why is it magically ok in Lesotho?
In my opinion, there are better ways to support the community, including eating at local restaurants and buying from the local corner store…Or employing a trail guide (which I unfortunately didn't do).
But aside from this negative experience, I loved my trip to Lesotho.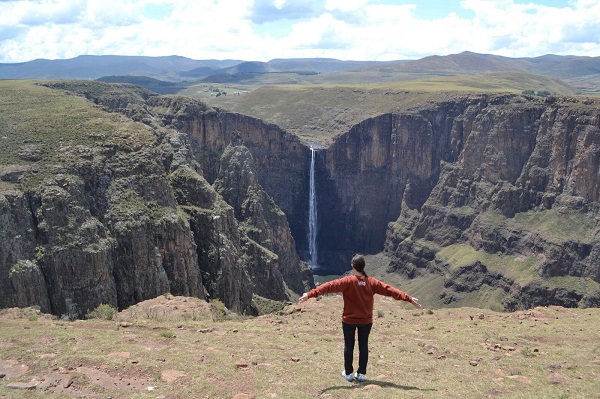 Some final things to know before you travel to Semonkong
BRRRRRR!
I gets chilly in Semonkong! I wore two big sweatshirts the entire time I was there. Thankfully I had just bought a new one in the market in Maseru!
Be prepared for chilly mountain weather.
Greetings
Apparently when greeting each other, people in Lesotho ask "where are you going?" as opposed to "how are you" or "what are you doing".
I found that interesting!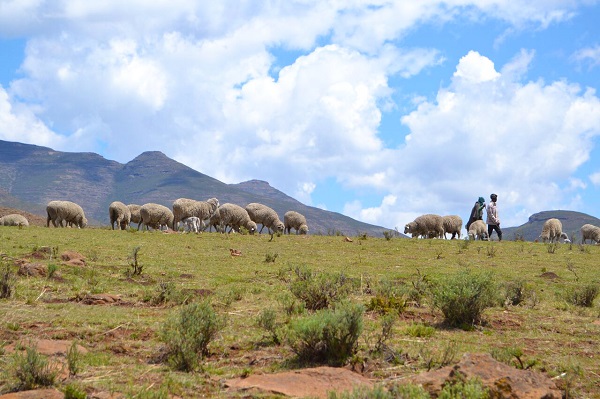 Shepherd boys and the realities of modern Lesotho
Also, when traveling in countryside you well see lots of the herd boys alone in the mountains with sheep or cows.
I recommend reading about Lesotho's herd boys because they can sometimes be considered to be the lowest rung on the social ladder.
Apparently this isolating work used to be done by older men but now many men go to work in the mines in South Africa, leaving sometimes very young boys to do the job.
These young boys often need to stop their schooling and have to live in isolated, sometimes dangerous situations including bad weather in the mountains and violent theft.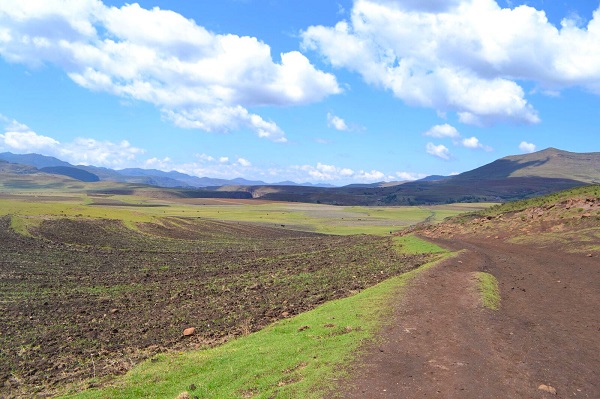 Getting out of Semonkong
If you are indeed staying in the lodge, it may be worth asking around to see if anybody is driving back to the border.
A very kind South African man gave me a ride in his awesome safari truck and it felt like pure luxury after so many shared taxis!
You can head back to Maseru or continue on to explore amazing Lesotho.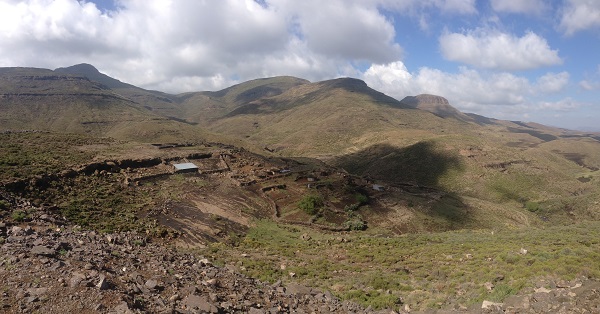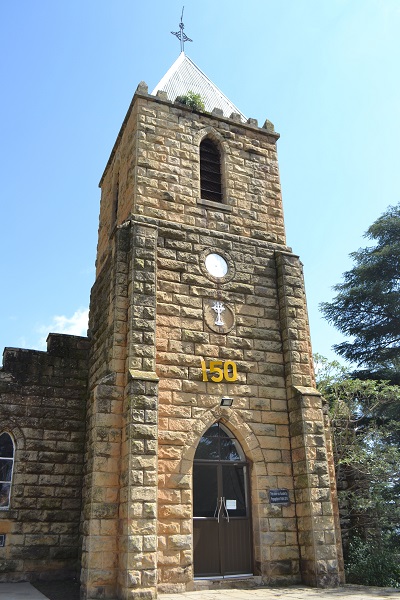 It is totally possible and definitely worth it to see Semonkong independently. A budget trip to Semonkong still is very worthwhile and I hope you have an amazing time!