How to travel to Sossusvlei on a budget:
Sossusvlei is one of the most hauntingly beautiful places on earth. If you aren't convinced, check out my post of unedited Sossusvlei photos here!
But you're probably reading this post because you have already decided to go to Sossusvlei, and you just saw the cost of a two day tour on Tripadvisor and said NO WAY!
I had the same reaction when I was backpacking in Namibia. So I decided to travel to Sossusvlei on my own and independently. I had to see the Namib desert on a budget!
I decided to write up a guide to seeing Sossusvlei on a budget.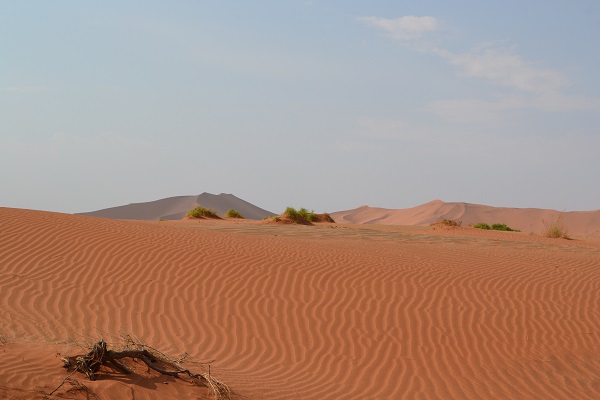 I eventually ran into another solo traveler who tagged along for the adventure. It was nice to have a driving buddy since driving a manual on the left side of the road is terrifying.
In the end, we ended up spending around $110 (USD) EACH for a 4 day, 3 night adventure! That includes the car rental, gas, camping, entrance fees and food! Take that, pricey tour!!! 
Ok, we were SUPER frugal and ate cup noodles the entire time…so you may spend a little more per person. But still, we wanted to prove that it is possible to travel to Sossusvlei on a budget!
To travel to Sossusvlei independently is relatively straightforward if you plan ahead. In this post I will cover renting a car in Namibia, budget camping near Sossusvlei, how to travel to Sossusvlei, and what you can expect to pay for all of these things.
I also will throw in some tips for exploring Sossusvlei on a budget.
So here's my Sossusvlei guide!
All prices will be in USD for this post. When I was there $1= 14 Namibian Dollars.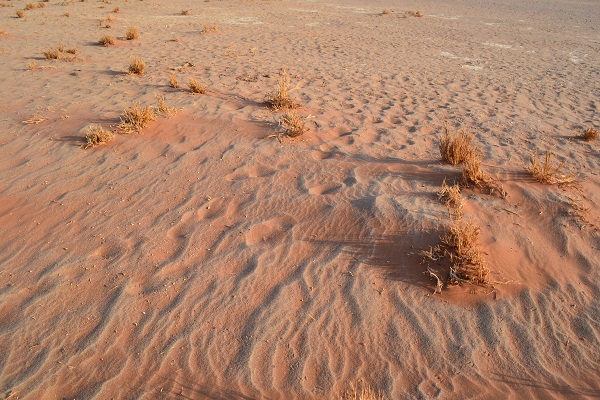 Renting a car in Namibia to see Sossusvlei independently
Renting a car was the best thing I did in Namibia. You have the freedom to explore nature as you wish!
Renting a car in Namibia will also be the only way you can see Sossusvlei on a budget, unless you already have your own car or motorcycle.
You can rent a car easily in Windhoek or in Swakopmud. Maybe you can rent from other cities also, but I didn't check.
To see Sossusvlei, I rented a car from Windhoek.  I didn't do anything fancy. I just booked it online.
To check out some prices I recommend checking out Expedia or RentalCars,
But sometimes if  you book directly with the company you can save a few dollars.
I listed where some major car rental companies and their locations in Windhoek in the next section.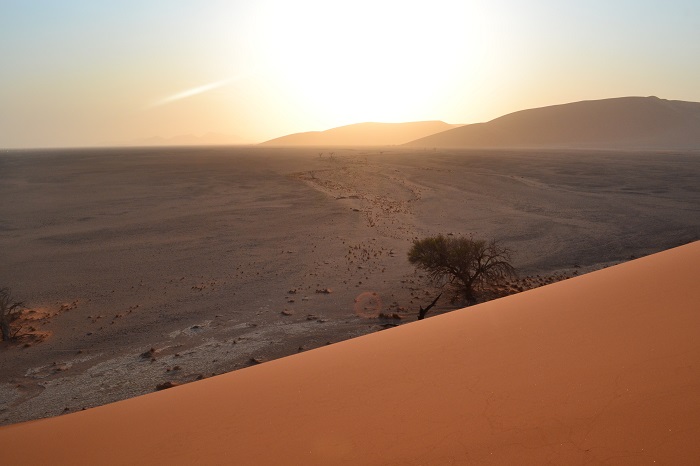 Renting a car in Windhoek
In Windhoek, there are car rental companies at the airport. There are also a few in town.
Some rental companies at the Windhoek airport include Hertz and Avis.
I wrote a post about the surprise costs of going to and from the Windhoek Airport. Check that out here.
If you aren't planning on renting a car right upon arrival, or if you are arriving in Namibia by land, I wouldn't recommend renting a car at the airport.
I got my rental car in town. It was from just a major, international company (I think Thrifty?).
Some rental places in the center of Windhoek include: Europcar, Avis, or Thrifty.
I booked it one or two weeks in advance. I booked the cheapest car available.
There are also private companies that rent out camping/ safari cars.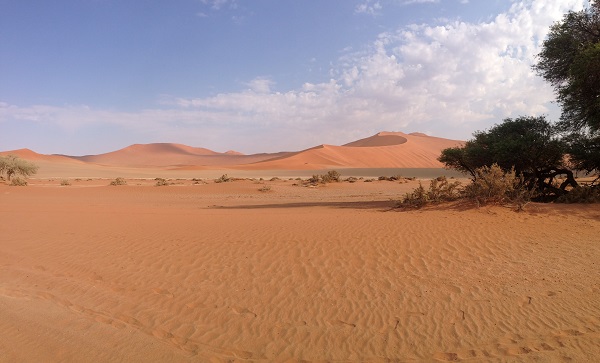 Renting a car to see Sossusvlei in Swakopmund
I wandered over to a private car rental agency in Swakopmund and asked about renting a car to go to Sossusvlei.
They have more rules there. If you are driving to Sossusvlei from Swakopmund you are required to have a vehicle with a high ground clearance. I learned why a little later…
Also, it seems like the roads to Sossusvlei from Swakopmund are rougher than going there from Windhoek.
This immediately put renting a car from Swakopmund out of my budget. All wheel drive trucks or SUVs are much more expensive to rent. They also didn't have any cars available with such short notice.
There are, however, some big name car rental companies in Walvis Bay. It is about a 20 minute drive from Swakopmund and there are plenty of shared taxis going back and forth that cost 30 Namibian Dollars.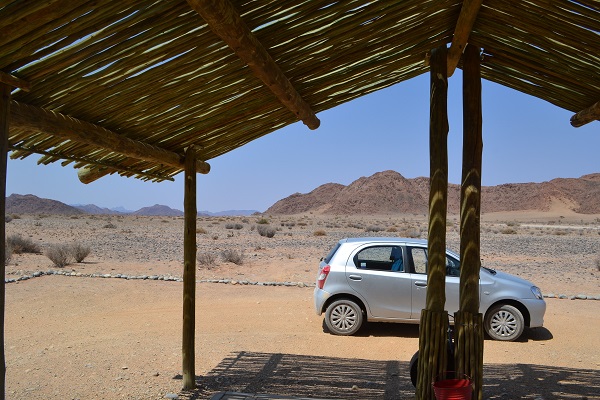 What I rented for my budget Sossusvlei car
So I rented the cheapest car available. It cost $132 for 4 days and 3 nights. This INCLUDED under car insurance (or whatever that is officially called).
It was a concept car. You can drive to Sossusvlei with a small concept car, or at least you can drive there from Windhoek. I am not sure about Swakopmund.
The under body insurance is the only insurance I bought for the car.
I REALLY recommend you get this insurance, too, especially if you are not renting a truck or car that sits high off the ground. I'll address why later…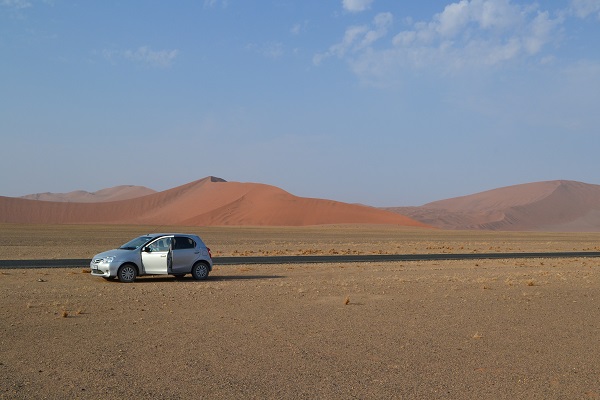 The drive to Sossusvlei from Windhoek
Leaving Windhoek, you are on perfect, paved roads for a while. It is gorgeous and fun and you feel wild and freeeeeee.
But, DO NOT TRUST YOUR GPS so much. I think we were using Google Maps and sometimes it would suddenly tell us to turn off onto private ranch drives. If it doesn't look right, don't do it.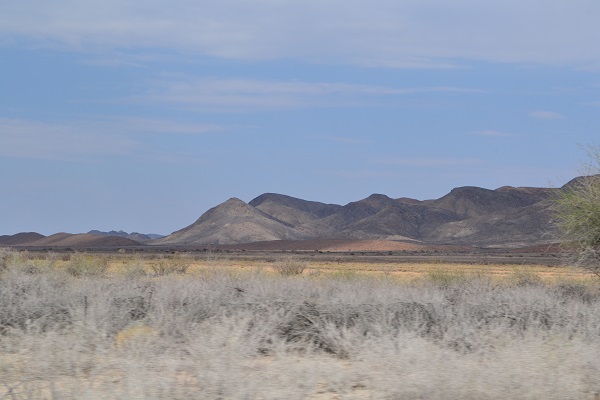 There should be clear signs marking the way to Sesriem. Sesriem is the outpost and gateway to Sossusvlei. If you don't see a sign, it's not the right way.
The highway part of the drive was also only two lanes and full of slow trucks. Passing them was terrifying.
Also, know that the drive will take a lot longer than the estimated time on Google Maps.
When you turn off the highway, you have several hours of driving on gravel roads. Sometimes they aren't in very good condition.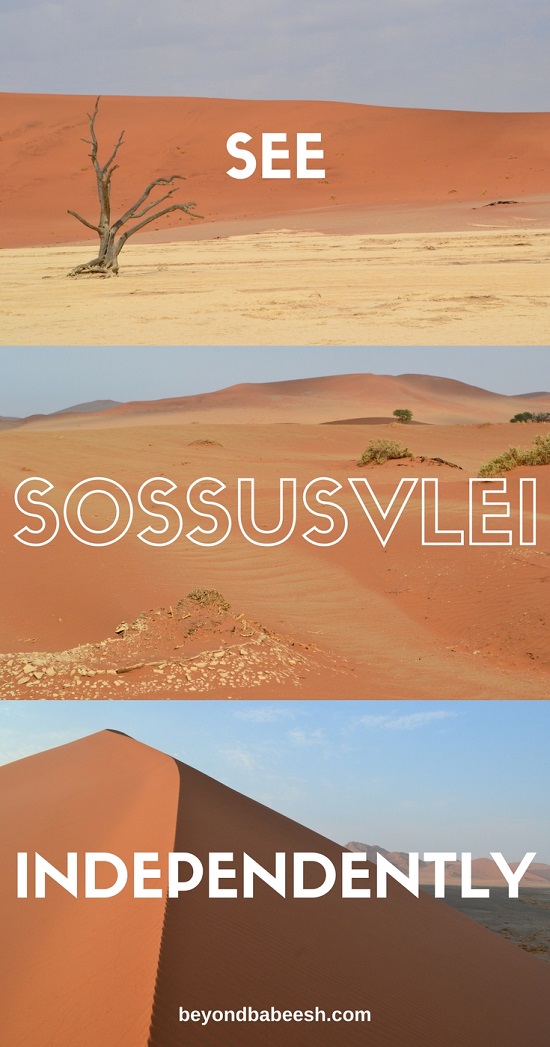 Driving on the gravel roads
This is why they make you get cars with high ground clearance in Swakopmund. It is also why I was very thankful that I bought insurance for the bottom of the car…
You're stuck on gravel roads for hours and hours! Every time the tires turned up a rock that hit the car, I would cringe as I heard the entire car resonate from the impact.
I thought it was a miracle that we didn't pop a tire or dent the car. The car was very dusty and dirty by the end of our trip, but I never got charged for any damage! Phew!
So yes, if you want more peace of mind or have more friends to split the car with, I would recommend getting a proper truck to us to see Sossusvlei independently.
It was possible in our car, and maybe I had nothing to worry about in hindsight.
I'm just an anxious person, though, and so the ride was a bit stressful.
Also, I recommend getting gas before you turn off the highway. But I don't think we got gas until we arrived in Sesriem.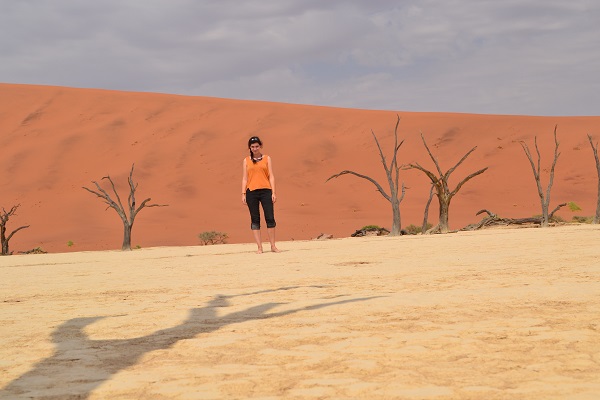 If you have to stop for the night during the drive to Sossusvlei
My buddy and I got a late start and so we had to stop for the night and continue driving to Sossusvlei in the morning.
Know that you are REALLY isolated out there. Once we were off the highway, we saw no other tourist cars in the afternoon. No lights, no stops, no signs of life.
We only saw local cars (maybe 1 or 2) driving occasionally between the tiny settlements on the way. But there were barely any settlements.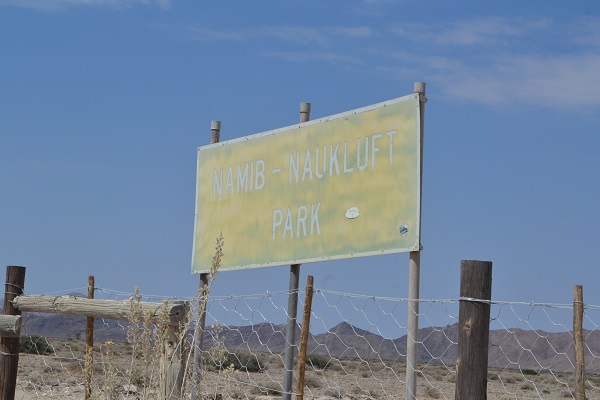 Most of the land is fenced in and is part of private ranches.
There are also basically no campsites where you can stop for the night until AFTER the little settlement called Klein Aub. At Klein Aub there is a general store and maybe even somewhere to get gas.
The kind people at the general store let us sleep in their yard haha!
There are designated campsites maybe just  fifteen minutes past Klein Aub, though. If we had known we would have probably gone there!
There's a gas station at Sesriem, and if I remember correctly it wasn't so expensive. It wasn't like gas prices in Europe!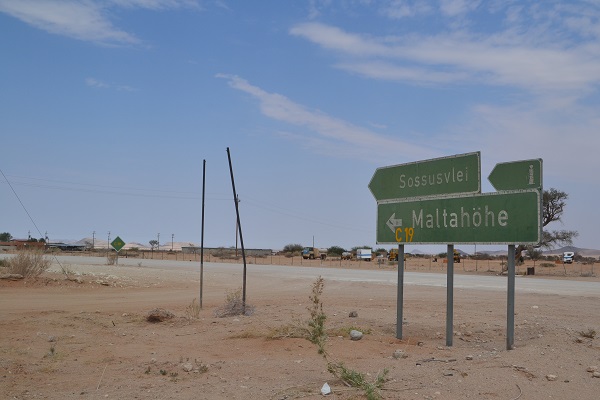 Wild Camping
So if you are seeing Sossusvlei on a budget, you probably will be tempted to wild camp along the way…
Wild camping technically isn't permitted. Plus all this land is claimed so you technically aren't in the "wild".
I'm an adventurous lady, but I just didn't feel right parking and sleeping on the side of the road. There aren't a lot of places to hide (there are barely any trees, for example), and so we would have been very exposed.
Also, the car was tiny! It wouldn't have been very comfortable to sleep in.
Although Namibia doesn't have the same crime levels as South Africa, we didn't know anything about the area. We just felt that it would be best to find somewhere to stay for the night.
Also note that wild camping is prohibited in Sossusvlei.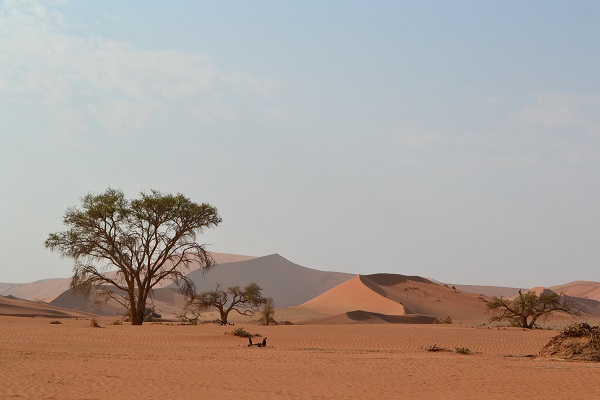 Hitchhiking to Sossusvlei
I love hitchhiking and had thought about trying to hitchhike to Sossusvlei before entering Namibia. That would be the ultimate way to see Sossusvlei on a budget!
I later learned that it is really hard to hitchhike in parts of Namibia!
Although you probably would easily find a ride on the national highway, it may be very difficult to find a ride once you are on the  gravel roads.
I don't think it would be impossible since lots of tourists are going to Sossusvlei, but if you do try to hitchhike you really need to be prepared with enough water in the desert!
From my experience, tourists in safari trucks don't usually pick up hitchhikers…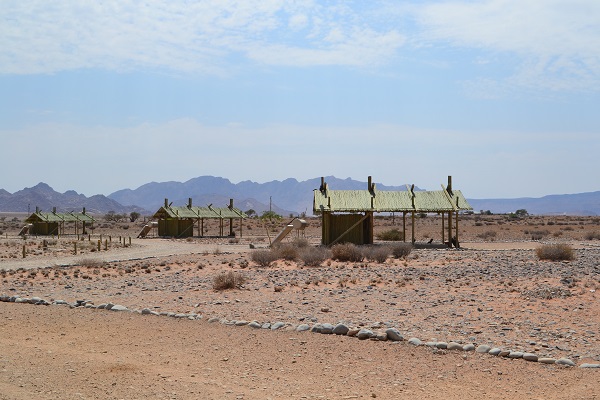 Arriving at Sesriem and budget camping at Sossusvlei
We made it to Sesriem! During the final hour or so of driving, you pass some of the more luxurious lodge options in the area.
I mean, in a perfect world I would be staying at this unbelievable lodge that makes it seem like you are in some sort of colony on the moon.
But alas I was sleeping on the ground in my flimsy tent, hoping that the jackal running around outside wouldn't get too close.
See Also: Tips for Camping in Africa
But gosh I don't want to sound like I'm complaining! Budget camping in at Sossusvlei was amazing!
The easiest way to experience Sossusvlei on a budget is by camping. There are plenty of options for people who don't like sleeping in tents, also, but these will be more expensive.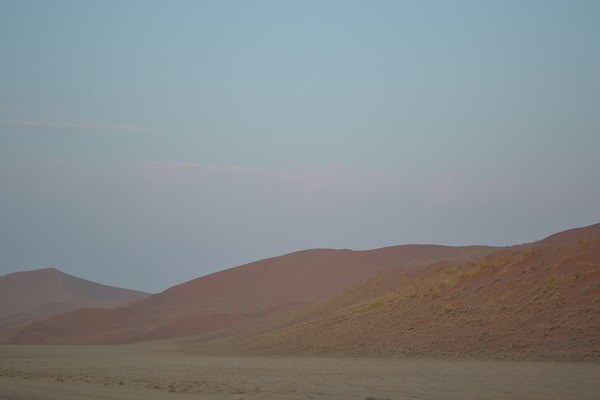 The most important thing to know before choosing your Sossusvlei campsite:
So you are technically camping in Sesriem and not in Sossusvlei itself. You can't really see the iconic red sand dunes from the campsites.
So don't show up thinking that because you will be disappointed!
To enter the park, you have to pass through the main gate. This gate opens at sunrise.
There is ONE campsite within the gates. It's called Sesriem Rest Camp.  This is the only way to enter the park before sunrise or stay after sunset.
The prices are comparable to other local campsites and definitely an option for those seeing Sossusvlei on a budget.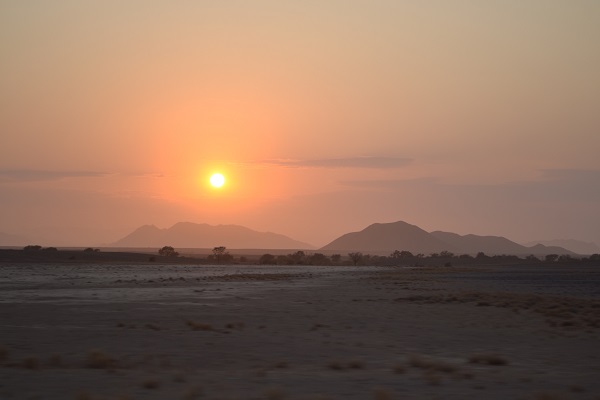 Sossusvlei on a budget: camping inside the gates
The reason for camping in side the gates is  that you can drive like a maniac to Deadvlei one hour before dawn and climb Big Daddy dune and watch the sunrise from there. Then you can get the iconic Deadvlei photo where the dune is red from the sun and the trees are all casting creepy shadows.
You can read reviews about the campsite here on Tripadvisor.
But you can't book it there. To book you need to visit this website and submit a booking request.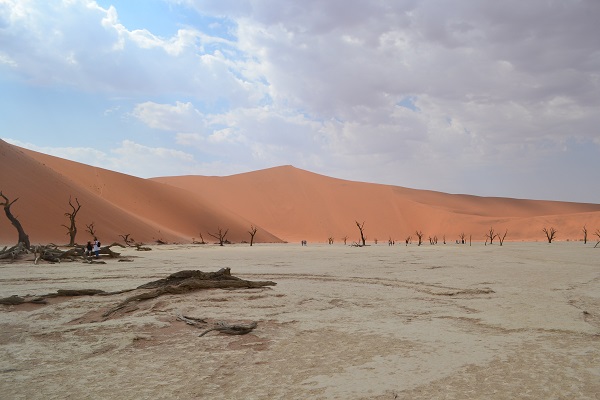 I didn't stay there personally because I remember the booking process being a little difficult to do while I was traveling around. My plans weren't firm enough.
See Also: Namibia is Surreal
I visited in October and the place didn't seem very full, but I imagine it fills up during peak travel periods.
They had a lively bar/restaurant and also they had way better internet than the nearby campsites. You can go and just pay to use their internet and hang out without camping there.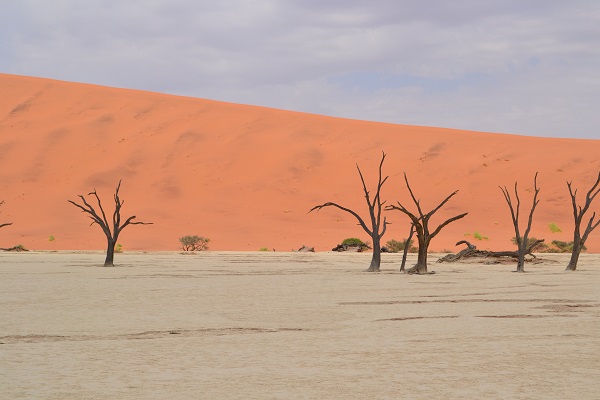 Other budget camping options for Sossusvlei
I stayed at this campsite and enjoyed it. It is right next to the park gate so you can be first in line to enter the park at sunrise!
You drive up to your site and you have your own bathroom and sink and grill pit. They are really spacious and there are plenty of animals that wander by!
The campsite is managed by the people at the gas station so that is where you check in and stuff. You can buy food and supplies (and beer) at the gas station, too. It was nice having that so close, yet you still felt pretty isolated in nature.
The campsites are pretty bare- which is to be expected if you are seeing Sossusvlei on a budget.
But there aren't chairs so bring your own or go sit in the chairs by the pool.
The pool was clean and AWESOME after exploring the dunes in the heat.
They say they have internet and sometimes it worked if you stood in the aisles inside the gas station. I was working remotely and just needed to send an email and ended up having to go to Sesriem Campsite to use their much better internet.
You can read more reviews or book it directly through TripAdvisor here.
You can also check it out on Expedia here.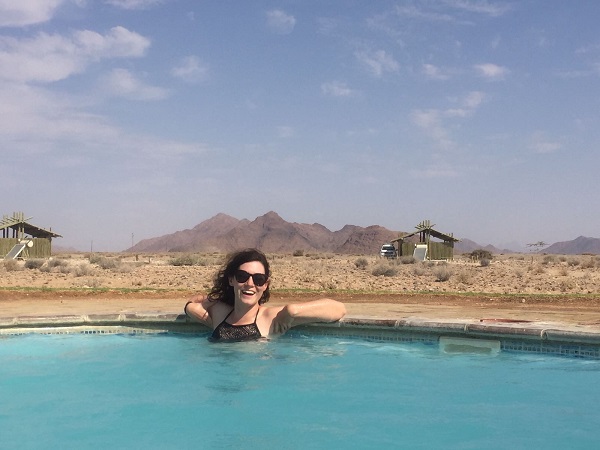 Agama River Camp
The Agama River Camp also offers self catering, budget campsites for travelers going to Sossusvlei. It is situated in between Solitaire and Sesriem, about 40 minutes from the Sossusvlei park gates.
This would be a good option if you are on a budget and the campsites closer to Sossusvlei are all booked.
Camping costs around 180 Namibian dollars for a site.
They also have a fancy lodge for those who have a higher budget. You can check out the listings here.
Tsauchab River Camp
This is another budget camping option that is farther away from the park. It is about a one hour drive from the entrance to Sossusvlei.
The sites are rustic but you have access to bathrooms and showers.
Just know that you will have to get up really early if you want to see Sossusvlei at sunrise!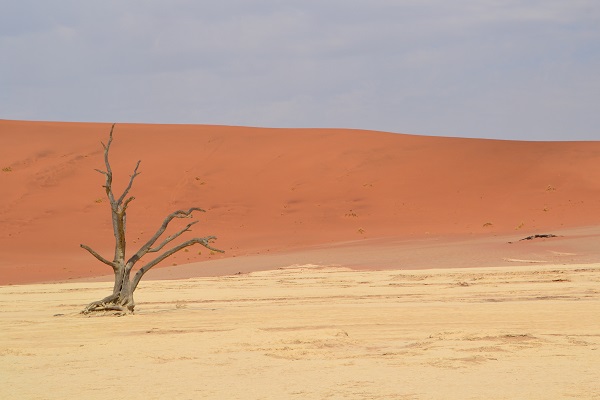 A rustic option that doesn't require you to bring your own tent:
This place is the cheapest accommodation you will find in the area that provides you with a bed!
It is about an hour away from the park gates. You stay in big, furnished tents. It is also self catering so you can cook all you like.
They also have a swimming pool!
Soft Adventure is simple and for the budget conscious. This isn't "glamping" but you can sleep in a real bed and have your own bathroom.
You learn more or make a reservation here.
Other Lodgings that are closer to Sossusvlei's entrance but are more expensive:
So you may have noticed that the camping options are moving farther and farther away from Sossusvlei. Here are some lodges that are very close to the entrance. Most are either glamping or lodges. All are very nice.
If you are trying to plan a trip to Sossusvlei on a budget, these may not interest you. But you can put them on your wishlist for next time!
Sossusvlei Lodge – the classic lodge right by the gates.
Desert Camp – Glamping just a little ways down the road.
Le Mirage Desert Resort and Spa– Fancy Schmancy about 20 minutes down the road.
Sossus Dune Lodge – Discreetly tucked away a 10 minute drive from the gate.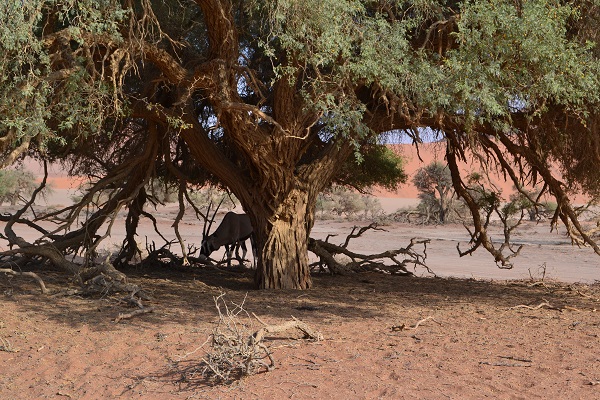 Entering Sossusvlei independently
When to go:
If you are staying at the campsite inside the gates, you can start out an hour before sunrise.
If you are starting outside the gates (like I was), I recommend trying to get to the gates maybe a half hour early. Cars start lining up and suddenly you are in a traffic jam in the middle of nowhere.
See Also: All my posts about Namibia
They take your information and then you are all set. Suddenly you are driving on a perfect, flat, PAVED road in the middle of nowhere.
Put the pedal to the metal!!! No speeding tickets in the park (though there are speed limits). We blasted to the end as fast as we could!
How much it costs to enter Sossusvlei:
It costs 80 Namibian dollars for non residents and 30 for Namibian residents.
You can go in and out as much as you like between sunrise and sunset.
If you want to enter a second day you have to pay the fee again. Since I saw Sossusvlei on a budget I only went in one day.
You don't need to pay if you just are entering to visit the campsite inside the gate.
What to bring when you go to Sossusvlei:
So much water!
Snacks and that sort of stuff.
Sunscreen! The sun is so strong that it reminded me of visiting Petra or the Pyramids of Egypt. I actually opted to wear a long sleeve shirt most of the time because I'm so pasty white.
The long sleeved shirt also was helpful because there were some pesky flies that wouldn't leave me alone! No fly bites for me!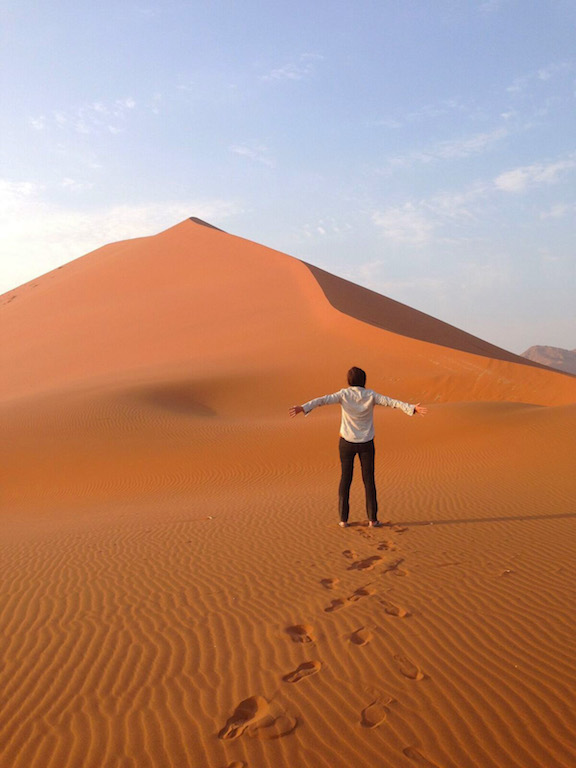 The drive inside Sossusvlei and parking:
The more impressive dunes have their own makeshift parking lots next to them. You can just stop and get out and wander wherever.
The paved road ends 5 km before the famous Deadvlei. There's a parking lot and bathrooms there.
You need an all wheel drive, high clearance vehicle to drive the remaining 5km to Deadvlei.
They have cars there offering to drive you those last 5k for aoround 150 Namibian Dollars per person . That's more expensive than the park entrance fee and even some campsites!
So we opted to walk. It was a nice walk but the flies were pretty annoying. Also don't wander too far! There were scary looking ostriches lurking around!
It is also pretty easy to hitchhike those 5km. A lot of people were trying to do that, though.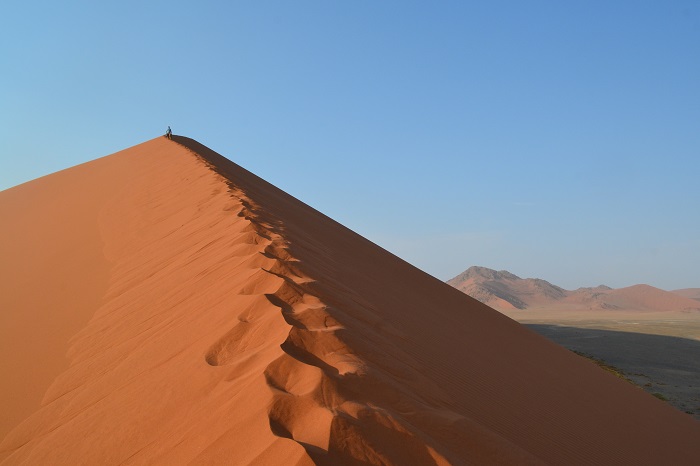 My tips for a good independent budget trip to Sossusvlei
So if you aren't staying inside the gates, you are definitely going to miss the sunrise over Deadvlei.
If this is the case, I wouldn't bother rushing down to the end of the road once they open the park gates.
To be honest, Deadvlei is so clogged with other visitors that the dunes are already full of footprints. Why not just choose your own dune? Let your footprints be the first of the day! You can go visit Big Daddy dune and Dune 45 after!
Plus it is pretty magnificent to watch the sunrise alone on top of a red sand dune!
The allure of going in the morning is also because each dune is half in the shadows and half in the light. It's a great photo opportunity!
At around 10 am people start to leave Deadvlei and you can get some great photos without other tourists wandering in and out tof them.
But at around 10 am the heat becomes almost unbearable, especially if you leave your water in the car parked 5km away.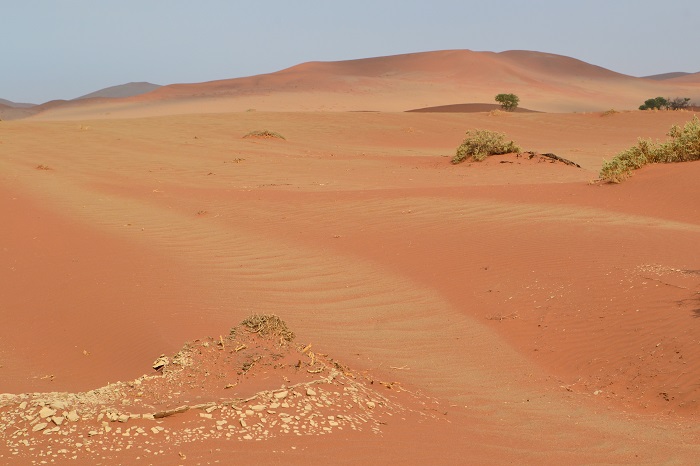 How much time should you spend in Sossusvlei?
I spent one day in Sossusvlei itself and I felt really happy with what I experienced. Unless you are a professional photographer or scientist or have some other reason to hang out, one day in the dunes will be enough.
Granted, I wish I could spend 100 days in this beautiful place! But since I was seeing Sossusvlei on a budget, one day was enough.
There are other hikes and secret places you could easily explore in 2 or 3 days.
Or you can just get amazing, sculpted legs from running up and down dunes every day! Or you can just chill at the nice campsites and watch animals pass by.
I was happy with one day. The heat was almost unbearable and so I was happy to spend some time outside the dunes and in the pool!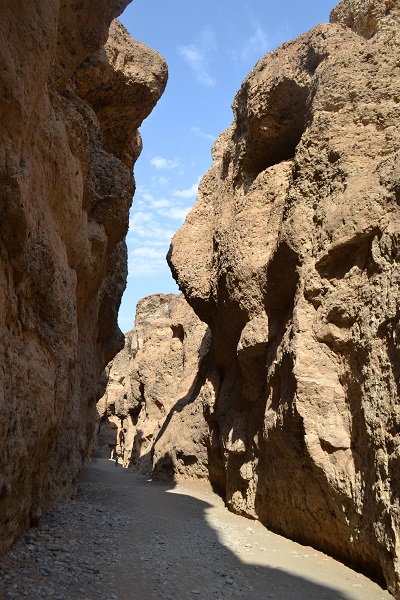 Some other things to do near Sossusvlei
You can go visit Sesriem Canyon. That's a good activity for the hot afternoon since you are protected from the sun down in the canyon!
The canyon goes on and on and on so don't try and follow it to the end. It's definitely less impressive than Sossusvlei, but a fun outing nonetheless for a few hours.
Also, it's free!!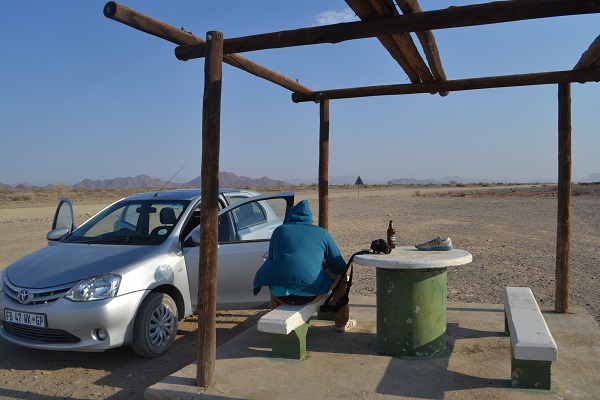 Lastly, if you turn left at the gates (without entering the park), there's a little picnic table maybe a 20 minute drive down the road. It's in the middle of nowhere.
It's the perfect place to enjoy a beer and watch the sunset! And if you're lucky you will see the moon rise and see a sky full of stars.
Other activities include hot air balloon rides (not so "Sossusvlei on a budget"…) and hanging out at the lodges and meeting other travelers at their bars.
I hope you found this guide to Sossusvlei on a budget helpful! Have an amazing trip to this magnificent part of the world!
Some of the links in this post are affiliate links. If you found this post helpful, consider saying "thank you!" by booking something through a link on this post. It's at not extra cost to you and helps me with the expenses involved with running this blog!