Awesome hiking near Bishkek that is easy to access
There is some world class hiking near Bishkek, the capital of Kyrgyzstan. It's pretty amazing that you can use public transport that can cheaply and quickly take you to a national park. It's even more amazing that in said park you can visit an enormous glacier. Add to that the fact that you can see it all in one day…Are you convinced yet? I'm really jealous of the people who live in Bishkek who get to do this whenever they want!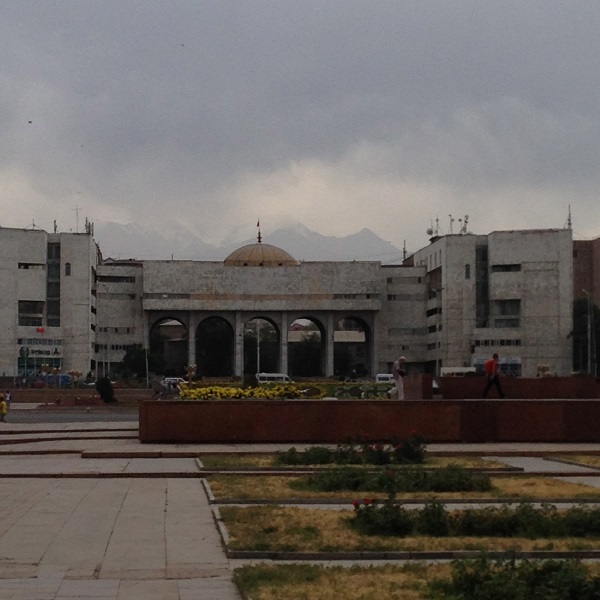 I had a great time hiking to the Ak-Sai glacier in the Ala Archa National Park. You technically hike to the Ratsek Cabin. The Ratsek Cabin acts as a base camp for more serious climbers. From there you can do some crazy, technical ascents, take mountaineering courses, or just pitch a tent and spend the night hanging out and practicing Russian with all the climbers there. Or you can turn around and get home before sunset!
Hiking to the Ak-Sai Glacier
In this post I will write about my hike to the Ak-Sai glacier. For those who aren't seasoned mountaineers, it is a  moderately difficult hike. You do not need any special equipment or mountaineering training to do this hike, but for those who have less time or don't want something too strenuous,  know that there are plenty of trails in the Ala Archa National park.  There are some great views and a waterfall about halfway through this hike, and so even if you just hike to there it would be well worth it!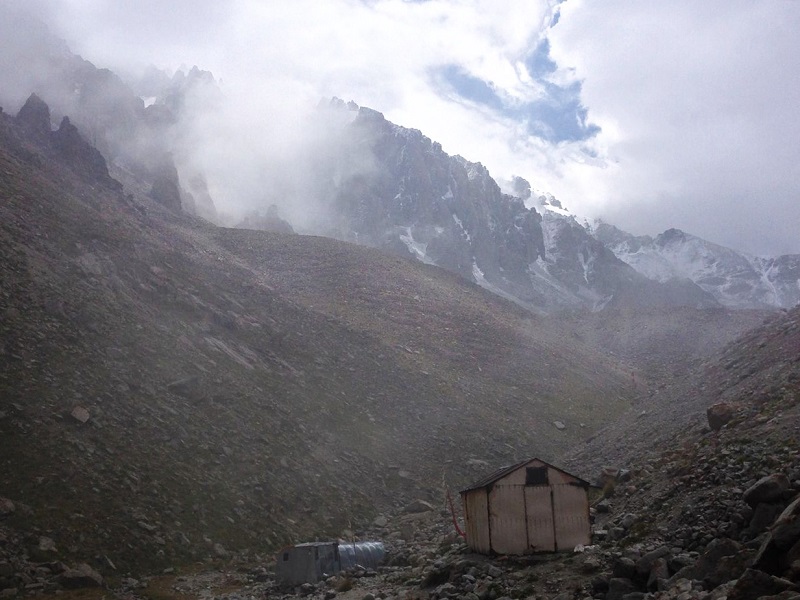 I did the hike even with my bad sciatica!
How to get there
Near the Bishkek bazaar entrance, you can find the marshrutka (minibus) number 265. During the summer, since everyone wants to go hiking near Bishkek, some take you right to the Ala Archa gates, but sometimes you have to get out in the village before the Ala Archa. It costs between 25 and 30 som and takes just under an hour to get there. Be sure to check when the last marshrutka back to Bishkek leaves! It should be around 5:30 pm but the schedules aren't so set. I missed it and had to hitchhike back oops.
I ended up at the village but I easily walked to the entrance of the park from there.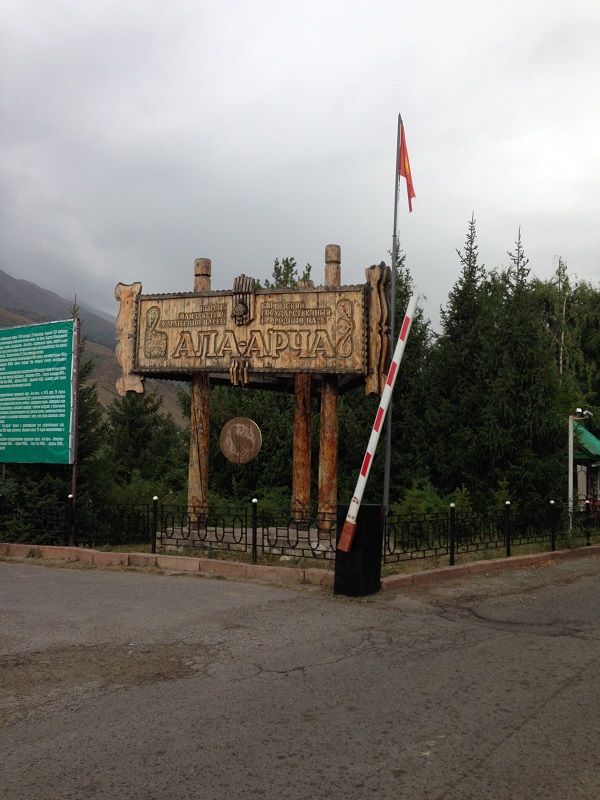 The entrance fee is 80 som. To get to the base of the hiking trail, you will have to follow a long road down the Ala Archa Gorge. It is beautiful, but I walked for about 40 minutes before I got bored and hitchhiked to the trail base. It was extremely easy to hitchhike, and most people on the road are going to go hiking themselves.
If you want, you can also take a taxi to the park entrance from Bishkek and continue the taxi ride to the base of the trails. It will be around 500 som per person to get to the park entrance, and then an extra 500 or so for the car to enter the park and go to the trailhead.
The trailhead to the Ratsek Cabin is the same trail people take to see the Ala Archa waterfall. Once you reach the waterfall you are nearly halfway there.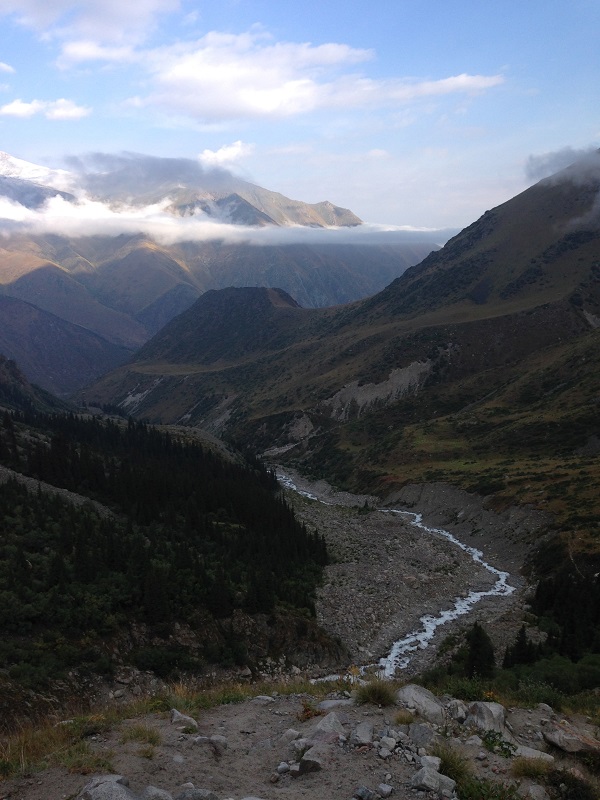 My experience going solo and independently
I couldn't pass up the opportunity go hiking near Bishkek. The Tian Shan mountain range, or the mountains in the Ala Archa National park and in other regions of Central Asia, were so exotic to me! Sure there are the celebrity mountain ranges like the Rockies, Alps, Himalayas, and Andes, but I was really driven to see the Tian Shan mountains!  I couldn't fine a buddy to go with me so I went on my own. Hitchhiking was simple there, and getting started on the trail was also pretty straightforward.
I got started later in the day but I brought my tent with me and some snacks and ended camping along the trail that night. I stayed awake pretty much all night because I had convinced myself that a snow leopard would eat me. It didn't.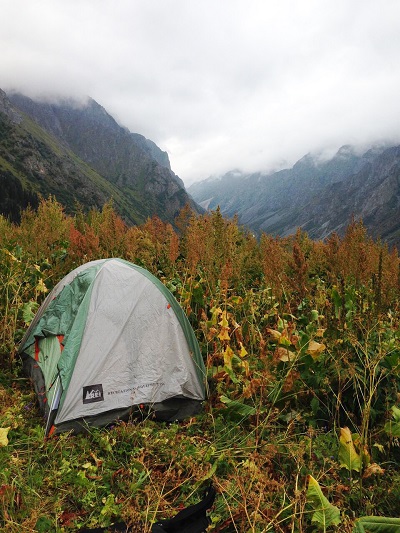 I woke up early and hiked the rest of the trail. The morning was crystal clear and so I had some fantastic views. I even saw a herd of wild sheep! I got to get a head start before all the hikers came in from Bishkek, and so it felt pretty fantastic to have the place to myself.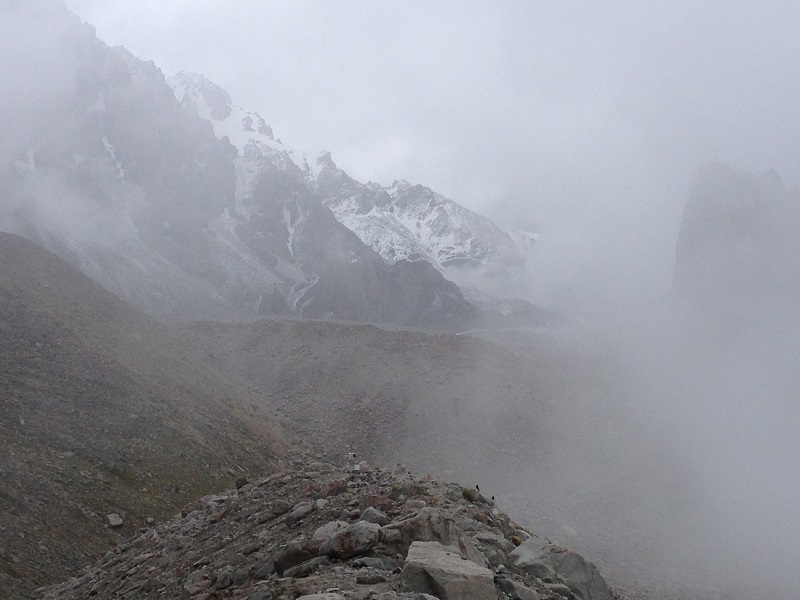 Lost in the fog…
By the time I made it to the Ak Sai glacier, the clouds were rolling in. The view around the Ratsek Cabin is STUNNING with all snow covered peaks and the glacier itself. One mountain is curiously named Free Korea Peak.
It all took my breath away, but 5 minutes later it all disappeared into the clouds. If I hadn't spent that lonely night camping I would have missed it! By the time the morning hikers arrived from Bishkek the view was just a blanket of gray.
Happy hiking! Click here if you want to read more about my solo trip to Kyrgyzstan!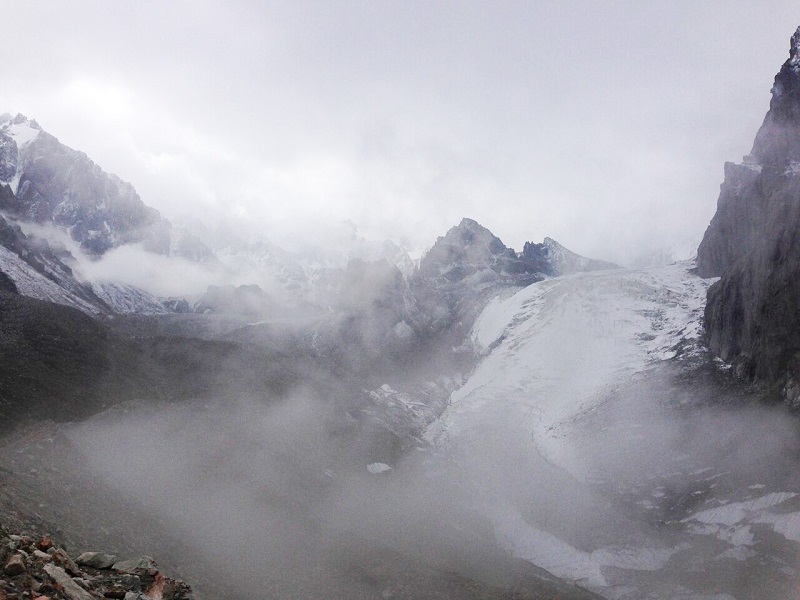 In case you're looking for a place to stay, in Bishkek I stayed at Nomad's Home and Bishkek Guesthouse, both of which were ok hostels but great for meeting other travelers. It seems like a ton of hostels have popped up in Bishkek since I was there so you can check out more options here!