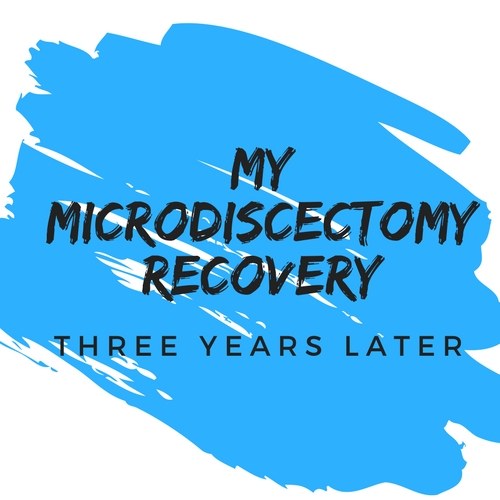 It's already been three years since I had a microdiscectomy!?
Time flies! I decided to write another microdiscectomy recovery update for people with sciatica or herniated discs who are trying to decide if surgery is a good option for them. I am doing this every year to address the long term effects of a microdiscectomy. I had an L5S1 microdiscectomy, and I hope this recovery update will give you a good idea about the microdiscectomy recovery time frame.
I am going to address my routine three years after my microdiscectomy and any compare my lifestyle with what it was a year ago.
This is my microdiscectomy success story!
If you haven't already read them, I recommend checking out my other posts about my experience with a herniated disc and microdiscectomy recovery.
You can check out the separate page with all the posts here.
or
This one details my experience with sciatica before my microdiscectomy and all the treatments I tried before the surgery.
This one is about my surgery and the first year of my microdiscectomy recovery.
And this one is about my second year after my surgery.
Also, I am not a doctor or medical professional so I am not qualified to give you health advice. This is just what works for me, and it may not necessarily work for you. Talk to your doctor before doing anything. The time frame of my microdiscectomy recovery may be different than your own.
I have been so touched by the response to my microdiscectomy recovery experience.
I just wanted to share my experience as a blog post because my herniated disc/sciatica was controlling my life and surgery was the last resort. My microdiscectomy was a success, and I wanted to just share my experience so that other people going through the hell that is sciatica may find it helpful.
I never expected so many people would write to me or share comments about their experiences! My heart truly goes out to you readers who are dealing with the horrible pain.
Three years after my microdiscectomy…I'm gaining weight…
My doctor told me that maintaining a healthy weight will prevent re-herniation and help me make a smooth microdiscectomy recovery. It will ensure that the long term effects of the L5S1 microdiscectomy will be positive! But I also live in France and my three housemates and I consume a kilo of butter a week and all the fluffiest white bread you can imagine. And then…cheese.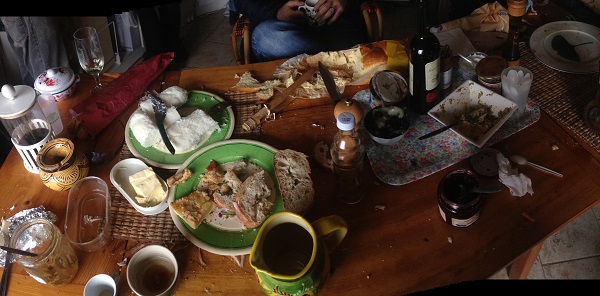 I'm slowly trying to dump less olive oil on everything. But on the other hand I don't want to be in a permanent, stressed-about-having-to-lose-weight state. One option is to just never leave my house and stop looking at Instagram because then I just compare myself to fewer people. Ok I'm kidding.
But you don't need to be fabulously thin to prevent yourself from re-herniating. I am just trying to go back to the weight I was about a year ago.
Physical activity and exercise three years after my microdiscectomy:
My post microdiscectomy exercise routine hasn't changed so much from what I wrote for last year (check out my year two post for microdiscectomy recovery exercises). I run twice a week, I make various attempts to strength train a few times a week, and I go for long walks and hikes. I have been doing more yoga recently as well.
Swimming has also been very fun!
I also played a lot of backyard ice hockey this winter with no problems!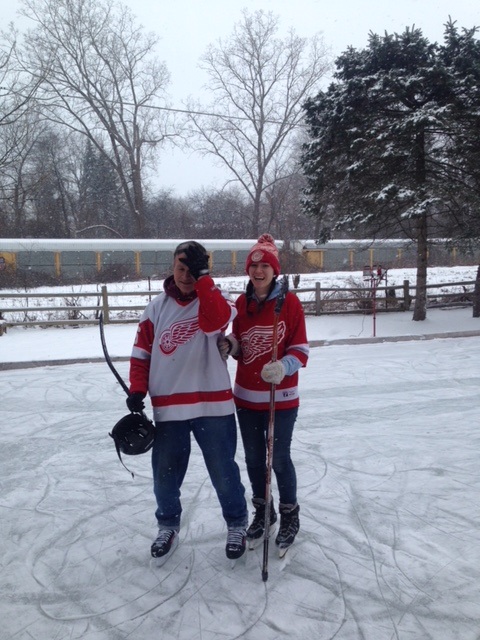 My pain levels are at an all time low three years after my microdiscectomy.
I feel stiffness, and in some positions I still have some pain. But I can manage this. I could not manage the pain before I had surgery.
Long travel days, sleeping on soft mattresses or couches, or sitting at my desk all day all seem raise my pain levels. This has held true during my entire microdiscectomy recovery.
I still use my trusty balance disc when I am sitting at my desk all day. It helps me maintain good posture and keeps my core engaged. I seriously love that silly little hunk of plastic! It also seems like there is a cult of people who are obsessed with their balance discs…my friend's husband even brings his when he works in coffee shops!
I did have a busy month where I completely stopped exercising this year. My pain was at its worst during that month! I can't emphasize enough how important it is to have an exercise routine.
I find that even doing 15 minutes of low impact strength training as little as twice a week and literally nothing else still does wonders when it comes to pain reduction. So make the time to do something! You will feel happier!
I did feel sad this year because I continually catch myself being reckless…
By reckless I mean in a post microdiscectomy context and NOT in a champagne cocaine sort of way.
It is amazing how we as humans can forget physical pain and suddenly three years after my L5S1 microdiscectomy I am twisting to reach to get dropped pencils and  lifting heavy objects without thinking.
Part of it is because I live on a farm with three friends and they don't act like pretty pretty princesses when we need to lift heavy firewood into the house. I want to participate to the fullest and contribute.
But come on I could contribute by making them all lentil soup or something.
After my surgery I was so relieved to not be living the absolute hell that was sciatica that I promised myself I would never, ever do anything to jeopardize my recovery.
I guess it is nice to be free of the terrified feelings I always had of re-herniating my disc. But I really do need to be more mindful or else I could do something stupid.
I saw a chiropractor for the first time since my surgery…
I have arm problems (not good since I am a musician) and a local clinic was offering a super cheap therapeutic massage if you made a health assessment with a chiropractor.
He was perfectly nice but I was terrified when he cracked my lower back. In hindsight, I wouldn't let anyone do that again. I felt sore for a day and now I am back to normal.
He said it was fine but I am trusting my gut on this one. I have no medical expertise or anything to explain why I won't go back, and so you can make your own decision if you want to see a chiropractor.
Should you go to a chiropractor after a microdiscectomy? You will have to make that decision yourself. I recommend talking to your surgeon about it.
I think that my experience with sciatica has made me very suspicious of chiropractors since several offered to solve all my problems and none of them did. Even the act of claiming to be able to easily fix all your problems makes me suspicious.
But I am a big fan of therapeutic massages! That always leaves me feeling great. I would recommend that to anyone, even if they aren't dealing with sciatica!
All in all, I feel like I have recovered from my microdiscectomy.
I feel even more normal and able than last year. Having sciatica isn't really part of my identity anymore.
I can't blame my problems on sciatica, though my friends still get mad when I use back surgery as a half assed excuse to get out of doing things I don't want to do.
But I am still not going to lift heavy stuff, sorry.
Thanks so much for reading about my microdiscectomy recovery and I hope you will find the relief you need regardless of which treatment you choose. I will update again in a year!!