My Sciatica Experience
Hello all you people who most likely suffer from sciatica! So this is my first post in my sciatica experience series. I had a few YouTube videos up and I decided to fill in the gaps and continue the journey in writing. In this detailed post, I will outline the whole history of my sciatica experience from my first fall and symptoms up to my decision to get a microdiscectomy.
You can check out my other posts related to sciatica here!
My sciatica experience is something that deeply affected every aspect of who I am, and so although I do not promise that anything I tried will work with you, I do hope that those of you out there who are searching for solutions may find this useful. This post is also extremely long because I did not want to leave out details.
Also please know that I am not a doctor nor am I certified to give any medical advice. Please consult your trusted healthcare professional before trying anything to help alleviate your pain! Don't try to do surgery on yourself! Don't stab yourself with needles! etc.
Part One: The Pain Begins (Age, 23)
Accident #1
I blame two accidents for the start of my sciatic pain. The first one was a nasty fall down a narrow, carpeted staircase. I had just woken up and was rushing to get to an appointment. Wearing socks on a carpeted staircase= Slip N' Slide.
I slipped backwards and landed really hard on my butt. I couldn't get up  afterwards. I made a phone call in which I said "I will be late, I seem to have fallen and cannot get up." Probably not the best idea since that caused a major morning freakout among friends and family.
I spent the day in the ER. A doctor stuck her finger up my butt. Then I went home. It was just a broken tailbone.
Can a broken tailbone cause a herniated disc in another part of the spine? No idea. I had an L5S1 herniation, which is located pretty low down on the spine. Regardless, broken tailbones suck and I admit I was anxious for it to heal so I didn't take it as easy as I should have.
At the time, my (bougie AF conservatory) paid for me to go to a physical therapist and trainer a few times a week to prevent performance related injuries. I went there a few days later and the therapist seemed a little worried that I could not lift up my right leg while lying on my back. My right leg was and is the part of my body that felt the most pain when I had full-fledged sciatica.
Accident #2
I was anxious to get on with my life and leave my new nickname "Broken Butt Babeesh" behind. After a week I ignored my pain and rode my bicycle everywhere with my heavy musical instrument on my back. I was 23 and obviously unstoppable.
I graduated. Time to move out of the slippery staircase house. I had all of my books that I (have and will probably) never read in an old wooden trunk. It was  freakishly heavy. My dad and I both tried to carry it down the SAME cursed tailbone-busting staircase. I was on the bottom.
POP!
That was weird. I felt a snap on the lower right side of my back. It was something I had never felt before. I tried to get back to work but I actually was in pain. I had to stop. I felt like a total lame spoiled brat princess as I watched my dad and best friend/roommate struggle to carry all of my stuff out of the house as I sat on the couch (which they also had to carry without my help). Then my mom called and told me that my childhood dog had just died.
IT WAS A SIGN! Worst day ever. The real beginning of my sciatica experience.
The Gradual Descent:
I had a few action packed months after the SNAP CRACKLE and POP that happened in my back. I had a summer at home, I went on a long orchestra tour of Central America, and then I moved across the Atlantic to spend a year studying in Norway.
I was somewhere in Panama when I tried to go for a run when I really felt a long, sharp pain in my right leg. The pain had been present and persistent, but it arrived so gradually that I never really was worried. I was relatively active at that time of my life, but I had taken some time away from physical activity after I moved home from school. I assumed since that had been my first attempt to run for a while that I had injured my hamstring or stretched a muscle or something like that.
Time passed and I arrived in Norway limping with pain. I had never had a running-related injury before so I just thought it was part of the experience…that it was normal to last for months. I needed to get someone to help me bring my suitcases to my student residence because walking was a total chore.
"Take ibuprofen and see what happens," said everybody.
I couldn't exercise anymore. I started to COMPLAIN. I became the complaining American living abroad.
The Severity of my Pain:
My Pain Symptoms definitely fluctuated during my sciatica experience, but generally these thing remained the same the entire time.
I could not stand up for more than 15 minutes at a time.
I had a lot of trouble dressing myself.
I could not find a bodily position that was not painful.
I had difficulty walking; limping and limited to a slow pace.
I could not lay flat on my back with both legs fully extended; I had to keep my right leg bent at all times.
I could not really pick small objects up off the ground (though I seemed to always drop them).
Sneezing was the WORST. It felt like my spine was going to explode out of me.
Paranoia/ constant fear related to knowing I would not be able to run or move quickly out of the way if suddenly a [car, bear, evil person, boat, train, asteroid, bicycle, horse, ex boyfriend (ok fine jk if an ex is reading this)] suddenly appeared.
Part 2: Du Har et Ryggproblem (You Have a Spinal Problem)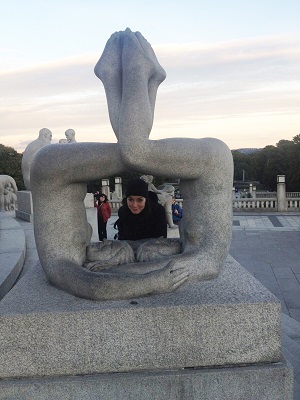 Velkommen to the Norwegian Health System (Age, 24)
I had to wait weeks to see the physical therapist at my new conservatory. The meeting lasted five minutes. "Oh you don't have a leg problem, it's a problem with your spine!" And that was it. This was not my running injury experience, it was my sciatica experience.
Thankfully there was a chiropractic clinic next to my conservatory, and so I started the long, winding, EXPENSIVE maze of Trying To Find A Way To Fix My Sciatica. Here are the characters I met and things I tried during my sciatica experience:
Chriopractor #1 (weekly appointments for approximately 2-3 months):
"You have bursa." "You don't have bursa." "Don't you remember what I told you? It's bursa." "I will fix this." "Ok I think you should get an MRI." "Oh it is just a slight bulging disc, nothing I can't fix. "You DO feel better." "You need to keep coming back." "You need cortisone injections."
After my MRI I learned that I had a herniated disc: L5S1 to be specific.
But let's continue with my sciatica experience…
Cortisone Injections
Very messy office, man didn't wear gloves. I got injections around my spine and butt.
Day 1: It works! I am a new person! I can have my life back!
Day 2: No more pain pills! I can go about my day without being depressed!
Day 3: The pain is back. 100%. Cue depression.
Chiropractor #2 (one time)
Said a lot of general things. Took a tiny hammer apparatus and slightly tapped my back a few times. Told me that it sucks to be in my position.
Chiropractor #3 (one time)
Said a lot of the same, but admitted that he could only help me so much. Recommended physical therapy and massage therapy (THANK YOU).
Physical Therapist
Gave me gentle exercises. Educated me about where my pain is coming from. Helped me plan a routine I could do on my own. I still do some of her exercises today. I went weekly for about a month.
Joining the Gym (6 months after pain started)
I started a very consistent, yet very low impact exercise routine. Every day. I don't think it helped my pain but it was a good distraction and got me out of my room. The Norwegian winter was in full swing and my mobility issues, pain spasms, general depression, and disdain for the world were not helped by the seemingly perpetual darkness.
Sauna!!
Norwegian bonus: my school and gym both had saunas. I spent a lot of time in them. I don't remember it really helping pain-wise during my sciatica experience but it was nice.
Massage Therapy (weekly appointments starting 8 months in)
I still remember my kind therapist's name: Anniken. She was a ray of sunshine in all of this mess. During this whole process, the massage therapy was one of the few things that gave me immediate, lasting relief. She would work so deeply that I would leave the appointment with huge bruises all over. It was nothing like a relaxing massage you would receive at a spa!
Acupuncture (weekly appointments with massage therapy starting 9 months in)
My dear Anniken would consistently suggest using needles as a way to relieve the muscle pain. In my sciatica experience, a lot of my pain came from using certain sets of muscles excessively to keep my body in less painful positions. I am not a needle person. I am not much of an eastern medicine person, either. One day I consented to her jamming a very long, thick needle into my hip. The pain was what any needle hater would imagine that being like. I cringe when I think of it now…but it actually helped a lot.
Each massage/acupuncture session would give me about a week and a half of relief. By relief I mean that I was able to do my daily duties while without crying. I don't want to sound overly dramatic but that is the truth.
I could also bend my torso forward without stinging leg pain.  I also must add that I was completely pumped up with over the counter painkillers at this time…
Pills
Tylenol (acetaminophen), Advil (Ibuprofen), Naproxen… my sciatica experience revolved around a colorful collection of pills. This section requires a bit of reflection and philosophizing: I am SO thankful that I did not have access to prescription painkillers at this time. The painkillers that seem somewhat ubiquitous in the USA are uncommon in Europe. I would have become a complete addict in no time.
The amount of over the counter painkillers I was taking was enough to make my doctor in the USA gasp. It all could have been much, much worse if I had been popping oxycodones and not Advils, even if popping Advils isn't so healthy to begin with.
I also took turmeric and some herbal stuff a very anti western medicine family member recommended for me. But I always took them with a handful of Advil so I can't say what they did to help.
Food
This was a bit unintentional and mainly due to the extremely high cost of living in Norway, but I pretty much unintentionally had a gluten free, vegetarian diet while I lived there. I was the lowest weight I have ever been in my life, but I don't know if that was a good thing.
Alcohol
A beer in a bar in Norway cost the equivalent of nearly 13 US dollars when I lived there. I drank with some friends from time to time, but alcohol wasn't a large part of my life while I was there.
Last Chiropractor (a handful of times before I left Norway)
By recommendation of a very athletic friend who found some success with him. He liked to be the cool hot shot guy and told me I should have more sex if I wanted to feel better. Then he said he liked to do that to freak out Americans because they don't have the same healthcare rules in Norway so he can say outrageous things like that.
Then I had to strip to my underwear so he could work on my back (which is normal for chiros but felt weird after all of that.)
He was Mr. Confident and told me that all the other chiros that I saw were total losers who suck and that the women I saw just weren't physically strong enough to crack backs (not sure if he was still trying to be shocking or whatever). He was surely going to solve all my problems, he assured me.
He did his thing and gave me a ton of new exercises to do. I did them all religiously, and when I reported I wasn't feeling much better he was the first person since my injury who admitted "Maybe you need surgery…"
So yes, he was sort of a weirdo, but I'm grateful that he mentioned that surgery could even be an option!
Part 3: Leaving Norway and my Sciatica Experience in France (Age, 25)
I left out the part where I traveled all over Central Asia. I did that. It was painful but now I think about that time in my life and I don't see a girl defined by her chronic pain. I will write about my travel and sciatica in another post. Sciatica sucks, but I wasn't going to let it prevent me from visiting this cool yurt: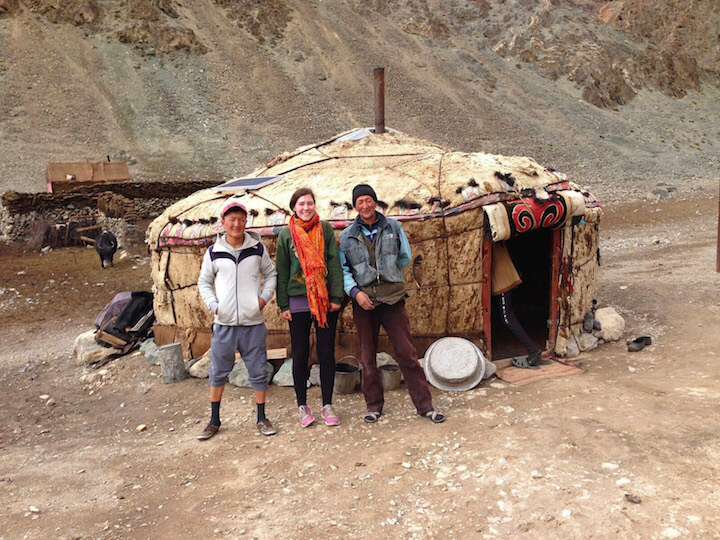 The Caribbean…
No I did not go on a luxury vacation. I am very lucky in that my profession allows me to travel the world, often for free. I went to the Caribbean as a member of an orchestra that toured the region. I wanted to mention it because the heat and all the swimming I did there helped my pain a little. It still was a problem, though, and I had a lot of anxiety because I could not always perform to my own standards due to the pain. Lol I think I may be the queen of performance anxiety. I feel icky thinking about it right now…moving on.
Moving to France and my Changes in Treatment
I moved to France to continue my education (Awesome level of education that costs next to nothing? Sign me up!). I no longer was surrounded by polite Norwegians who were happy to switch to English when I needed to explain the more detailed aspects of my injury and pain to them…I now had French doctors who gave me the stink-eye as I stumbled through my situation in French. They mentioned that I should take some Ibuprofen.
I mean, they weren't all bad. I had paid to be part of the French health system. I wasn't demanding an expensive surgery or any surgery at all. I just wanted opinions and possible answers. Sometimes I felt like they saw me as a health system leech since I wasn't French. That's all speculation, though. Part of it was also just due to cultural differences.
Acupuncture in France
I got acupuncture done. The only place where it was partially covered by the health system was with a doctor who seemed half asleep the entire time. I missed Anniken in Norway. This lady left me laying on a table shivering in my underwear with needles all over me. She even forgot to take some out! My worst nightmare…finding random needles in me.
I need to be frank though and mention that my positive acupuncture experience in Norway wasn't actually traditional acupuncture. I don't know if Anniken had her own technique, but she definitely targeted the places where my muscles were tight and not the general pressure points around the body as dictated by Chinese traditional medicine.
Thanks to the fact that one of my only friends in France during my first year was of Chinese origins and had her own acupuncture routine, I learned that this experience in France was a more "traditional" acupuncture.
Did it help? Sort of? It was better than painkillers but not as good as my experience in Norway. I also was not so keen on spending 50 Euros every week on acupuncture that worked "just a little". In Norway a lot of my care, even the acupuncture, was covered by the insurance I had there. It was not the Norwegian public health insurance, though.
Swimming
I swam a lot. It was ok. I would feel ok immediately after but it wasn't some magical fix.
Diet and Alcohol
My diet went downhill in France. Hello bread and  cheese and affordable prices! And wine.
French Routine and my Overall Situation There After Nearly Two Years of Pain
I still took a lot of pills. I still complained a lot. I still had an invisible injury and had trouble making new friends. Sometimes I thought they thought I was making it all up. I was paranoid.
I didn't realize how much this injury affected my professional life. It was sort of like that frog in the pot of water idea (who the hell came up with that anyway?). I started in warm water and by the time it was boiling I didn't realize until it was too late. I mean this relating to my musical life.
Thankfully "too late" didn't mean I was dead in boiling water, but it did mean that I wasn't improving much as a musician, and my reputation in the community was starting to chip away since I couldn't give my 100%. Cue lots of crises and anxiety.
I mean, I have always had anxiety issues especially relating to my musical life. But after two years of pain I was in a pretty dark place.
As time wore on, my pain plateaued. In the past nearly two years there were times when I could not escape the pain no matter what position I was in, but after my first year in France I had fewer spasms like that. It just…was. It wasn't getting worse, but it certainly wasn't getting better. And I was definitely not getting used it it.
My Pain Pity Party
My teacher was so patient with me, but everybody has their own limits for excuses.
In a personal context I was a cranky, angry person. My pain was my constant companion, from the moment I woke up (if it let me sleep at all) to the moment I went to bed. It was my identity: "Hello, I have back pain, nice to meet you! My name is…"
Friends and family, although always supportive, felt a little frustrated because there was really nothing they could do. I couldn't just demand their pity. If my situation had gone on for even longer I probably would have joined a chronic pain support group. I was really stressing my parents out and a support group could have been at least cathartic.
My words and writing skill are limited when it comes to describing pain. I also know that people tire of reading too much about another person's chronic pain, so I'm moving on.
Doctors and Pain
I recently read a very interesting memoir written by a neurosurgeon (spoiler alert: I had surgery). As someone with sciatica, the whole book, even the brain stuff, was so fascinating, but the most fascinating part was the peek into the seasoned doctor's mindset, especially how and why he was so detached from his patients' pain. I actually may even write a review about this book stay tuned.
I mention this because none of my doctors seemed to give two shits when, during my appointments, I would start me long boo hoo monologue about how the pain is ruining my life. That would always make me so upset. This book helped me see things from the doctor's perspective.
Things I did not do during my sciatica experience:
Yoga
"Oh, do yoga!" people would say, sometimes with a tone like I should be thanking them for solving all my problems with their suggestion. As time went on I got more and more bitter. I CAN BARELY MOVE HOW DO YOU EXPECT ME TO DO FUCKING YOGA. Whew, sorry I had to get that out.
In my sciatica experience, even thinking of yoga was painful! I could barely extend my right leg…the idea of lifting my body off the ground to do a downward dog made me cringe. In my state, yoga was impossible.
But, I don't want to dismiss yoga. It can be good for different people in different situations. It just wasn't right for me at that time.
A Variety of Drugs
I was the over the counter painkiller queen. I never took prescription painkillers, nor did I try medicinal marijuana. I am so thankful prescription painkillers were not and are not part of my life. I do not have an opinion on whether or not marijuana would have been helpful. The people who recommended it to me did not have sciatica, and I just didn't try it.
Lots of other homeopathic or alternative medicine stuff (essential oils, kinds of herbs, crystals, non Western Medicine practices)
I'm not the biggest believer in a lot of alternative medicinal practices, but this whole ordeal made me respect them as possible sources of relief for people who have not found solutions using Western Medicine. If my surgery hadn't helped me tremendously I probably would have tried a lot more of these options.
I didn't pack up and go home
I am stubborn. I think living abroad and choosing to travel made this whole ordeal much more difficult (different languages and health systems…), but choosing not to go back to my parents' house in the USA was also my way of not letting this pain win. Would it have been sorted out earlier if I had just packed my bags and left Norway right at the beginning? I honestly don't know.
I also was caught up in the rat race of my high competition career path. In my paranoia, taking time off, even for my health, would have been career suicide. In hindsight, that is so untrue.
Lastly, I happened to receive a very generous scholarship to study in Norway… I'm talking an amount that usually isn't open to classical musicians like myself. If I had gone home I wouldn't have received any of it. Funds from that one scholarship actually paid for most of my education in France as well, and so I am very happy that I stayed.
Making the Decision and Arranging My Microdiscectomy: The Big Change in my Sciatica Experience
During a visit to the USA
I went to see my primary care doctor in the USA during a brief trip home. She was horrified at the amount of painkillers I was taking. I told her all of my problems and about my entire sciatica experience and still got that wavering well it sounds bad but it may not be bad enough for surgery responses.
She did this thing where she poked both of my legs with a toothpick to see if my feeling was the same in each leg. This was apparently supposed to show if I had nerve damage. My right leg (where my pain was concentrated) felt slightly less pain. A teeny tiny bit. There you go, that was enough reason to call up a neurosurgeon. Fucking dumb toothpick. What if she had just poked slightly less or harder?
A toothpick was between me and my relief. Sigh.
The date is set
My doctor called a neurosurgeon friend. He had a last minute appointment in a few days. I went to his clinic and spent approximately 5 minutes with him. He looked at my MRI. "How about next Tuesday?" he said. It was a Thursday.
"I usually plan my microdiscectomies at the end of the day because they are the easiest," he added.
It all moved so fast, but I had really felt like I had tried every possible way to fix my sciatica before I opted for the surgery. This was after almost exactly two years of pain. Suddenly I was going to have the surgery in a matter of days (LOL the American health system. People seem to wait a year in Europe just to get a dentist appointment…).
Problems with Surgery
Some people were very angry upon hearing that I would undergo surgery. Lots of people felt the need to share their negative opinions with me. Most of those people didn't know me or my situation  intimately.
One new member of the family (by marriage) who was a chiropractor decided he would go to everyone at a family event and talk very loudly about how I was making the wrong decision for my health. He had never seen my medical records before, and he didn't even seem to realize that I could hear him.
Other people were so sure this would result in more problems that pretty much anything, including throwing myself off a bridge, would have been a better option to them.
I googled every problem that could happen and freaked myself out. Of course, people who have negative experiences are more likely to take to venting online since the people who had successful surgeries were too busy getting on with their lives (It has taken me nearly two years to write my own story out!!!!).
I get it: it just feels weird to spend 5 minutes with a surgeon who has the social skills of a medical textbook and decide to let him cut into my body. It also seemed like the space time continuum ruptured right outside of his clinic and he was being sucked  into a major black hole as soon as he entered the examination room. This guy did not have a minute to spare to hear about my situation. The MRI was enough. That left me with a bad taste in my mouth, but  I still was going to go through with the surgery. His social skills were not directly related to his skills as a surgeon, and the latter was obviously more important.
So, yes. If you decide to have surgery, know that a ton of people will crawl out of the woodwork to let you know that you are making a bad decision. Listen to your healthcare provider and yourself.
I felt that some people were legitimately MAD at me for going the surgery route, seemingly demanding explanations and justifications.
The Surgery Happens
Immediately before and after the surgery I seemed to be really preoccupied with pizzas and burritos, or so my journal says.  I ordered a shit ton of food from the hospital cafeteria and my dear old dad brought me a burrito. I also proclaimed to all the nurses that I live in Germany (I don't).
The nurse working my floor was worried that my anesthetic  hadn't worn off entirely and so I may not have felt the burrito, two apple pies, and giant stir fry I ate in my stomach. "You could explode!!!" haha.
My high school friend visited me and accidentally saw me naked when the nurse pulled open my blanket. But he got bonus points for visiting. My brother did not visit and so if he is reading this I still haven't forgiven you.
But above all, I woke up laying flat on my back. I hadn't been able to lay flat on my back with both legs extended for over two years. This has to be the drugs I thought.
It wasn't.
What I learned from my sciatica experience…
People are complicated, and their health problems are no different. Tons of people just offered me impromptu solutions and unsolicited advice. I know their hearts and minds were in the right place, but in my worst moments of my sciatica experience, these quick fixes felt like slaps in the face. "Ummm why don't you just go to physical therapy and move on with your life?" I WISH IT WERE SO EASY! Even though I have worst aspects of my sciatica experience behind me I still am ultra cautious when talking to others about their own chronic pain or health issues. If people choose to speak to me about their own health issues, I am sure to listen and offer support but I do not give opinions unless they are solicited.
If you are not careful, this pain can define you. I tried to find something to pursue regardless if the pain was unbearable. I am a babbler so it was hard to keep quiet about my condition. Traveling helped me build a sense of self worth and an identity separate from my pain.
 Empathy- this is my greatest takeaway. When I hear about someone else's sciatica or chronic pain, I hurt for them. When someone may be rude to me, I don't always dismiss him or her as a jerk. I myself was curt with lots of people when I felt this pain. Even if it isn't pain, I feel like I am more sensitive to what may be going on with a person that I cannot see. Of course it doesn't excuse a lot of behavior, but it helps me realize that peoples' behaviors are not always directly related to me in certain contexts. I hope I may never lose this empathy.
Thanks for reading about my sciatica experience! Have you had similar experiences?
If you found this aspect of my sciatica experience interesting check out my other posts related to my life after my microdiscectomy.