One day in Addis Ababa: My final stop on the African continent
It felt so weird to finally arrive in Ethiopia. I had been traveling around Southern Africa for months, and Addis Ababa would be my final stop.
Thanks to the free layover scheme by Ethiopian Airlines, I would be spending one day in Addis Ababa. Can you see a lot during one day in Addis Ababa? I certainly did!
See Also: All about the free Addis Ababa stopover with Ethiopian Airlines
Should I write a solo female travel in Ethiopia post? I didn't spend enough time in the country itself to feel qualified, but I did cover a lot of ground in Addis Ababa by myself. So for people curious about whether it is safe for a woman to travel alone to Addis Ababa, read on!
I will address safety while traveling alone to Addis Ababa as well in this post.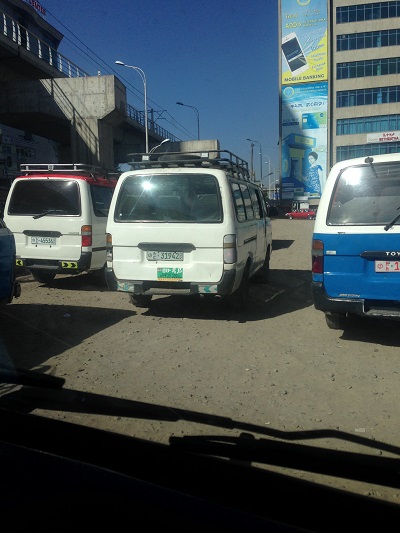 Is it possible to see Addis Ababa in one day?
I think it is definitely possible to see Addis Ababa in one day. It just depends on what you want to do there.
There are plenty of museums that, in my opinion, are not on the top of the list of things to do in Addis Ababa.
If you had one day in Addis Ababa, I would recommend trying to see the Mercato (largest outdoor market in the world), visiting a museum, visiting an Ethiopian Orthdox Church, and going up Entoto mountain for some nature and great views.
Most importantly, I recommend eating some great Ethiopian food and having some coffee!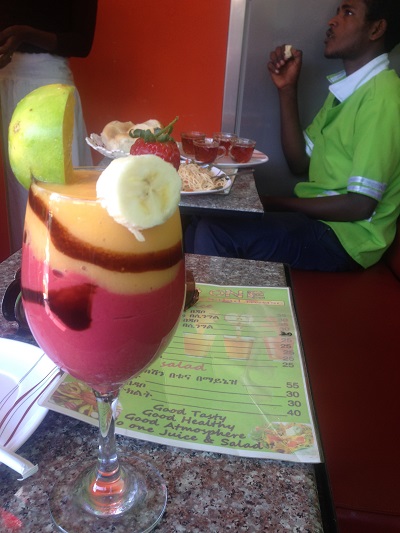 Getting around Addis Ababa in one day
If you feel comfortable, you can take public transportation all over. I took shared taxis all around and had a lot of fun. Addis Ababa also has a light rail system which is cool! There are also private taxis all over.
You don't need to worry about hiring a private driver in advance. You can just pull a taxi over and ask to use them for the day.
During my day in Addis Ababa, I had fun meeting people in public transportation. Addis Ababa is huge and sprawling, though, and so I did waste a lot of time taking the wrong minibus, going the wrong direction etc.
It was fun but if you are pressed for time you may need to hire a cab.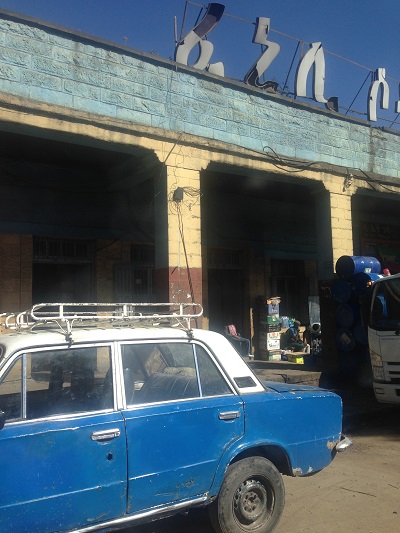 Safety during your day in Addis Ababa
"Do not dare go far from the hotel! It is SO dangerous!! Use our driver!" said the receptionist at my free hotel provided by Ethiopian Airlines. Ummm. No.
Everybody I had spoken to about Addis Ababa assured me it was much safer than many of the other cities I had already visited on the continent. I had also done my research. I think the hotel just wanted to overcharge me…
For those of you who may not be used to traveling on the continent, the worst thing that can happen would first be a car accident because there are crazy drivers. I actually saw like three car accidents during my day in Addis Ababa! Nothing was serious. Because of traffic, cars move rather slowly.
Also, Ethiopia is notorious for rock-throwing-children. I got unlucky during my day in Addis, but generally if you aren't on a bicycle traveling in the countryside you should be totally fine.
Some kid- who definitely had amazing aim- managed to throw a tiny stone into the window of a mininbus and hit me on my cheek. It stung but didn't leave a mark.
Just be sure to keep the windows relatively closed in public transportation. I got unlucky, but you really shouldn't have any problems if you spend one day in Addis Ababa.
My first stop during my day in Addis Ababa was the Mercato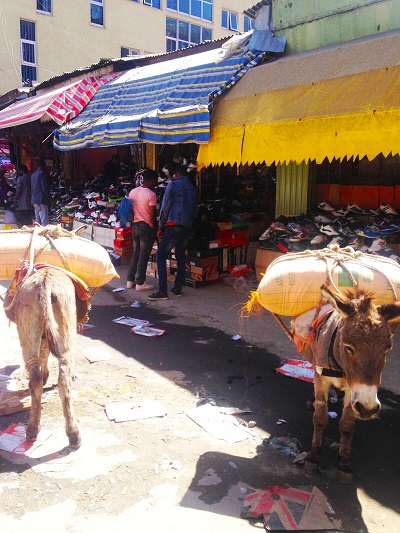 I walked up to a shared taxi and said Mercato and poof I was in a bus with everyone helping me out. It cost around 3 birr.
The Mercato was huge and spread out. You will mainly find things for locals—shoes, piles of seemingly one hundred mattresses wobbling in the wind, wallets, fashion shirts.
Not so much stuff that would interest a tourist, BUT near one of the churches there were some awesome stores selling religious things including drums and textiles and medals and necklaces.
They all had speakers outside of them playing the most hypnotic, beautiful music. Years earlier, in Sri Lanka, I walked by music store that was blasting something equally as beautiful but I was too shy to go and ask what it was. I STILL regret that so I walked right into a little booth and demanded to know what he was playing.
Turns out these booths sell tons of CDs of religious music sung in Amharic. I bought some CDs  during my day in Addis Ababa that I still listen to all the time. Maybe one day I'll put one on youtube to share with the world.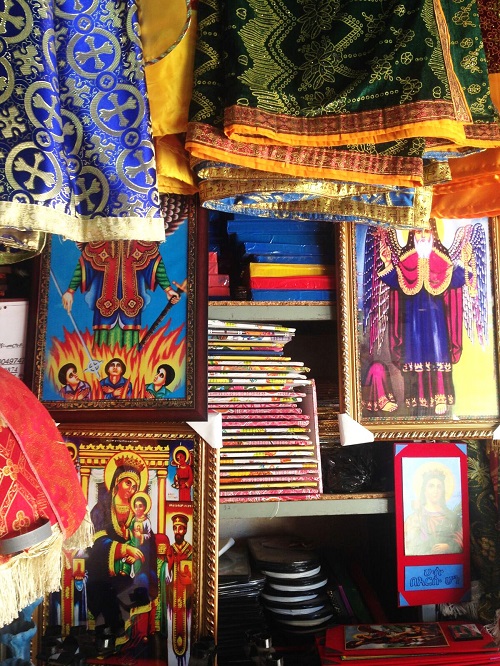 There are smoothie stands all around the Mercato so I went and got an mixed fruit (including avocado) smoothie. It was so tasty and I didn't barf (I was worried all afternoon). I enjoyed a few cups of tea and goofed off with the teenagers who ran the place. Those smoothies are highly recommended!
The next stop during my day in Addis Ababa was St. Mary's Church (Entoto Maryam)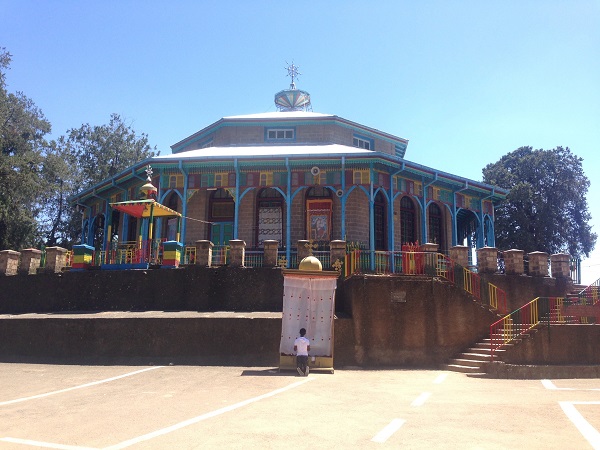 The church is a little outside of the city in the beautiful foothills of the Entoto Mountains. It is totally possible to see if you are trying to see Addis Ababa in one day.
I took random minibuses from the Mercato until I was on a major road. I saw on my phone map that I could walk up, but then a taxi driver led me to another minibus and plopped me into the front seat. Sitting next to me was a young guy reading an English grammar workbook! "Do you want to practice English with me?" I said to him with a laugh.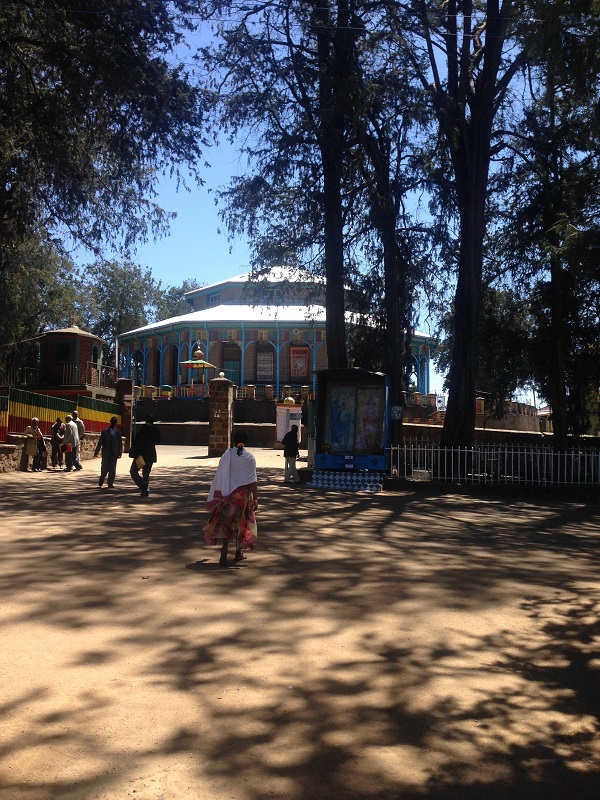 His name was, appropriately, Addis, and he was a student at the Seminary and a teacher at a school outside of town. When I asked him how to get up the mountain he said that he had the afternoon free and would be happy to take me up there. WIN!
We went up to St. Mary's church and next to it is a museum dedicated to Menelik II, the emperor who led the country to defeat the Italians and keep its independence. There's even a small palace of his up there that overlooks all of Addis Ababa.
It was a great way to experience nature while trying to see Addis Ababa in one day.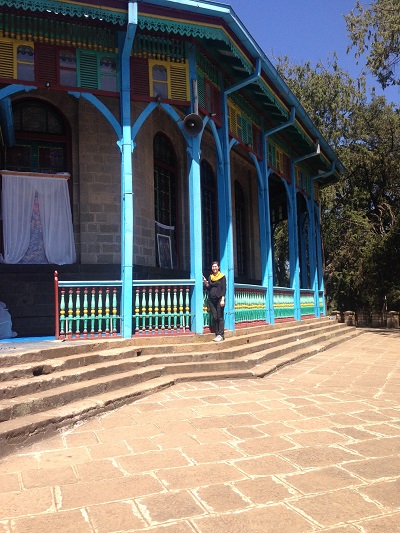 Unless you speak Amharic or one of the many languages used locally, maybe just taking a private taxi up the mountain (or walking) would be best. We took like five minibuses, each going for about five minutes and then stopping. Eventually we made it and it was pretty cool.
Note that you can't go inside the churches unless there is a service. There was a great guy working there who gave us a tour of the museum and palace because we were the only people there.
Next time I go backpacking in Ethiopia I will definitely go and observe an Orthodox Mass. There weren't any masses when I visited Addis Ababa in one day.
Stuffing my face during my day in Addis Ababa
Every backpacker in Ethiopia will tell you that eating amazing Ethiopian food is always a treat. I personally love Ethiopian food and try to seek out Ethiopian restaurants all around the world. You MUST try some local food if you are trying to see Addis Ababa in one day!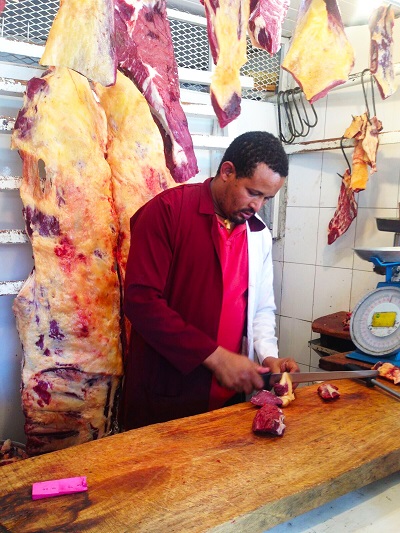 If you want to eat some awesome meats you can't miss the butcher shops since there will be a whole half of a cow hanging outside. You can just go there at lunch and order some and they will fry it up for you or you can eat it raw.
We ate at a butcher shop by the Shiro Meda market, on the road that leads up to St. Mary's (sort of near the American Embassy). I'm not much of a raw meat person so they fried it with some onions and served it with some injera bread and delicious sauce.
We washed it all down with St. George Beers.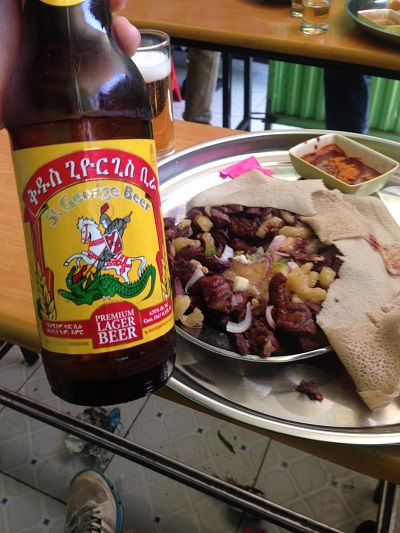 I'm so happy I met Addis. He told me about the Orthodox church and his education. He wanted to become a deacon.
In Ethiopia the Orthodox Christians fast on Wednesdays and Fridays in addition to other holiday times. Apparently Addis's birthday is always on a fasting day so he never really celebrates it.
BUT! Meat is forbidden on the fasting days, and so there are a ton of amazing vegetarian dishes in Ethiopian cuisine. So don't worry if you are a vegetarian!
Addis Ababa in one day: The Shiro Meda Market (Chiromeda Market)
This market is right at the base of the hill that you need to climb to see St. Mary's church.
The Shiro Media market caters more to tourists and has tons of beautiful textiles and dresses.
You can hear awesome Ethiopian jazz on the streets and it's a nice atmosphere. Addis told me that traditionally, listening to non religious music is forbidden in the Orthodox church.
That didn't stop people from playing it on the street.
Oh the next time I go to Addis Ababa I really want to see live jazz. I mean, this album, is pretty much on repeat all the time in my house. I was so exited to ask Addis about Mulatu Astatke and he was like "nah sorry that's forbidden for religious people like me." Bummer!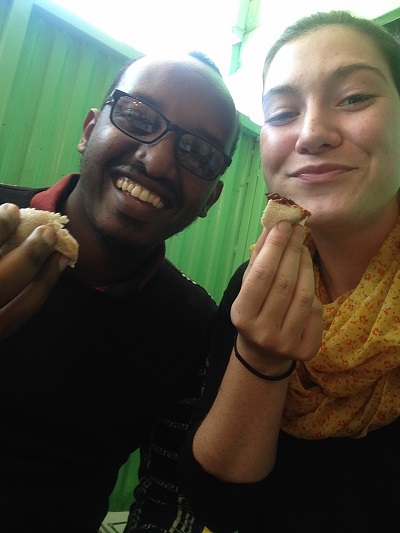 Saying goodbye to Addis and Addis Ababa
His cousins lived nearby and we ended up at their house for tea. Their daughter showed me her favorite TV shows. Seems like the majority of children's shows  were from the Gulf countries and in Arabic. Addis told me he's sure the younger generation will grow up knowing Arabic.
I was feeling tired and he had to get going and so we took the minibuses back towards the airport area (sort of near my hotel). On the last bus back Addis told me that a few months earlier there was a protest in his town and tons of people were killed my government forces.
He told me they couldn't find some of his younger cousins that night and he had to go to the morgue and try to identify them. Thankfully they were ok and eventually came home.
Addis was the same age as me, a happy guy with a job he liked and a caring family and lots of comforts, but these details of the reality of the violence and human rights abuses in his life were sobering to hear.  I'm so thankful that travel can expose me to these realities in the world and the humanity of these faraway places. Otherwise they would just be numbers in a news article.
Hours later I was on an airplane back home. My day in Addis Ababa was the perfect way to end my long trip. It is totally possible to see lots of Addis Ababa in one day.
After months away, it was so strange to be going home!