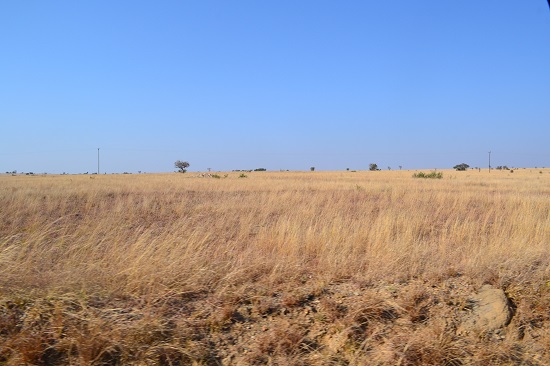 Why take a bus when you could take a train??
Unlike the buses in Mozambique, Zimbabwe's bus system between Harare and Bulawayo is pretty comfortable and efficient. But, to my crazy self, why in the world would you take a bus when you could take a train?! So I took the train from Harare to Bulawayo.
But this train was a bit, well, temperamental. I'm happy I took this train, but I think once is enough.
Note that this post can also apply to taking the train in the other direction from Bulawayo to Harare. The conditions will be similar if not the same.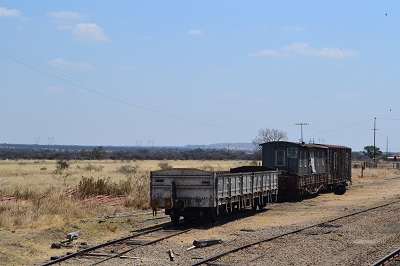 Times and Costs to take the train from Harare to Bulawayo
Like all trains in Zimbabwe, you can't book your tickets in advance for the train from Harare to Bulawayo. You have to arrive at the station on the morning of your departure and buy your ticket in person.
Check out my super cool Zimbabwe travel guide!
My ticket cost $12 for a first class sleeper. Take that, every train in Europe or North America!!!!!
The train runs on Tuesdays, Fridays, and Sundays. The departure time is 20:00 but my train left an hour late  at 21:00.
Waiting for the Train
It will most likely be after dark when you arrive at the train station. If you booked a first class ticket, there is a fancy schmancy first class waiting area on the platform side of the station.
It's actually just a room with some couches in it and a bathroom, but if I remember correctly the electrical outlet worked so you can arrive early and charge your electronics. There won't be an outlet on the train!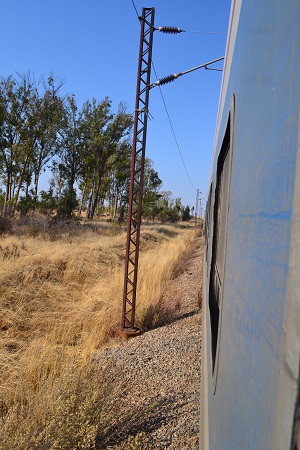 Other folks on the train
I actually met some travelers from the UK while waiting for this train. That was sort of odd since outside of Victoria Falls there aren't so many tourists in Zimbabwe, especially now because of its economic problems.
See Also: Safety tips for taking trains in Africa
They were really nice but took a parental tone with me since, well, I dress like I am 12 years old. I also probably hadn't showered for a while…
Also, can someone explain to me why so many tourists in Zimbabwe dress like they are on safari even when they are in the heart of the country's capital city?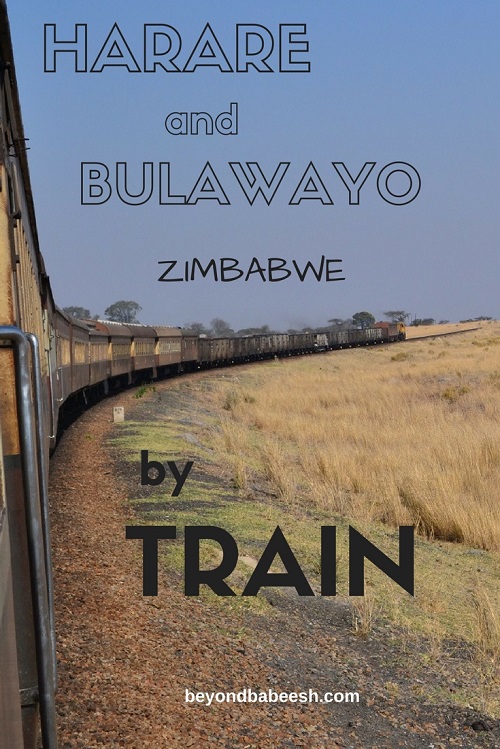 The train from Harare to Bulawayo finally arrives!
There was a very friendly staff member at the station who introduced himself to us and got us when it was time to board the train.
I had such an amazing time on the train from Mozambique to Zimbabwe that I was excited for this new adventure.
See also: My Train Adventure from Mozambique to Zimbabwe Part 1 and Part 2
Well, unfortunately this adventure was a little rough…
The train was in horrible shape. It was primarily a freight train with some passenger cars stuck onto it. There was no dining car, so this means there was NO access to any sort of food OR water for the entire trip.
There were also no vendors selling food by the side of the train at stops. We left at 21:00 and arrived at 13:37 the following day.
That's almost 17 hours of train time, which is about 10 hours longer than taking the bus between Harare and Bulawayo.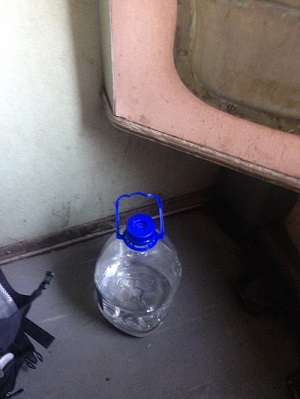 I am the queen of snacks
I mean, I am still all for taking the train, especially because it doubles as a hotel room and I find laying in bed and looking out the window to be just so relaxing. It also was some much welcomed alone time!
But 17 hours is a long time to be without access to food and water. Bring snacks!
The oh so adult tourists were caught off guard and were starving by morning. Luckily I always have plenty of snacks to share so we all survived. [And who is the mature adult now?!?]
I guess by this point in my trip I had learned to always bring extra food and water because who knows, your bus may break in the middle of nowhere and strand you and everyone with it for an entire day…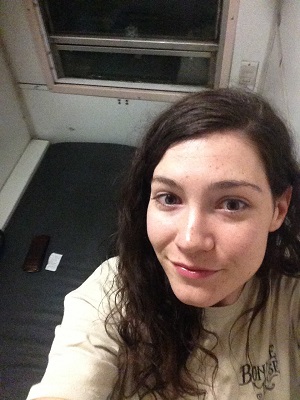 More bad news about the train conditions…
Unlike the other trains I took in Zimbabwe, the train from Harare to Bulawayo was not some regal relic from Rhodesia Railways (that would have also been in horrible shape…). These train cars were sterile, unremarkable, dirty, and uncomfortable.
Many of the sleeping compartments did not have working locks. Some have makeshift locks made out of rope or chains. In fact, the entire car felt a little bit like an abandoned mental institution. Great!
I say this mainly because, after dark, the lights in the car's hallway didn't work. That made the journey to the bathroom using a headlamp feel like a scene from a horror movie. And the bathroom itself was worthy of a horror movie even with working lights.
Thankfully the lights in my compartment worked. The windows were also able to open and close.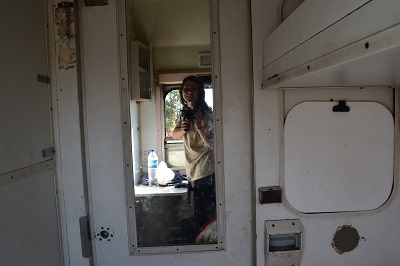 My final complaints…
The conductor was cordial but distant. After he checked my ticket I didn't catch a glimpse of him for the rest of the ride.
But I also have to admit that, aside from my scary bathroom adventure, I pretty much locked myself in my compartment for the entire duration of the trip. Luckily the lock in my compartment worked.
I swear you have to run on that train and grab an compartment before everyone else and shut the door so nobody sees that you are in a room with a door that is only held shut by a piece of wire. Aka  they would easily be able to pay you a visit while you are sleeping…dun dun DUN.
Fight for your compartment! Push your way in and look at every lock and just dive into the first one that works!
The fact that this train didn't have a restaurant (aka BAR) car probably made things a lot safer, though. At least there were no drunks wandering around the train!
Good luck sleeping…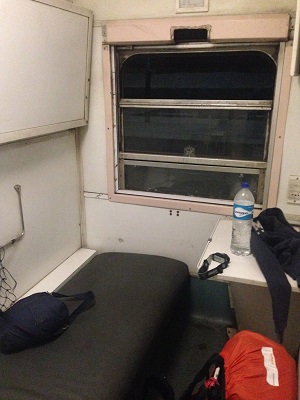 Of course the Zimbabwe railway system is in need of some updating and repairs, so I can't compare the trains to the ultra smooth Japanese Shinkansen or the French TGVs (neither of which I can afford).
I can't ignore the fact that Zimbabwe is in an economic depression and I probably should have known what I was getting myself into.
Dear Zimbabwe and Zimbabweans: I love you and I loved my time in your country! Please don't take this rant of a post personally!
But, I must say, they must have had an engineer-in-training on duty because we came to a crashing stop at least once every hour.
You could hear the falling dominoes of crashes traveling through the freight part of the train and then POW your car would lurched forward. It was so forceful at times that I was actually thrown out of my bed in the middle of the night.
I can't get the eerie sound of those crashes traveling down the train in the middle of the night out of my mind!
I survived! The arrival in Bulawayo: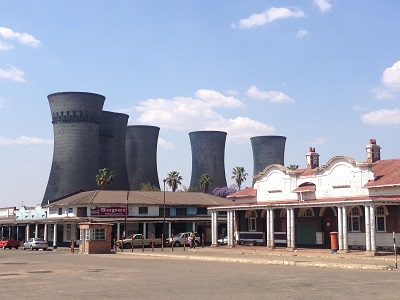 We arrived to a sunny Bulawayo, but this arrival felt a little empty because the last train in Zimbabwe I had taken was a total party train. Instead of arriving and going directly to my new friends' homes and cooking up a storm, I wandered back towards the eerie coal plant on my own.
But I eventually ended up having a grand ole time at the local university later that night, so things worked out!
To be honest, even for a happy go lucky train lover like myself, I could have done without this creepy experience on the train from Harare to Bulawayo. Unless you really feel like you need to take this train for some reason, I would skip it if I were you….
You can check out my post on things to do in Bulawayo here!