Yes. I visited a Cultural Village.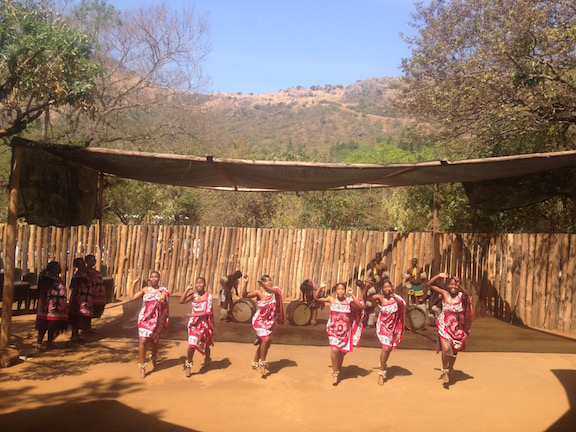 That's right guys. My awesome Couchsurfing host outside of Mbabane really wanted me to go, and it was easy enough to do on my own. I'm really not into these kinds of things…it feels a little too zoo-like. I could spend this whole post rambling about colonialism but I will spare you. I went to the [damn] cultural village, and I decided to collect my experiences in a little guide to visiting the Mantenga Cultural Village here.
How to get there:
The Mantenga Cultural Village is pretty easy find. The road you need to take passes right by the [looming] US Embassy and the Gables Shopping Centre.
 If you're coming from Mbabane, you can take a minibus taxi to the Gables Shopping Centre.The minibus taxi was very cheap. You also pass some hiking trails along the road that may be fun to try. After you get out of the minibus, just walk past the embassy and take the first right.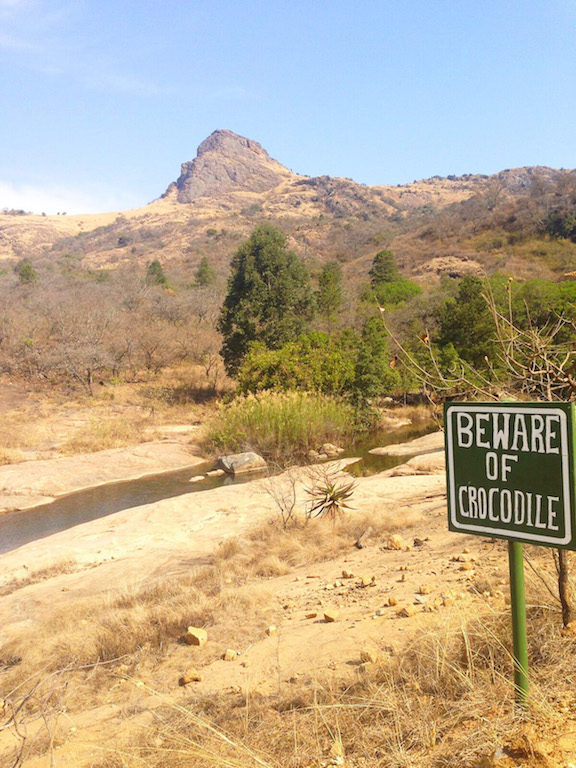 I remember noticing that there were some misleading signs that tried to get you to turn right at the first intersection (there will be a sign for a backpackers hostel). Don't do that. There's just one place after that intersection where you will need to take a slight right. If you look on Google Maps, you just need to follow the river.
 I think the walk took around twenty to thirty minutes. You pass some fancy houses and embassies along the way (the Finnish embassy, if I remember correctly).
The Cultural Village:
When I arrived there was just a handful of of tourists visiting the Mantenga Cultural Village.  I slumped in with them and we watched the performers dance and sing. This was still near the beginning of my trip and now, in hindsight, I realize that this was one of the few live traditional music or dance performances I had seen during my entire trip. So that alone made the visiting the little Mantenga Cultural Village worth it.
It seemed like the performers were a little tired of putting on the performance over and over again, but I enjoyed it. The last chunk of the performance was them singing gospel hymns. I wondered if gospel hymns had arrived in Swaziland in the 1800's or if it maybe was a reflection of modern day Swaziland. They sounded good.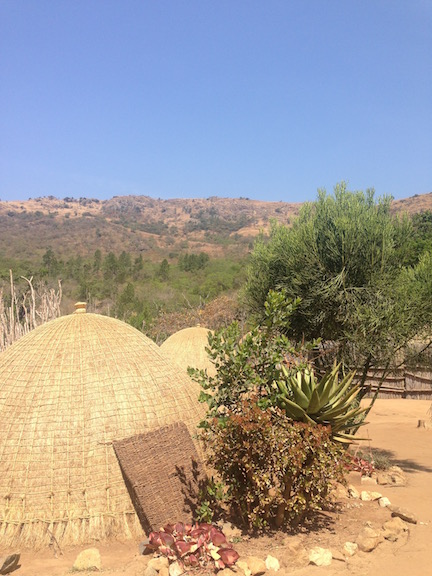 Maybe it was the low season or something but there were no actors hanging out around the huts, pretending to reenact life in the village. I'm sort of glad it was like that. It felt more like a museum.
They gave the group a little tour of the village and explained the structure of the community and what daily life was like back then. It follows what life was like during the 1800s and it was pretty interesting.  Apparently the men used to smoke a lot of weed there back in the day.
Cost and Performance Times
The entry fee is 100 Lilangeni (or Rand).  With the fee you can go see their dance performance that is twice a day at 11:30 and 15:15 or so. It's less than a half hour long, and the village tour is maybe another half hour maximum. That leaves you with time to explore the nature there as well.
Nature Reserve and Waterfall
The nature reserve was what made visiting the Mantenga Cultural Village worth it to me. Outside the village there are several hiking trails and a beautiful waterfall with a picnic area nearby. I was a little bummed that I didn't bring enough water, snacks, or sun protection to do much hiking, but you could easily fill a long afternoon exploring the trails and resting by the river. You can't get too close to the waterfall, but it made for a nice atmosphere.
If you're looking for a place to stay nearby, Lidwala Backpackers is really popular and not so far away!