Arriving and departing from the Hosea Kutako International Airport (Windhoek airport) isn't quite so straightforward.
Especially for budget travelers!
I originally thought I would skip publishing these little pieces of information, but I figured it would be worth sharing.
Maybe this post will help someone out who is about to travel to Namibia and arriving in the Windhoek airport.
Like a lot of places in Namibia, there isn't really public transportation to the Windhoek airport.
So there really isn't public transport to and from the Windhoek airport. Hostels and hotels in Windhoek often will have some sort of shuttle service.
In my case, I had to take a cab to the airport when I was leaving Windhoek. It cost me 300 Namibian Dollars – around 20 USD at the time.
Check out my other Namibia posts here!
I could have saved a few dollars by taking a shuttle from a hostel in town, but I was couchsurfing and would have probably had to pay the difference to get from my host's house to the hostel/hotel.
The drive to the Windhoek airport:
The drive is pretty long. I think if you are arriving from the airport you may be able to hitchhike at least closer into Windhoek.
It would be more difficult to hitchhike to the airport from Windhoek. For those of you who are new to this blog I travel on a shoestring thus I write about hitchhiking!
So sad to leave Namibia
I was sad to be leaving Namibia, but time was running out and I really wanted to see Lesotho before departing from Durban in South Africa.
I could have saved money and spent a ton of time on a bus but I was exhausted and caved and bought a flight.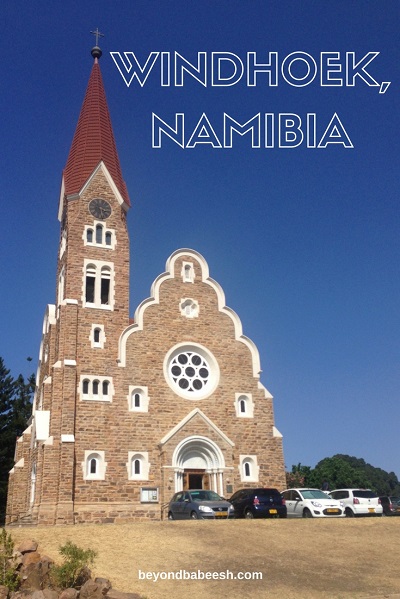 The most important thing to know about the Windhoek airport!
The most important thing I need to mention is that no bureau de change at the airport had any South African Rand!
For those of you who don't know, the Namibian Dollar is linked to the South African Rand and so the two are used interchangeably within Namibia but NOT within South Africa.
See also: My Money Changing Nightmare in Southern Africa
Since I was stupid and traveling with a wad of cash I need to get rid of the rest of my Namibian Dollars.
I was going to be in South Africa and Lesotho (their currency is also linked with Rand) so I had to  just change all my money to Rand. Sigh.
I asked at every bureau de change and there was nothing. I ended up changing my money into US dollars.
Africa from the air
I felt so weird looking at Namibia and South Africa from my window on the airplane.
I had spent weeks crawling and bumping across the continent in the most uncomfortable forms of transportation available. Now it was clearly and smoothly passing below me.
So much travel condensed into one short flight, though I prefer the long bumpy route!